Saudi Arabia's Vision 2030 Economic Plan To Break Its Oil 'Addiction' Draws Cautious Praise And Skepticism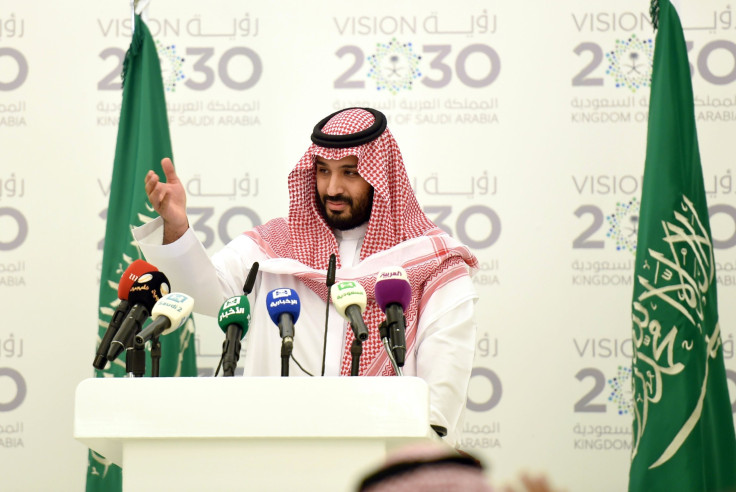 A sweeping plan to wean Saudi Arabia from its dependence on oil, unveiled early Monday, has drawn cautious praise in global and domestic policy circles. But the economic reforms also invited renewed criticism over the kingdom's poor record on human rights and gender equality, and its controversial intervention in Yemen.
Deputy Crown Prince Mohammed bin Salman announced the plan, known as Vision 2030, as part of a broader effort to transform the energy-dependent economy. The Saudi government is reeling from the plunge in crude oil prices, which left it with a nearly $100 billion shortfall last year. Petroleum accounts for roughly 80 percent of the kingdom's annual budget.
"We will not allow our country ever to be at the mercy of commodity price volatility or external markets," Prince Mohammed said from a Riyadh palace at his first news conference with international journalists, Reuters reported. "We have developed a case of oil addiction in Saudi Arabia," he previously told TV news channel Al Arabiya.
Saudi Arabia's Cabinet approved the plan Monday afternoon. The agenda calls for selling a stake in the state-owned oil company Saudi Aramco, which the deputy prince said could be valued at more than $2 trillion. The kingdom said it might sell less than 5 percent of the company in what would be the world's largest initial public offering.
Saudi Arabia Overview | FindTheData
The Vision 2030 plan also aims to shrink Saudi Arabia's unemployment rate from 11.6 percent to 7 percent within the next 14 years by boosting jobs in sectors such as defense, mining and tourism. Other projects include building a bridge to carry millions of dollars' worth of cargo across the Red Sea, constructing the world's largest Islamic museum and creating a holding company for its defense industries.
Prince Mohammed's plan would also restructure the Saudi visa system to introduce a "green card" for Muslim and Arab foreigners so they can work in Saudi Arabia long term. The kingdom is home to more than 10 million foreign workers, many of whom are residing there on temporary contracts and earn considerably less than the average Saudi national.
Salman Al Ansari, president of the Saudi American Public Relations Affairs Committee in Washington, said the green card system will give expatriates more rights to buy houses or invest in the country. "That will create a big move for the Saudi economy," he told Al Jazeera. "It is a visionary kind of move to not only help the Saudi economy and Saudi citizens but also help the foreigners in the country."
The Washington-based International Monetary Fund said the Saudi agenda was "ambitious" and "far-reaching," although the agency warned it would be difficult to implement the plan.
Crude Oil Production in Saudi Arabia | FindTheData
Some Saudi citizens said they hoped Vision 2030 would offer more details on crucial issues such as education reform. The plan did not outline steps to raise revenue from taxes or consider changes to the political structure of the absolute monarchy.
"For me as a Saudi, I am concerned by the education transformation plan," one entrepreneur told Reuters. "If it is not at the top of the list, why not?"
The plan did call for boosting women's participation in the labor force to 30 percent from 22 percent over the next decade and a half. But it didn't include concrete measures for lifting restrictions on female citizens. In Saudi Arabia, men and women are separated in restaurants and other public spaces, and only male "guardians," like husbands or fathers, can authorize decisions about women's travel, work or marriage opportunities.
When asked if women would be allowed to drive cars under Vision 2030, Prince Mohammad said Saudi society, not the government, would decide whether to lift the ban on female drivers. "So far the society is not persuaded," he told reporters, adding that change cannot be forced, Al Arabiya reported.
Critics of the Saudi plan expressed skepticism on Twitter and other social media outlets, noting the country's long list of human rights violations against political dissidents and rights activists as well as the lack of representative institutions, the BBC reported.
"In order to achieve this transformation, we need an elected parliament," journalist Turki Shalhoub said on Twitter.
The Hureyaksa (Towards Freedom) account, which has 467,000 followers, spoke of "pro-forma change accompanied by hypocrisy, that will drown citizens in rosy dreams."
© Copyright IBTimes 2023. All rights reserved.