Saudi Blogger Raif Badawi, Sentenced To 1,000 Lashes, Speaks Out About Flogging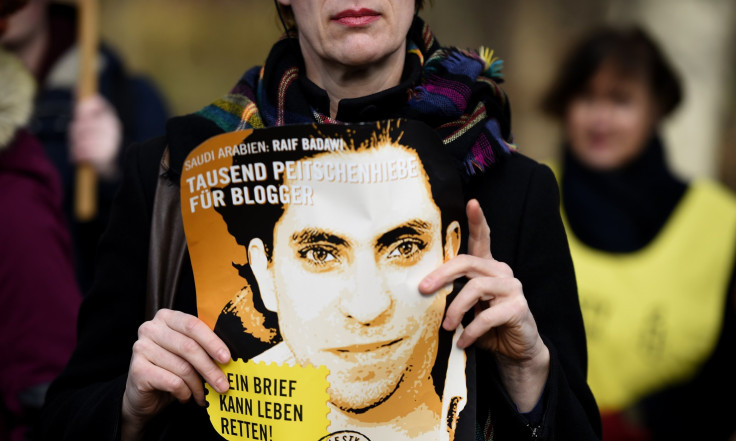 Saudi blogger Raif Badawi has spoken out for the first time after being sentenced to 1,000 lashes.
The online activist was arrested in 2012 for alleged offenses including insulting Islam, cyber crime and disobeying his father.
The father-of-three was sentenced to 10 years in jail, a fine of 1 million riyals ($266,000) and as part of his punishment, he would be flogged 50 times every Friday for 20 weeks.
After the first 50 lashes in January this year, further penalties were postponed on medical grounds after doctors ruled his scars had not healed sufficiently after his first beating for him to face another round.
In a letter published in German magazine, Der Spiegel, Badawi said it was 'miraculous' that he had survived the first 50 lashes. He recalled the sound of a cheering crowd chanting 'Allahu akbar' (God is the greatest) as he received the first round of lashes in Jeddah.
In a letter, Badawi said: "All this cruel suffering happened to me only because I expressed my opinion."
Badawi's remarks are featured in the preface of a book titled "1,000 Lashes: Why I Say What I Think," which is due to be published in Germany on April 1.
Der Spiegel said the German government had warned against the book's publication because it could put the blogger's life at risk, but the publishers have denied this.
A German diplomat told Reuters that Badawi was free to publish whatever he liked in Germany, but added: "The ministry cannot predict the consequences of such a publication for him."
Publisher Siv Bublitz from Ullstein Buchverlage said Badawi had dictated his remarks to his wife on the phone and that the preface therefore should not be called a letter, as described in earlier statements.
His conviction sparked an international outcry and German weekly Der Spiegel have called on Riyadh to cancel the sentence of 1,000 lashes.
Germany's economy minister and vice chancellor Sigmar Gabriel said during a visit to Riyadh this month that he had discussed human rights issues in Saudi Arabia and had requested that Badawi be pardoned.
However, earlier this month, it was revealed that he may now face the death penalty after the country's criminal courts announced he may be retried for apostasy.
In a Facebook statement, reported by the U.K's Channel 4 News, Badawi's family said the case would be referred to the same judge who sentenced the blogger to flogging and 10 years imprisonment.
The news comes as a disappointment to international human rights groups, like Amnesty International, and Badawi's supporters worldwide, who have been calling for his floggings to be halted.
In an earlier statement, Said Boumedouha, deputy director of Amnesty International's Middle East and North Africa program said: "Instead of continuing to torment Raif Badawi by dragging out his ordeal with repeated assessments the authorities should publicly announce an end to his flogging and release him immediately and unconditionally."
Amnesty International, which has been advocating for the release of Badawi, has been organizing vigils in many countries in the world.
© Copyright IBTimes 2023. All rights reserved.