#SaveSnopes: Fact-Checking Website Snopes Starts GoFundMe To Avoid Shutdown
Despite "fake news" dominating headlines and President Donald Trump's tweets, fact-checking website Snopes.com says it's in financial trouble and may shut down without crowdfunding help.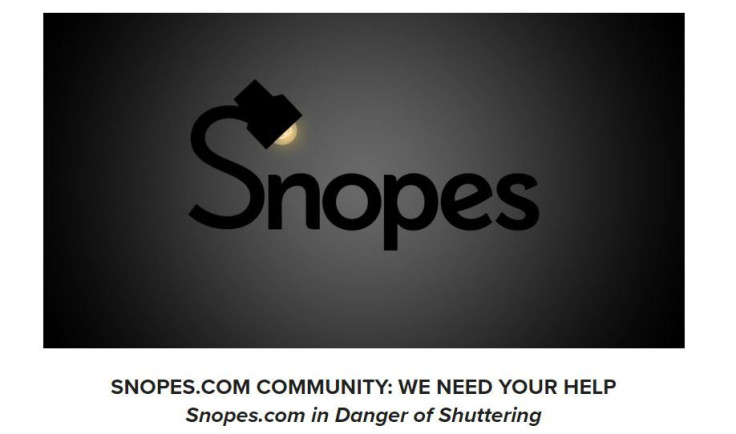 Snopes says it is in the midst of a legal battle with a company that is refusing to relinquish the site's hosting controls, developer side and advertising revenue.
In its plea to readers, Snopes says the site has been "cut off from our historic source of advertising income" and that the free fact-checking services have no fallback sponsors or outside investors to keep going. The letter to readers posted Monday on savesnopes.com illustrates why it is "in danger of shuttering."
Read: Fans Turn To Snopes In Hopes Chester Bennington's Death Is A Hoax
Legal filings show that Snopes entered a revenue-share/content and ad management agreement with a company named Proper Media in 2015, Tech Crunch first reported. The previous year, Snopes co-founders Barbara and David Mikkelson began divorce proceedings and ultimately Proper Media arranged to buy Barbara's share of the company. But after David tried to kill the contract earlier this year, Proper pushed back and is holding onto Snopes' ad revenue and portions of the website development end.
"As misinformation has increasingly threatened democracies around the world (including our own), Snopes.com has stood in the forefront of fighting for truth and dispelling misinformation online," reads the letter suggesting a $10 donation. "It is vital that these efforts continue, so we are asking the Snopes.com community to donate what they can."
Snopes says on its GoFundMe page that a contractual relationship has soured with an "outside vendor" that is now holding the website "hostage."
"Although we maintain editorial control (for now), the vendor will not relinquish the site's hosting to our control, so we cannot modify the site, develop it, or — most crucially — place advertising on it," reads the GoFundMe description. "The vendor continues to insert their own ads and has been withholding the advertising revenue from us."
#SaveSnopes In A World Of #FakeNews?
Snopes is currently ranked 622 in terms of overall U.S. website traffic, according to Alexa statistics. The website was established in 1994 by David and Barbara Mikkelson and it is now part of Poynter's International Fact-Checking Network. Google, Facebook and other tech giants consult with this group of websites to deal with fake news articles. Snopes has become one of the top destinations for discovering the truth behind both lingering rumors and breaking news. The website fact-checks information in real-time regarding everything from fake photos to celebrity deaths.
"Our legal team is fighting hard for us, but, having been cut off from all revenue, we are facing the prospect of having no financial means to continue operating the site and paying our staff (not to mention covering our legal fees) in the meanwhile," continues Snopes' GoFundMe description.
The current donation total is at $135,000 from a $500,000 ultimate goal. That money was raised by 4,600 separate donations in less than seven hours since the GoFundMe page was started. Comments on the GoFundMe page range from high praise to outright anger.
"You know you wouldn't have to be begging for donations if you handnt [sic] went from urban legend fact checker to mouth piece for the democrat party. Have fun failing," reads one comment from Myles Hyndman.
"Snopes is a true ally in the battle against pseudoscience. It needs to survive," reads another comment from Jordan Thomas, who donated $40.
Several journalists have taken to Twitter to draw attention to the fact-checking dustup including Glenn Kessler and Michelle Ye Hee Lee of The Washington Post and Holly Epstein Ojalvo of USA Today.
© Copyright IBTimes 2023. All rights reserved.
FOLLOW MORE IBT NEWS ON THE BELOW CHANNELS