Schengen: Europe's Free-Travel Zone Faces Possible Demise, With Heavy Cost To European Businesses
The European Union reveres the "four freedoms" — free movement of people, goods, services and capital — that its existence is intended to guarantee. Now, as thousands of migrants flood into Europe from such war-torn nations as Syria and Iraq, leading to checks reintroduced on some borders, the region is facing a harrowing situation in which curbs on one of them, people, will have ripple effects on the other three.
"The two questions of freedom of movement for people and freedom of movement for commerce are not necessarily related," said Camino Mortera-Martinez, a research fellow at the Center for European Reform in Brussels. "But the closing of the border would create enormous obstacles to trains and trucks."
Those trains and trucks carry commerce throughout the 28-nation European Union, and economic catastrophe looms if countries can't agree on a new system that preserves freedom of movement within system.
The introduction of border controls that snarl commerce could shave 0.1 percent off intra-EU trade, a cost of $1.1 billion per year to German-Austrian trade alone, according to one study. If new controls require companies to reconfigure supply chains, the transition costs would add to that burden. And even if the refugee crisis is limited to people — an unlikely event —hundreds of thousands of international commuters in Europe's border-straddling regions could feel the pinch.
The prospect of reinstating border controls that most Europeans had written off as a thing of the past also looms over Europe's economic integration, the raison d'etre for the creation of the union 60 years ago.
The name of a small village in Luxembourg that abuts both France and Germany, Schengen has come to symbolize the freedom that Europeans have to move around among 26 countries on the continent. The 1985 Schengen Agreement, first limited to five countries, has expanded as Europeans cottoned to the idea that border posts symbolized the past.
For Europeans who lived under Communist rule, the freedom to move around is particularly precious and inspiring.
Each day along 50 miles of road linking the Austrian capital Vienna with Slovakia's Bratislava, Slovak nannies going to work in Vienna get the same treatment as Austrian bankers headed to Bratislava. At the same time, trucks linking Europe's industrial heartland of southern Germany, northern Italy, Switzerland and Austria breeze — fed by lots of suppliers in the Czech Republic, Slovakia and Hungary — over borders, playing their part in the just-in-time delivery systems that characterize modern manufacturing.
But the system is underpinned by the premise that all members of the Schengen Agreement devise and enforce a common refugee and asylum policy, and right now that's not the case, especially in Greece. So, refugees are heading to countries that seem the most welcoming, notably Sweden and Germany, creating a backlash elsewhere, and giving a taste of things to come.
"The imposition of temporary border controls across some parts of the EU's Schengen zone is already disrupting cross-border trade, with long traffic jams and rising costs for many firms," Anna Zabrodzka, an economist with Moody's, wrote in a recent report. "To avoid even greater economic costs, the EU needs to reach an agreement soon; otherwise, those countries that rely heavily on intra-EU transport may suffer the worst of the economic fallout."
Border checks in Germany, Austria, Hungary and Slovakia now threaten to spread throughout the EU unless countries devise a new system.
Donald Tusk, president of the European Commission, said on Jan. 19 that the bloc has "no more than two months" to save Schengen at a summit planned for mid-February. This week, EU officials are pressing Greece to come up with more-effective border controls, with the possibility of a two-year suspension of Schengen's rules if that doesn't pan out.
Nicolas Veron, a senior fellow at Bruegel, the Brussels-based think tank, predicted Schengen is in for a rough ride.
"It's bound to get worse before it gets better," Veron said. "That's usually a fair guess in the European Union."
Agree or disagree: It is Europe's responsibility to take in the majority of these refugees | InsideGov
Half of trade within the EU crosses the same borders that countries are now policing more closely thanks to the refugee crisis. Smaller countries including Belgium, the Netherlands and Slovenia rely on trade for more than half their economic output, according to Eurostat, the European statistics repository. For Slovakia and the Czech Republic, the number rises above 70 percent.
On the 30th anniversary of Schengen last year, the Kiel Institute for the World Economy calculated that the agreement saved 0.1 percent in various costs. So, for example, the $110 billion in two-way trade between Austria and Germany could take a $1.1 billion hit if business has to adjust to a new border regime.
For businesses and people not accustomed to open borders, it's hard to underestimate how archaic these lines on a map seem to today's Europeans, who seldom gave them a second thought before the refugee crisis.
Deutsche Post, the German logistics giant, last year announced plans to open 2,000 parcel pickup and delivery shops in Austria to take advantage of the meteoric rise in online sales. Yielding to the demands of geography in the mountainous area, German and Austrian police each patrol parts of the other country because topography — a German town that's tucked into the Austria-facing side of a mountain — makes it easier for a non-national cop to react more quickly than the home-country police could.
Michael Kemmer, executive director of the Association of German Banks, estimated the total cost to German industry would be up to $10 billion per year as it reconfigures supply chains that had adjusted to a fully integrated Europe.
"Border controls would complicate production processes across Europe, where division of labor, just-in-time deliveries and lower inventories have helped boost bigger companies' global competitiveness," said Erik Nielsen, chief economist at UniCredit, the Italian bank.
Even if Europe manages to restrict new border controls to people alone, economies around the region will feel the pinch.
A study in 2006 and 2007 found that about 200,000 Swiss — 6 percent of all employees there — commute over a national border to work. Switzerland is part of Schengen, though not the EU. But in France, Germany and especially Belgium, Luxembourg and the Netherlands, many people rely on porous borders to draw a paycheck.
Europeans have suffered through border checks before. The Schengen agreement allows countries to impose controls for 30 days, renewable up to six months, in cases of emergencies, like a terror attack, or for sporting events, to manage disruptions. The refugee crisis, in contrast to those events, is an open-ended problem, as long as turmoil in Syria and elsewhere drives people to Europe.
"We've had border controls here and there forever," Mortera-Martinez said. "What we haven't had is a sustained closing of borders."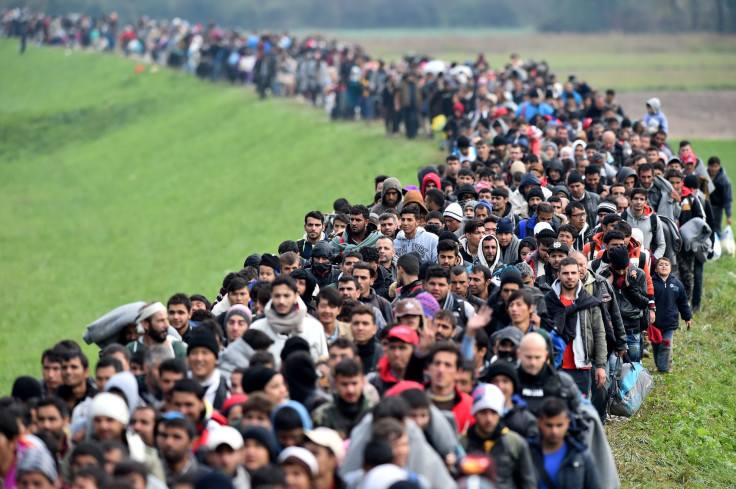 Veron, the Bruegel economist, said there's still a chance that Europe could rise to the challenge and develop a new framework that would actually embrace greater freedom of movement. He pointed out that Europeans responded to an acute sovereign debt crisis after the 2008 financial crisis by creating new institutions for banking supervision and fiscal balance to handle future problems.
The same could yet happen if the European Union decides to breathe life into its toothless common border agency, Frontex, and take collective responsibility for a harmonized refugee and asylum policy. For business, the trick will be adapting as quickly as possible, since Schengen in its current form is probably gone forever.
"The problem," the economist Veron said, "is that we won't go back to the same Schengen that we started with."
FOR FREE to continue reading
✔️ Unlock the full content of International Business Times UK for free
offer available for a limited time only
✔️ Easily manage your Newsletters subscriptions and save your favourite articles
✔️ No payment method required
Already have an account?
Log in
© Copyright IBTimes 2023. All rights reserved.