Sea Ice Levels In Arctic, Antarctic Hit Record Winter Lows, NASA Says
Both of Earth's poles are looking at record low sea ice extent levels, according to NASA and the National Snow and Ice Data Center (NSIDC).
Every year, sea ice in the Arctic grows and expands throughout the winter, but the region saw a record low wintertime maximum extent on March 7.
Read: New Zealand's Glaciers Are Retreating NASA Images Show
Meanwhile, on March 3, Antarctica had its lowest extent at the end of the summer ever recorded by satellites. Antarctica's event is "surprising" NASA said, since the region has had decades of moderate sea ice expansion.
Last month, the combined sea ice number for the Arctic and Antarctica were also at record low levels. There was less sea ice than there ever was around the world since 1979, when satellites began tracking levels, NASA said. The total polar sea ice spanned 6.26 million square miles, 790,000 square miles less than the average global minimum extent for 1981-2010. That's the same as losing a chunk of sea ice bigger than Mexico, according to NASA.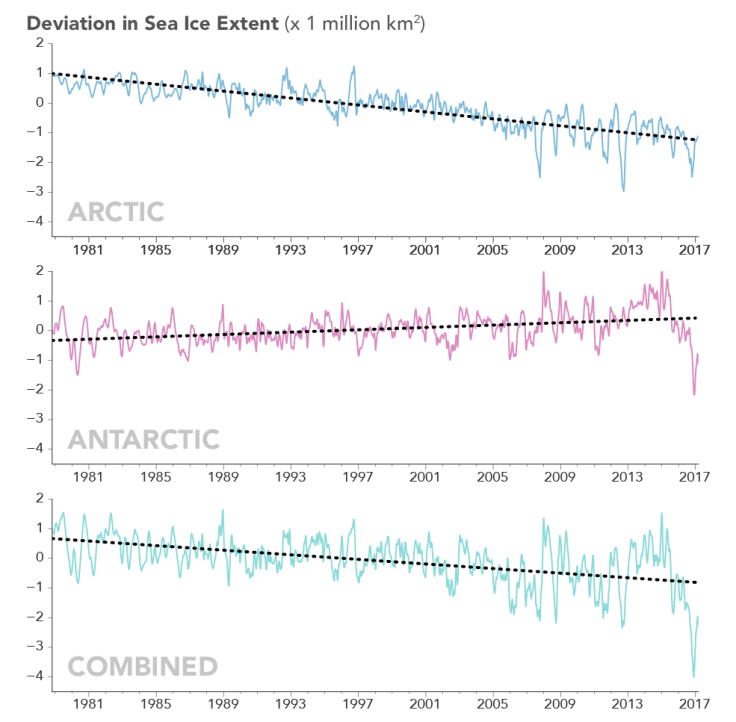 Sea ice maximum extent in the Arctic has declined by an average of 2.8 percent per decade since 1979, but the summertime minimum extent losses are almost five times larger, 13.5 percent per decade, according to NASA.
The space agency released a video showing sea ice levels:
A warm winter and a low September minimum extent contributed to the record low sea ice levels in the Arctic, NASA said.
"We started from a low September minimum extent," said NASA sea ice scientist Walt Meier in a statement. "There was a lot of open ocean water and we saw periods of very slow ice growth in late October and into November, because the water had a lot of accumulated heat that had to be dissipated before ice could grow. The ice formation got a late start and everything lagged behind – it was hard for the sea ice cover to catch up."
Read: Climate Change Impacts: American's Health Hurt By Global Warming, Doctors Say
However, it's too early to tell if the record levels this year signals a shift in the behavior of Antarctic sea ice.
"It is tempting to say that the record low we are seeing this year is global warming finally catching up with Antarctica," added Meier. "However, this might just be an extreme case of pushing the envelope of year-to-year variability. We'll need to have several more years of data to be able to say there has been a significant change in the trend."
Besides the shrinking levels, the sea ice cap is thinning and at risk to the action of ocean waters, winds and rising temperatures, NASA said.
© Copyright IBTimes 2023. All rights reserved.