Selena Gomez Kisses Cara Delevingne For Kiss Cam At Knicks Game
KEY POINTS
Selena Gomez and Cara Delevingne attended the Knicks game Wednesday night
They were projected on the jumbotron and the "Rare' singer planted a kiss on the model's cheek
Delevinge blew a kiss to the camera after getting a kiss from the Hollywood singer
Selena Gomez gave Cara Delevingne a kiss on the cheek during the New York Knicks game on Wednesday night.
Gomez, 29, and Delevingne, also 29, stepped out together to attend the Knicks game at Maddison Square Garden where they had a cute kiss cam moment. In a video of the incident shared online, they were seen sitting beside each other at the courtside when they were projected on the jumbotron. The pair then giggled as they looked at each other while the crowd cheered for them to kiss.
Delevingne joked and pointed at her lips before playfully covering her face with her elbow. Eventually, the "Rare" singer leaned in and planted a kiss on the model's cheek. The "Paper Towns" star then blew a kiss to the camera.
Gomez looked chic on their recent outing in her black turtleneck sweater dress under her camel trench coat. She completed her get-up with a pair of knee-high boots. On the other hand, Delevingne opted for an all-black outfit and white sneakers.
Gomez and Delevingne have been friends for years. In 2014, they sparked dating rumors after vacationing in the French Riviera together because Delevingne is openly bisexual. Addressing the speculations, the pop singer said it didn't bother her.
"Honestly, I loved it," Gomez told PrideSource. "I didn't mind it, especially because they weren't talking about other people in my life for once, which was wonderful."
Gomez went on and complimented her pal, Delevingne, for being true to herself.
"Honestly, though, she's incredible and very open and she just makes me open. She's so fun and she's just extremely adventurous, and sometimes I just want that in my life, so I didn't mind it. I loved it," she continued.
Gomez admitted that there was also a time when she questioned her own sexuality. For her, it's normal and healthy to gain a perspective about one's self.
When asked if her gay friends are jealous of the guys she previously dated, including Justine Bieber, Nick Jonas and Taylor Lautner, Gomez laughed and said they are "more into it than I am."
"Honestly! Part of the reason I probably went out on a few dates is because of them. They're just like, 'Go! Go!' I'm like, 'No!' They're all about it, for sure," she added.
Gomez has been romantically linked to "Captain America" star Chris Evans in the past months. Both of them have not addressed the rumors. However, Taylor Swift's TikTok video when they reunited at the backstage of "Saturday Night Live" fueled the dating rumors even more because Gomez seemed to be wearing the same cream-colored cable knit sweater Evans wore in his 2019 film "Knives Out" in the clip. However, some netizens pointed out on social media that the sweaters were different.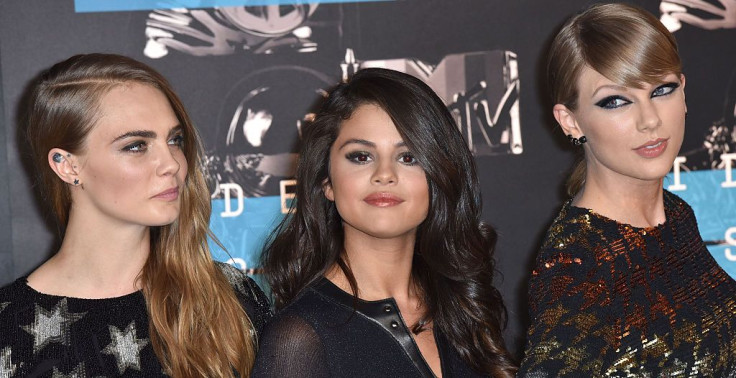 © Copyright IBTimes 2022. All rights reserved.
FOLLOW MORE IBT NEWS ON THE BELOW CHANNELS