Shanghai Husi Faced Lawsuit Last Year For Unethical Work: Report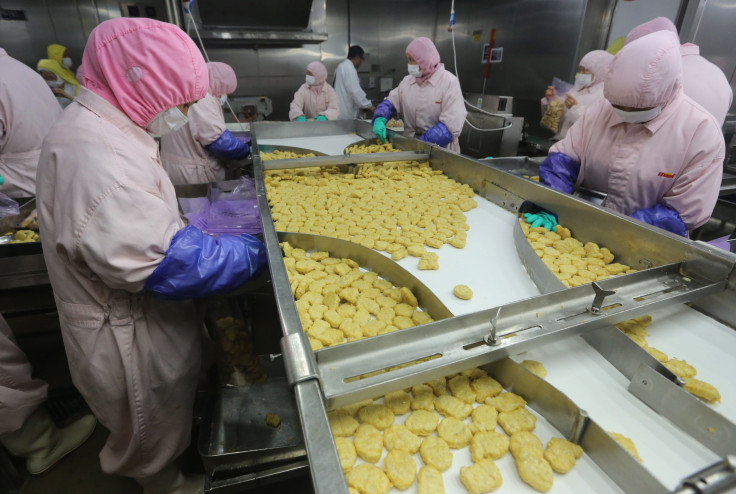 Shanghai Husi Food, a local arm of Illinois-based OSI Group that is at the center of China's latest food-safety scare, was sued last year by a former quality-control officer at the facility for allegedly forcing him to falsify production dates on meat packages.
The former employee named Wang Donglai, who worked at Shanghai Husi from 2007 to 2013, sought nearly 38,000 yuan ($6,100) in compensation, also claimed that his health was affected during that time because of an exposure to chlorine used to clean the meat. Wang also wanted to terminate his contract with the meat supplier, alleging that the company forced him to work overtime and do "unethical work" that was against China's food safety laws, Reuters reported, citing court documents.
Wang said at his hearing last October that he did not want to fake the production dates on the meat processed at the facility, adding that he repeatedly urged his employer to stop the practice. However, the Shanghai Jiading District Court ruled against Wang in January as his health was found to be normal based on records provided by Shanghai Husi. The judge also dismissed his other claims due to a lack of evidence, according to court documents.
"I believe Husi has sufficiently learned its lesson (from the current scandal) and if it wants to survive it certainly needs to improve its standards," Xia Yugang, a lawyer who represented Shanghai Husi in the case, told Reuters, adding that it was a case related to an individual labor dispute, not a food-safety issue.
Earlier this week, the Chinese government had suspended operations at Shanghai Husi after local media reported Monday that the company was selling chicken and beef beyond the expiration date.
On Wednesday, local authorities arrested five people, including the head of Shanghai Husi Food and its quality manager, as part of an investigation into the food scandal that is feared to have tainted products sold by many global brands, such as McDonald's Corporation (NYSE:MCD), Yum! Brands Inc. (NYSE:YUM) and Starbucks Corporation (NASDAQ:SBUX).
There were quality lapses at a U.S.-based plant of OSI Group LLC, which posted more than $6 billion in sales last year, International Business Times reported Thursday, citing a former employee.
© Copyright IBTimes 2023. All rights reserved.