Should Brian Williams Be Fired From NBC News For Embellishing An Iraq War Story?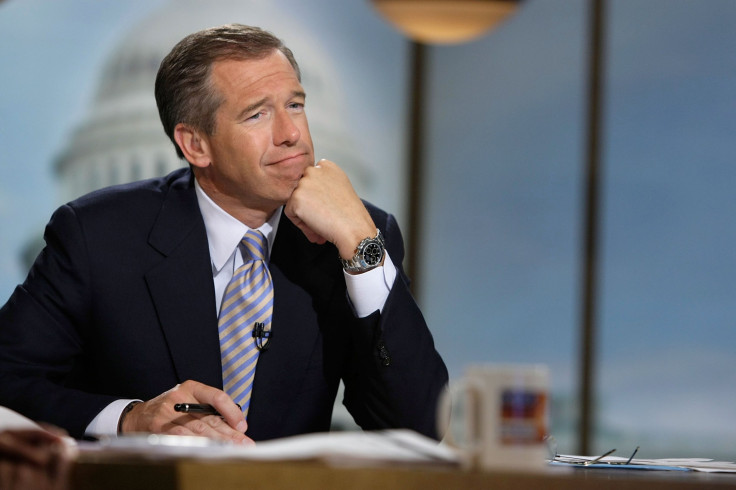 His job is to tell the truth, and he gets paid millions of dollars to do it. But Brian Williams is suddenly embroiled in scandal for repeatedly telling a false war story, and his status as one of evening newscasting's top dogs is in jeopardy.
For more than a decade, Williams has told the story of taking enemy fire while flying in a Chinook helicopter toward the Euphrates River Delta during the U.S. invasion of Iraq in 2003, then spending several days in the desert while waiting for reinforcements. The truth is that while a helicopter in his convoy did draw fire, it wasn't the one transporting Williams.
But does Williams truly deserves to lose his job? It depends on how you frame that question.
"Journalistically speaking, Williams' fudging of these details is trivial," network news analyst Andrew Tyndall wrote in a blog post Thursday morning. "His embellishment of the level of danger in which he found himself 12 years ago does absolutely nothing to undermine his account of Sgt. [Tim] Terpak's valor, nor of our understanding of the circumstances of the invasion along the Euphrates River Valley. If Williams is in trouble -- and he is -- it is not because of an egregious error in his journalism."
Not an egregious error in journalism, per se, but surely an egregious error in truth-telling, especially unseemly when it involves embellishing one's own war story to seem heroic. In an interview with CNN's Brian Stelter, Rich Krell, who piloted the helicopter Williams was riding in, said all three helicopters did in fact take a small amount of fire, though Williams would have been unlikely even to know it from where he was sitting.
"The bridge expansions we were hauling took most of the hits," Krell said.
Anchors have been compelled to resign over less. In 2005, Dan Rather was deposed as evening anchor of CBS News after his "60 Minutes" segment on President George W. Bush's National Guard record came under fire for using documents that were not verified as authentic. That was an error in reporting, in trusting a source that perhaps shouldn't have been trusted. Unlike Rather, who cut his teeth as a reporter in conflict zones like Vietnam, Williams has spent his career mostly behind a desk as a weekend anchor for NBC News and a show on MSNBC before replacing Tom Brokaw on "NBC Nightly News."
"I am the Herb Schmendrick of war correspondents," Williams joked during a 2013 interview with David Letterman.
Williams, a frequent guest on "Saturday Night Live," also had designs on primetime with a show, "Rock Center With Brian Williams," which was canceled after two seasons.
But also unlike Rather, who was struggling in the ratings when he stepped down, Williams leads in the ratings at 6 p.m. So far, NBC has stayed silent on the matter – despite repeated requests from IBTimes for comment today.
It's not inconceivable that Williams could regain the trust his viewers invested in him. "It can be done," said Aly Colon, the Knight Professor of Journalism and Ethics at Washington & Lee University in Virginia. "Depending on what is perceived to be the severity of the action and the way that the individual who has done whatever is unethical or wrong in some fashion, they have at times been allowed to come back."
In the hours following Williams's apology, the nature of his mistake has become a matter of semantic debate, with Williams saying he "conflated" two separate events, and with more skeptical onlookers simply calling him a liar.
"It's a memory lapse at best, and it's a lie at worst," said Robert Drechsel, the director of journalism ethics at the University of Wisconsin-Madison, who added that he was not inclined to comment on whether or not Williams deserved to be fired.
"I'm inclined to say it's not a lie," Drechsel continued. "It doesn't make sense to me that someone would lie about something that was witnessed by so many other people."
Lie or not, Williams repeated the account frequently. He wrote a blog post about the incident in 2008, and in 2013, he recounted the story in great detail on "The Late Show With David Letterman."
In December, NBC News extended Williams' contract for another five years.
FOR FREE to continue reading
✔️ Unlock the full content of International Business Times UK for free
offer available for a limited time only
✔️ Easily manage your Newsletters subscriptions and save your favourite articles
✔️ No payment method required
Already have an account?
Log in
© Copyright IBTimes 2023. All rights reserved.