'The Simpsons' - 'Family Guy' Crossover: What Happens When The Griffins Meet Homer; Watch 5 Minute Sneak Peek Video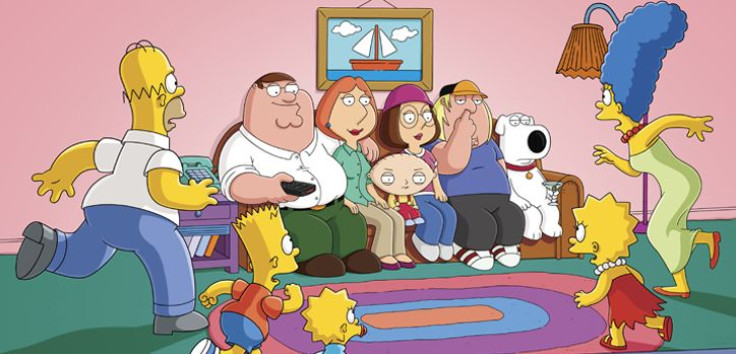 "Family Guy's" one hour Season 13 premiere will be taking audience somewhere familiar: Springfield. The Griffins will meet the Simpsons in the crossover event, titled "The Simpsons Guy," and Fox revealed a 5 minute clip at a San Diego Comic-Con panel.
The preview shows various scenes from the episode. It starts off with the family standing right in front of the sign for Springfield.
"Guess we're in a town called Springfield," Brian the dog says.
"Springfield, eh? What state?" Stewie asks.
"Oh, I can't imagine we're allowed to say," Brian replies.
The show continues to poke fun at the differences between the shows. Homer thinks the Griffins are albinos while Peter thinks everyone in Springfield has hepatitis, but Homer and Peter get along pretty well at first. They have a fantasy sequence as fighter pilots (where a "Bob's Burgers" cameo comes up) and introduce each other to their quirks. Then things take a turn for the worst after an argument over beer: Pawtucket Patriot Ale is actually just Duff's with a different label.
Homer and Peter get into a massive fight that takes them all through the town, and "The Simpsons" fans will find all the locations very familiar. They eventually end up in a vat of radioactive liquid and get superpowers to intensify their battle.
Meanwhile, Stewie finally finds someone that he doesn't hate in Bart. Bart and Stewie bond, but the two are different kinds of pranksters. Stewie makes a prank phone call turn disturbing, and his little legs make it hard for him to skateboard as well as Bart. That doesn't stop him from dressing just like Bart and seeking his constant approval.
Click here to check out the clip over at Entertainment Weekly.
The Simpsons won't be the only familiar characters on "Family Guy." Producers at Comic-Con said they were planning to introduce characters from "The Cleveland Show" since the comedy was canceled, according to Variety.
The "Family Guy" crossover episode, titled "The Simpsons Guy," will air September 28 at 9 p.m. EDT on Fox.
© Copyright IBTimes 2023. All rights reserved.