Small Private Gathering for Steve Jobs Funeral Held Friday: Report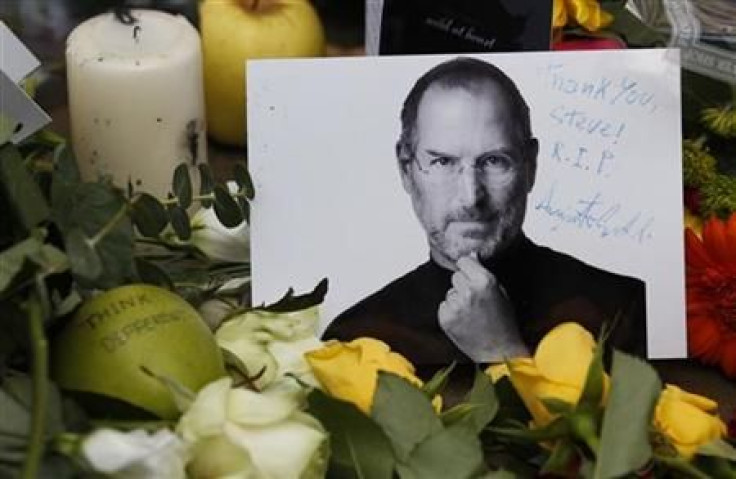 A funeral for Apple Inc.'s co-founder Steve Jobs is being held on Friday with a small private gathering, a source close to the event told The Wall Street Journal.
The funeral comes two days after Jobs' death on Wednesday, presumably at the end of his long fight with pancreatic cancer. Prior to his passing, Jobs had surgery for the disease, as well as a liver transplant.
Apple said there was no public service planned for Jobs.
The source didn't reveal any specific details as to where the service was being held or at what time out of respect for the dead CEO and his family's privacy, WSJ reported.
After his death on Wednesday, Jobs' family said he died peacefully and was surrounded by his family.
They said that in his public life, Jobs, 56, was known as a visionary, but cherished family in his private life.
We are thankful to the many people who have shared their wishes and prayers during the last year of Steve's illness, the family said via a press statement. We are grateful for the support and kindness of those who share our feelings for Steve. We know many of you will mourn with us, and we ask that you respect our privacy during our time of grief.
The family has also said a Web site will be provided for anyone wishing to offer tributes to Jobs.
Apple CEO Tim Cook on Wednesday told employees that the company is planning a celebration of Jobs' extraordinary life for Apple employees.
A date wasn't announced for the celebration, but employees who wanted to share their condolences and memories of Jobs were provided an e-mail address to do so at rememberingsteve@apple.com.
No words can adequately express our sadness at Steve's death or our gratitude for the opportunity to work with him, Cook said. We will honor his memory by dedicating ourselves to continuing the work he loved so much.
Under Jobs' tenure, Apple transformed technology and personal computing.
With his eye for simplicity and innovation, Jobs helped create best-selling products worldwide such as the Apple Macintosh, iMac, MackBook Air, iPod, iPhone, iPad, iTunes, Apple TV, and editing software such as Final Cut Pro.
Innovation comes from people meeting up in the hallways or calling each other at 10:30 at night with a new idea, or because they realized something that shoots holes in how we've been thinking about a problem, Jobs told Business Week in a 2004 interview. It's ad hoc meetings of six people called by someone who thinks he has figured out the coolest new thing ever and who wants to know what other people think of his idea.
And it comes from saying no to 1,000 things to make sure we don't get on the wrong track or try to do too much, he added We're always thinking about new markets we could enter, but it's only by saying no that you can concentrate on the things that are really important.
Jobs' death has been mourned by many across the world, including ordinary citizens, politicians and company executives.
The most bizarre reaction to the former CEO's death came from Westboro Baptist Church leader Margie J. Phelps who used Twitter for iPhone to announce that the group will picket Jobs' funeral.
No peace for man who served self, not God. #hellgreetedhim Westboro must picket funeral. #warnliving MT @applenws: RIP Steve Jobs 1955-2011, Phelps tweeted.
Apple's iPhone/iPad app store has approximately 100 religious apps to include the King James Version of the Bible and a mobile worship network.
© Copyright IBTimes 2023. All rights reserved.