Smart Sponge: Watch How This Popcorn-Shaped Green Technology Could Absorb Oil Spills [VIDEO]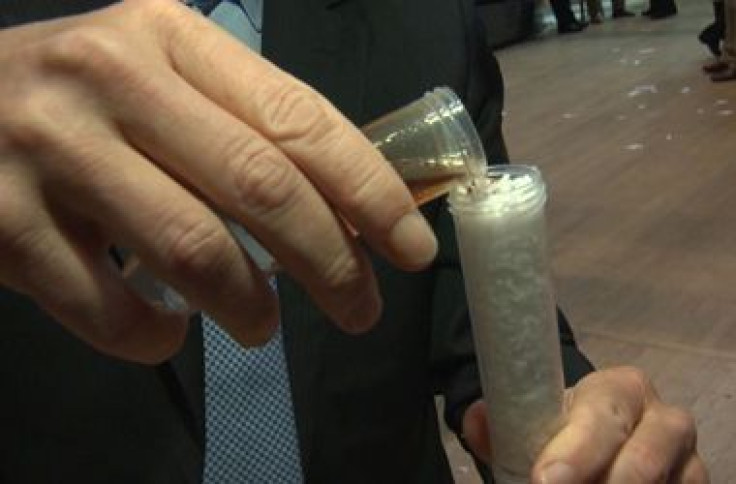 Smart Sponge is an environmental technology used by AbTech Industries, Inc., to help preserve the environment by reducing the harmful effects of hydrocarbons, contaminants and debris that are commonly found in storm water and oil spills.
AbTech Industries CEO Glenn R. Rink demonstrated the innovative Smart Sponge technology to International Business Times.
"It's the cornerstone of our technology. We're an environmental technology and solutions company in removing contamination from water," explained Rink.
The popcorn-shaped material uses polymer technologies to clean and remove pollutants from large volumes of water that are affected by oil spills. The Smart Sponge is a remediation technology that has helped clean up storm water, and Rink hopes it may now be applied to clean up oil spills.
"Smart Sponge can be molded in any shape or size for any application. It can be made the size of a book or the size of a car. It has tremendous porosity and we can do a variety of things, but what it's known most for is removing hydrocarbons and dealing with bacteria, whether it be a fracking operation in the U.S., or a storm water application in the U.K. or a steel mill in China," he said.
In July, Abtech Holdings won a $12 million award for storm water system installations in the U.S. Northeast.
"We want to be known as the company [that] does, instead of building big gray infrastructures to treat water, we can do it on-site, very simple. If there ever was a green application, this is a greener application where you're not building big operations, you're building onsite treatment capabilities," he said.
Abtech Holdings, Inc. (OTC QB: ABHD) is a full-service environmental technologies and engineering firm dedicated to providing innovative solutions to communities, industry and governments addressing issues of water pollution and contamination.
© Copyright IBTimes 2023. All rights reserved.