Snapchat TV Shows, Content: Snap Inc., Time Warner Partner In $100M Deal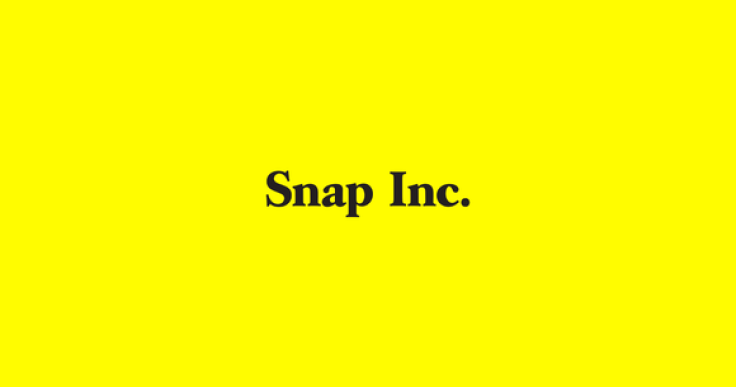 Snapchat has inked a high-profile partner for its push into original content. Parent company Snap Inc. announced Monday it will partner with Time Warner to produce 10 original shows per year for the social network.
As part of the $100 million, two-year deal, Time Warner will both provide programming for Snapchat from its various networks and invest in advertising from HBO, Turner and Warner Bros. properties, the Wall Street Journal reported.
Read: 5 Interesting Facts About Snapchat's IPO, The Largest Since Alibaba
In a statement, Gary Ginsberg, Time Warner executive vice president for marketing, said the partnership would allow Time Warner to reach new audiences.
"As a company that has driven the evolution of media, this is an exciting and natural move as we bring together some of our leading video properties and brands with Snapchat's dynamic platform," Ginsberg said. "Partnering with Snap will help drive this compelling new format, exposing its user base to innovative and engaging video from brands and characters they trust and enjoy."
The agreement, which is one of the largest original content deals Snapchat has inked so far, comes as the social media network pitches itself as a home for programming from major media networks.
Snapchat's model has so far been focused on original minishows that are only a few minutes in length, tailoring itself to its users' viewing habits and differentiating itself from competing networks. The push into original content differs from Snapchat's current Discover feature where publishers like Buzzfeed and CNN can resyndicate clips or other content.
For networks increasingly concerned about losing marketshare to cord-cutting viewers, Snapchat represents a way to target these desirable younger viewers. Last year, NBC launched a version of its musical competition show "The Voice" on Snapchat and the winner of the spinoff eventually made an appearance on the main show on NBC.
Along with the newly announced Time Warner deal, Snapchat has also inked deals with other companies, including NBC, ESPN and the NFL. The company wants to take an aggressive approach to its content catalog as, by the end of the year, Snapchat hopes to have three shows on per day.
Read: Snapchat To Make Original Shows, Partner With Companies Like NBC, ABC
However, Snapchat is not the only company eyeing original content and video. Competitors like Facebook and Twitter also have invested heavily in their own programming and video catalogs in a bid to keep viewers engaged and on their networks. Twitter has emphasized a mix of live news and sports programming while Facebook has explored multiple content options for its users, including a potential pickup of MTV's scripted comedy "Loosely Exactly Nicole," the Hollywood Reporter noted.
The partnership is also an additional boost to the recently public company, which aims to assure investors about its avenues for finding revenue growth and advertisers. Snapchat saw a small jump to around $18.05 per share upon news of the Time Warner partnership Monday morning.
© Copyright IBTimes 2022. All rights reserved.
FOLLOW MORE IBT NEWS ON THE BELOW CHANNELS