SNES Classic Pre-Orders: Wal-Mart Cancels Nintendo Reboot Console Placements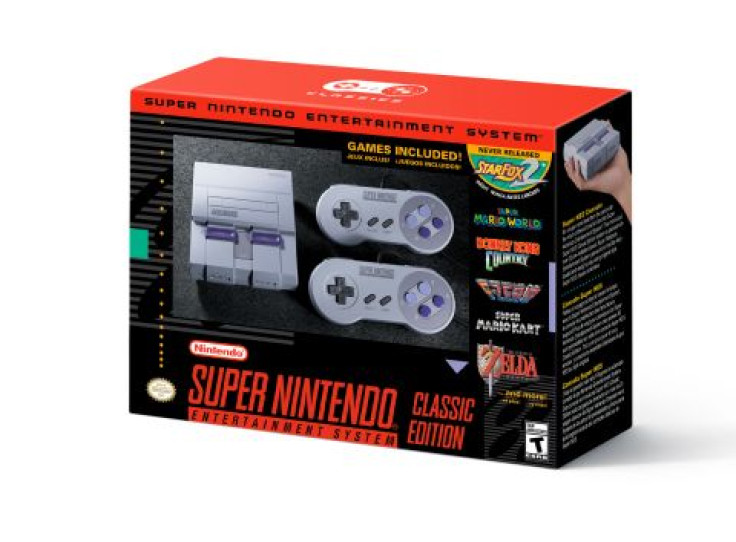 For Nintendo, its console releases rarely come free from release or pre-order drama. Count its upcoming Super NES Classic among the latest releases to do so for Nintendo fans.
In an email to customers, Wal-Mart announced that it would cancel pre-orders for the Super NES Classic. Last week, the retailer briefly put up a listing and pre-order page for the Super NES Classic, but in its email, Wal-Mart blamed the premature listing on an internal glitch.
Read: Nintendo SNES Classic Release Date, Games, Price Announced
Here's the text of the email:
Thank you for your interest in the Super Nintendo Entertainment System — Classic Edition. As you are aware, this is a highly sought after console that will launch later this fall.

Unfortunately, due to a technical glitch, the Super Nintendo Classic Edition was mistakenly made available last Friday evening ahead of the official release date. We, regrettably, will have to cancel his item on your order. We know that this is incredibly disappointing to you, and we're truly sorry for this mistake.

In regards to the cancellation of this item, if you paid by credit card, your card has not been charged. Any authorization holds placed on your account will automatically expire in accordance with the card issuer's policy. If you paid through PayPal or with a gift card, your payment will be refunded when the order is cancelled.

The official launch date for this item is 9/29, please check the product page on Walmart.com prior to that date for any updates.
While Nintendo pre-order hype is always generally high, the SNES Classic garnered extra attention thanks to retailers keeping a tight lid on pre-order information for the retro console reboot. Within the States, retailers have yet to confirm formal pre-order info for the SNES Classic. Overseas, Amazon UK also had to trim purchases from some users and limit its pre-order amounts for the SNES Classic to one per shopper.
On Twitter, users expressed some dismay over the news from Wal-Mart:
As with last year's NES Classic, the SNES Classic is widely expected to be one of the bigger must-have items this holiday season. Priced at $79.99 with a September 29 release date, the reboot of the original SNES will come with 20 games including Donkey Kong Country, Kirby Super Star and the unreleased Star Fox 2.
Read: Retailers Selling Out Of Nintendo Console Reboot
While the NES Classic was an immediate hit among buyers, supply problems made it virtually impossible to find in stores even after the holiday season and Nintendo's announcement that it would discontinue the console earlier this year caught many buyers by surprise. Among shoppers, demand for the NES Classic still remains high. Online retailer ThinkGeek announced a limited sale for NES Classic bundles Tuesday that ranged in price from $140 to $220 — a hefty markup for the console's original $59.99 price — and still managed to sell out its inventory in a few hours.
With this second go-around, Nintendo is hoping to avoid the missteps made on the NES Classic's launch. The company announced upfront that the SNES Classic will be a limited run product and promised shoppers that it would produce the console in larger numbers to prevent similar inventory shortages for local and online retailers.
© Copyright IBTimes 2022. All rights reserved.
FOLLOW MORE IBT NEWS ON THE BELOW CHANNELS