Social Media Dependency Now Has A 12-Week Therapy Plan Created By Talkspace, Encourages People To #ReflectReality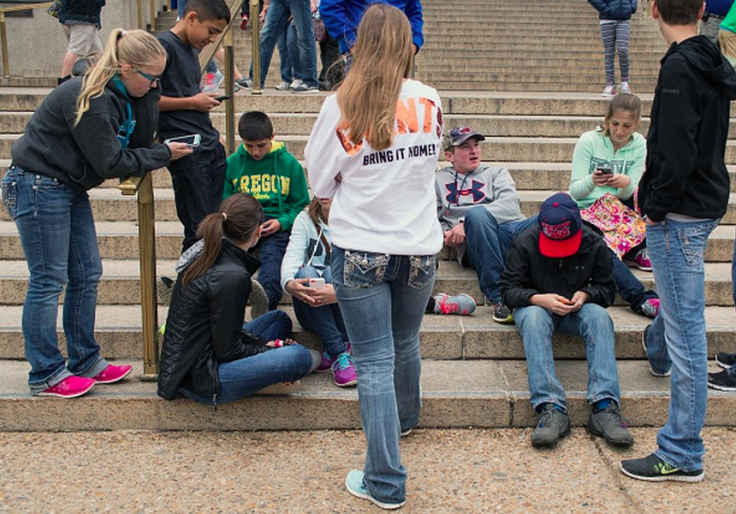 Social media has created dependency issues; research has proven it. Academic studies have linked apps like Facebook, Instagram and Twitter to symptoms of depression, anxiety and general dissatisfaction.
Therapy startup Talkspace has a solution: a 12-week plan to address social media dependency. That's right, text with a real therapist to talk through your dependence -- not "addiction," mind you -- to your phone. Created in 2012, funded to the tune of $13 million and most recently led by Spark Capital, Talkspace offers text-based therapy provided by 200 therapists to its current 150,000 registered users. But unlike texting a friend, a parent or a significant other, on the other end is a licensed therapist. It's the gig economy but for therapists.
The launch includes an installation in New York's Flatiron District, where a passerby is encouraged to look in a mirror and use the hashtag #reflectreality.
Nicole Amesbury, a licensed therapist who now serves as head of clinical development at Talkspace, said the fact that the service is on smartphones -- perhaps next to Facebook, Instagram and Snapchat -- is sort of the point.
"There's a line in therapy: You have to start where they are," Amesbury said. "If you can't meet your client where they are in the world, you can't help someone. We need to meet them where they are, however they feel comfortable."
Moving Therapy Online
Talkspace began as a way to "break down the barriers" to traditional therapy, says co-founder Roni Frank. The 41-year-old herself had started therapy in her late 20s to address issues with her marriage. The success of the sessions drew her into studying the field. While she worked as a software developer, Frank started researching psychology. Her interest spiked when she read statistics that 1 in 5 Americans suffer from mental health issues but only 70 percent of teens received care.
Frank identified three main barriers: cost, access and stigma. Each of those, she thought, could be addressed by moving therapy online -- and on a smartphone.
"Look around today, and you'll see everyone's on their phones. Texting has become a big part of our daily lives. Therapy should be made to fit into our lives today," Frank said.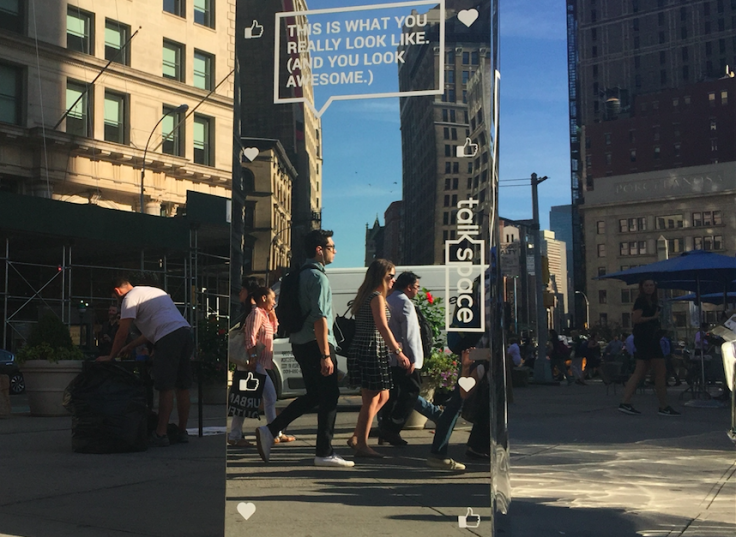 In the early tests, Frank and her co-founder (and husband), Oren Frank, discovered that their users did not want to have to schedule a session, rather they craved the flexibility of communicating the same way they connect with other aspects of their lives -- whether it be texting a friend, ordering food or posting on social media.
Separate Connections
As the founding of Talkspace was inspired by Frank's own interests, she also realized her own need to address social media dependency. The most striking awareness came from a retreat in Northwest region of the United States, where she was without cell phone reception.
"Every day without a connection I started getting more anxious. When I did have a connection, I was scrolling through Instagram and posting, rather than being in the moment with the people around me. I don't think that's very healthy," Frank said.
Frank worked with Amesbury and other therapists on her team to develop a program. For Talkspace, the general plan is not focused on diagnosing addiction. It's about addressing dependency. While there's an outline to a three-month system (month one: identifying behaviors; month two: assessing thinking patterns; month three: creating management strategies), each program is catered to the individual.
"Social media at its best is supposed to connect us, but also it's a whole set of things we need to manage that most people don't know how to control," Amesbury said. "It's changed how people think of breaking up, what people constitute as cheating."
Social Media Usage Among American Youth | SoftwareInsider
It's not about shutting it all off. Amesburg noted that there's value to social networks -- such as renewing old connections -- but there's strategies in the new program to reduce use. Social media companies and analysts have come to boast views and time spent on their sites. For example, Facebook CEO Mark Zuckerberg reported in the company's second-quarter earnings in 2014 that the average user in the United States spends 40 minutes per day on Facebook.
The cost of Talkspace's social media dependency plan is $399. Unlimited messaging therapy on the app costs $100 per month -- with 24/7 access to a dedicated therapist.
© Copyright IBTimes 2023. All rights reserved.