Somalia Lido Beach Attack: Mogadishu Resident Loses Close Friends In Al-Shabab Violence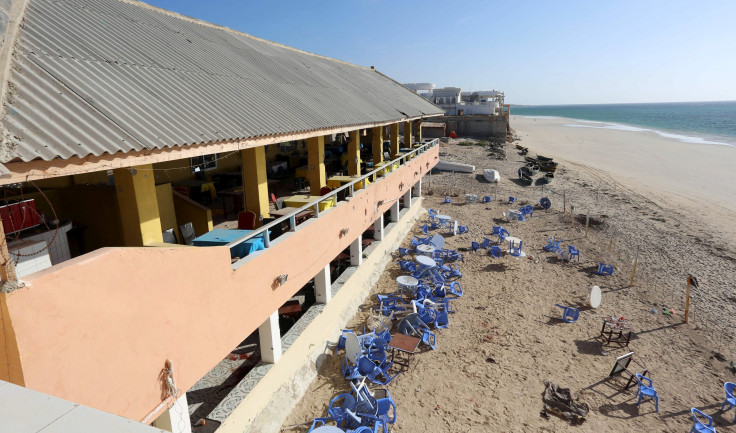 Hussien Mohamed, 23, heard the echoes of loud blasts from his home in Somalia's capital after dusk Thursday. He didn't know it then, but the sounds were from two cars packed with explosives that had rammed into a popular seaside hotel and restaurant in the heart of Mogadishu. Three of his closest friends were among those killed.
"Their families told me this morning," Mohamed said in an interview Friday. "They were my classmates. I was shocked when I heard their deaths."
Somali security officials said at least 26 people were killed after al-Shabab militants stormed the Beach View Hotel and Cafe as well as the nearby Lido Seafood restaurant late Thursday on Lido beach. Suicide car bombers detonated at the crowded sites an hour apart, while gunmen opened fire at hotel-goers and diners, taking several hostages.
The National Intelligence and Security Agency of Somalia said in a statement on social media Friday the situation was under control and more than 100 people had been rescued from the "cowardly attack." The victims included two young children and many recent college graduates who were having dinner. The agency said all attackers were killed and two suspects were in custody, but Somalia's security minister told Reuters that one attacker was captured alive. Al-Shabab, a Somalia-based Islamic extremist group, claimed responsibility for the attack in a phone call to Al Jazeera and through a pro-militant radio station in Mogadishu.
Many rural areas of Somalia are controlled by al-Shabab, and the group has imposed a strict version of Shariah law there. The al Qaeda affiliate emerged in 2006 from the now-defunct Islamic Courts Union that controlled Mogadishu. Al-Shabab launched its own insurgency on major Somali cities by 2009 and controlled Mogadishu and southern Somalia until it was driven out by domestic and international forces around 2012. The Sunni militant group has increased efforts in recent months to regain control of lost territories. It seeks to topple Somalia's Western-backed government and regularly targets civilians, hotels and restaurants in the capital.
Mohamed, who works as a freelance journalist in Mogadishu, said his friends were dining at Lido Seafood when the militants struck. Yonis Mohammed and Ali Gabow were killed from the explosions, and Fahat Arale was shot dead. All three men were in their late 20s, he said. Fahat, the brother of Somali singer Ikran Arale, had recently graduated from a Mogadishu university with plans to continue his education abroad.
"He told me before his death that he always hopes to go to India for his master's degree," Mohamed said.
© Copyright IBTimes 2023. All rights reserved.
FOLLOW MORE IBT NEWS ON THE BELOW CHANNELS