Some Funny Films You May Have Never Heard Of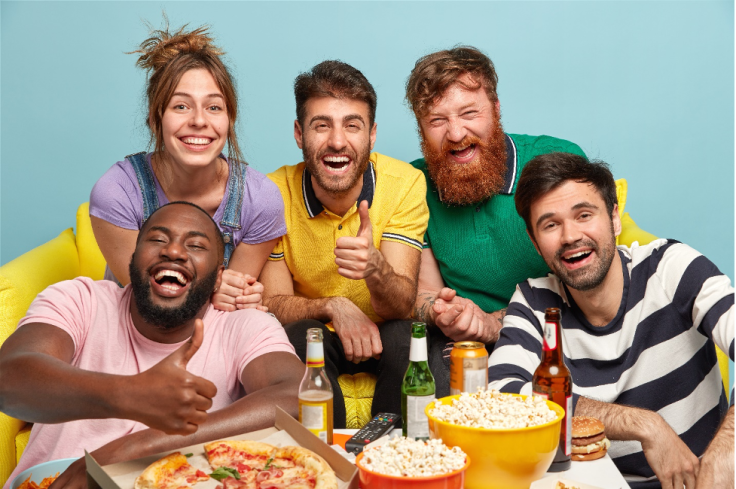 Who isn't aware of the magic of films and the emotions they carry. The one reason why we all love films is because they have the power to change our feelings and take us to a different world. Of course it is a combined effort of an army of professional, creative people who join their strength to form something extraordinary. Many films get recognized through awards, exceptional marketing or are simply passed as recommendations of one generation to another, which grants them an ever-lasting viewership. But there might be many that you may have never even heard of.. Here, in specific order, we discuss those comedy gems that not only will brighten up your day, and make you laugh a little louder, but will be quite different from what you are used to watching. We are willing to bet you might not have ever heard about them.
The Big Picture (1989)
A film that has Kevin Bacon portraying a young, recently graduated film student, Nick Chapman is all about making creative films. But can he really do that with all the studio execs telling him what to do and what not to do? Directed by Christopher Guest, this film gives the audience a sneak peak into the life of a creative person who would rather have his creativity reflected in his work than making money. With his directorial skills, Guest manages to make sure the viewers know when you are watching his movie, and at what time are you seeing a film within a film. This comedy film will have you wheezing throughout at the different ways Max is able to make his dreams come true.
Frances Ha (2012)
Before Greta Gerwig was known for her directorial and writing skills, she was also entertaining us with her acting. This film gives us a story of Frances Ha, a character that Gerwig plays, who is exploring the ups and downs of life in New York city. Director Noah Baumbach very creatively makes us love Frances as she aims for things that are destined to fail. The black and white approach of the director helps the audience concentrate on the story and not being distracted by the surroundings. Baumbach ensures that you love the character even when you don't agree with her decisions and makes you root for her after you have finished laughing at the hilarity of her actions.
Doin' Time on Planet Earth (1988)
An unforgettable film Doin' Time on Planet Earth revolves around the main character Ryan (Nicholas Strouse). Ryan lived with his parents in a holiday inn that his family owns in Sunnyvale, Ariz. Ryan wants nothing else but to move far away form his home but unfortunately can't do anything about it. When he is distraught about not having a date for his brother's wedding and seeks to date online, he somehow stumbles upon a set of questions that lead him to believe that he is an alien. To make matters more bizarre, his neighbors manage to convince him that he is indeed right and he was sent on Earth for something special. It is not easy for a director to make something so different, and still have the audience laugh with you, but Charles Matthau took a bold step and it certainly paid off. By the end of the film, you too will be laughing really hard and really long.
Flirting With Disaster (1996)
David o Russell brings his genius to the film Flirting with Disaster. A film that revolves around a father Mel Colphin played by Ben Stiller who was adopted as a child wants to find out his birth parents so that Mel can give a last name to his own new-born. So Mel and his wife Nancy who Patricia Arquette plays wonderfully, set on a journey to find their child's biological grandparents and soon realize that it is not as easy as they might have expected. Russell creates great scenes by deriving from the awkwardness of the characters and the unusual situation they are and making it laughable. This is surely a must watch film that will have you all in fits of laughter.
Walk Hard: The Dewey Cox Story (2007)
A person who dresses and sounds like Elvis Presley is played by John C. Reilly and you can only laugh at how hilariously he manages to reach the height of fame. At first glance you may feel like this story is the same run-of-the-mill success story where the aspiring musician achieves what he wants by the end of it all, but it is actually a parody of the biopic genre. Director Jake Kasdan takes the help of Jenna Fischer, Tim Meadows and Kristen Wiig, all top tier comedians to make sure that you have an entertaining movie experience. The movie has its emotional bits, but Kasdan really knows how to hit you on the stomach with a dose of laughter, specially when Reilly's character, Dewey Cox gets on stage and shows his real talent.
Mr. Roosevelt (2017)
Noel Wells is not only the leading actor in this comedy film, but has written and directed this as well. A film that starts of looking as a romantic comedy, similar to other films, is far from anything you have seen. Noel's character Emily Martin goes to her hometown when one of her family members gets sick. There she finds out her ex-boyfriend Eric (Nick Thurne) not only has a girlfriend, but both Jen (Daniella Pineda) and Eric are living a perfect life. Emily has to stay with Eric and Jen as she does not have a place of her own. From thereon, be prepared to laugh anytime Emily interacts with Eric's new girlfriend and tries to find out if there is anything else under this perfect façade.
Game Night (2018)
Game Night that stars Jason Bateman and Rachel McAdams as Max and Annie respectively, are a couple who love challenging games. So when Max's brother Brookes (Kyle Chandler) invites his brother and his sister in law along with a few friends for a roleplaying game, the night turns into a series of unexpected events. No one is sure which of the events occurring are real and what is part of the game. John Francis Daley and Jonathan Goldstein, the directors of the film are great at making sure that the audience is always on the edge of the seat while laughing their socks off. This is a must watch film for anyone who likes mystery, suspense and comedy.
There you have it. Be sure to check these all out specially when you are mood to try something truly unique.