Sony, Bose Cans Too Expensive? Microsoft's Noise-Canceling Surface Headphones Now Selling For $200
KEY POINTS
Microsoft's Surface Headphones offer a lot of features similar to Sony and Bose's offerings
The accessory, however, was expensive at launch
It is now discounted to $200 via Best Buy
Music lovers who are also into noise-canceling headphones know that these cans normally come in expensive prices. Such headphones, coming from the likes of Sony and Bose, have a following, and even though they cost a lot, they seem to be a great buy especially for those who love invest in good quality audio equipment, particularly those who are always on the go.
Microsoft tried to enter the noise-canceling headphones department with its Surface Headphones in 2018. The Redmond giant's foray into the audio accessory scene wasn't met with the same response that Sony and Bose received from fans, however. CNet noted that this could be very well due to the pricing: the Surface Headphones cost as much as Sony and Bose's offerings at $350.
Thankfully, those who want a good pair of noise-canceling cans but can't afford models like Sony's acclaimed WH-1000XM3 as well as Bose's Noise Cancelling headphones 700 or QuietComfort 35II can rejoice that Best Buy has slashed $150 off of the Surface Headphones' price, lowering it to $200. Now, those who were on the fence about Microsoft's offering can simply get it without worrying.
Here's what fans can get from the Surface Headphones:
Customizable Noise Canceling levels
In its review, CNet noted that the Surface Headphones features eleven levels of noise cancellation, which means users can choose to silence the world around them partially or completely, depending on their preference. Adjusting noise cancellation is done via the use of a dial located at the left earcup.
Precise volume control
Music lovers will appreciate the Surface Headphones' volume dial located at the right earcup. This sort of works like a volume knob, allowing users to adjust volume levels precisely.
Automatic pause and play
The Surface Headphones feature head detection technology that pauses the music when it is taken off and resumes playback the moment the device is worn again. The same feature works for calls.
Designed for Windows 10
Those who have invested in Microsoft's ecosystem, in Windows in particular, will enjoy the Surface Headphones' ability to connected with Windows 10 PCs right out of the box via a feature called Swift Pair.
Cortana as assistant
The Surface Headphones allows users to interact with Cortana, who can be asked to play music, set reminders, make or take calls, and answer questions just like Alexa and Siri.
The Surface Headphones can last for up to 15 hours of playback with Active Noise Cancellation, Bluetooth connection and Cortana Always On. Battery life can be extended to 50 hours via wired connection. Get it for only $200 via Best Buy.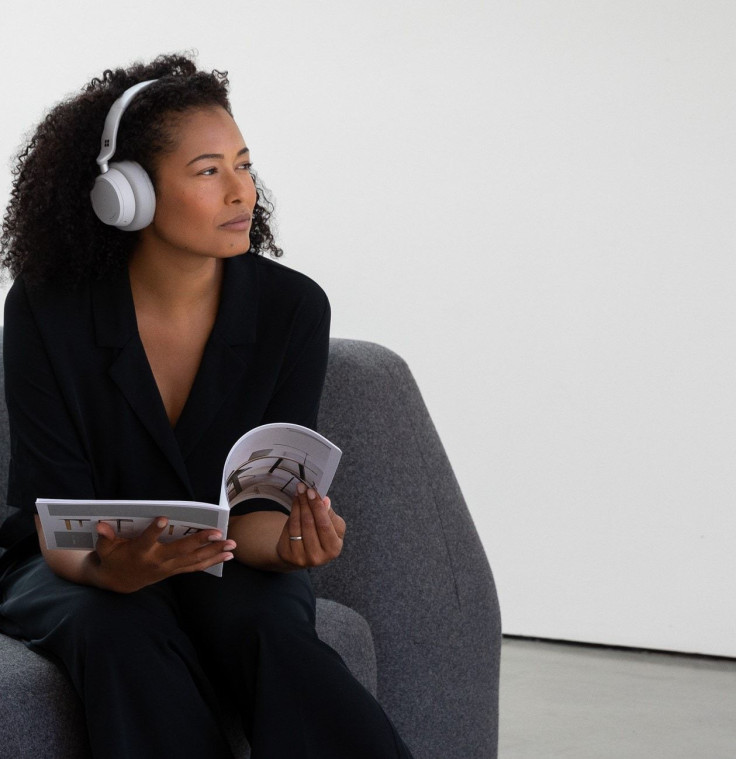 © Copyright IBTimes 2023. All rights reserved.