Sony Hack Update: Seth Rogen, James Franco Cancel 'Interview' Press Appearances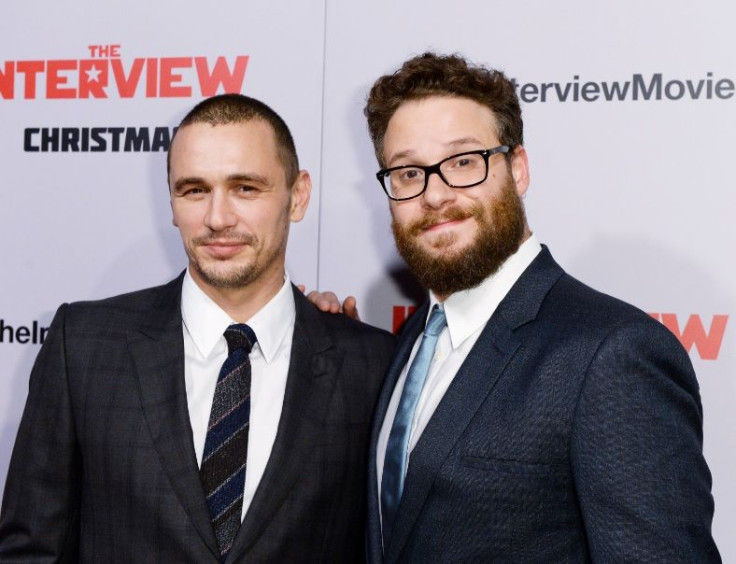 Seth Rogen and James Franco might not have been afraid to make a movie about killing the leader of North Korea, but after violent threats were made by Sony hackers, the Hollywood friends canceled their press appearances for "The Interview," TMZ news producer Anthony Michael tweeted Tuesday. The move was made after the hackers claimed there would be serious repercussions for anyone who sees the film on its intended release date.
In a previous interview, Rogen said he never thought this much turmoil would have surrounded the film. "We did not set out to make a controversial movie. We did not think it was that controversial," Rogen said on "The Howard Stern Show" on Sirius XM Radio. "We were not like, 'Let's make a movie that's controversial about North Korea.' "
Anyone who goes to the theaters to see "The Interview" on Christmas Day has been warned, the Sony hackers claimed in a message. They said the attack would be reminiscent of 9/11.
"The world will be full of fear. Remember the 11th of September, 2001. We recommend you to keep yourself distant from the places at that time," the hackers said. "We have already promised a Christmas gift to you. ... This is the beginning of the gift.
"We will clearly show it to you at the very time and places 'The Interview' be shown, including the premiere, how bitter fate those who seek fun in terror should be doomed to," the message said. "Soon all the world will see what an awful movie Sony Pictures Entertainment has made. The world will be full of fear."
The Sony hack, which has exposed emails from some of Hollywood's most well-known celebrities and producers, was apparently put in place because of Sony Pictures Entertainment's decision to go ahead with a movie about murdering North Korean leader Kim Jong Un.
Follow me on Twitter @mariamzzarella
© Copyright IBTimes 2023. All rights reserved.