SOPA, PIPA Controversy: Both Bills Pulled from Calendar in U.S. Congress
Internet opponents of SOPA and PIPA scored a major victory Friday.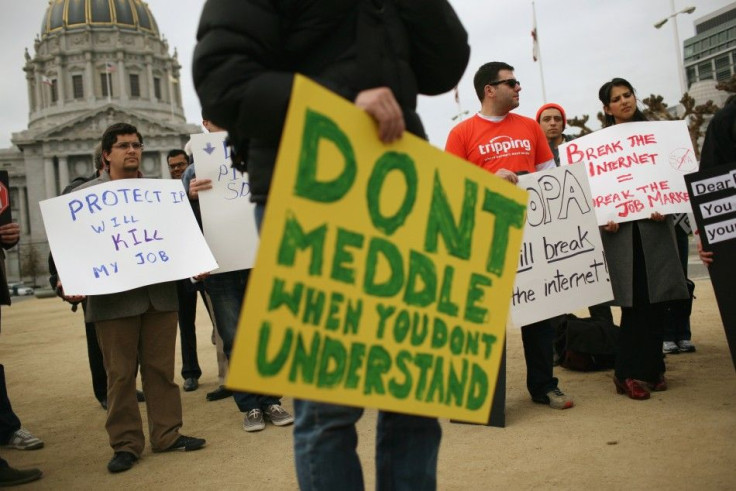 Opponents of two controversial Internet control laws, the Stop Online Piracy Act (SOPA) and the Protect IP Act (PIPA) scored a partial gain Friday when a vote on PIPA was suddenly scrubbed.
Then the sponsor of the SOPA bill withdrew it, citing the need for wider agreement. The moves struck a major blow against both bills, which now appear beyond salvation.
Senate Majority Leader Harry Reid (D-Nev.) announced he would scratch a preliminary vote on PIPA next Tuesday, without comment. Shortly afterwards, House Judiciary Committee Chairman Rep. Lamar Smith (R-Tex.) announced he was withdrawing his SOPA law until there is wider agreement on a solution.
Both moves clearly alluded to Wednesday's global protest of the laws staged by the technology community, headed by Wikipedia, Google, Reddit and more than 240 websites coordinated in part by the Progressive Change Campaign Committee.
Reid's postponement announced alluded to recent events, which included loss of several key Republican backers including Sen. Marco Rubio (R-Fla.), Mark Kirk (R-Ill.) and John Cornyn (R-Tex.).
Separately, House Oversight and Government Reform Committee Chairman Rep. Darrell Issa (R-Calif.), who introduced his rival Online Protection and Enforcement of Digital Trade Act (OPEN), which is backed by the Internet groups as well as the Consumer Electronics Association, claimed partial victory Friday.
Postponing the Senate vote removes the imminent threat to the Internet but it's not over yet, Issa said. He praised the intense popular effort to stop SOPA and PIPA that motivated activists.
OPEN's Senate sponsor is Ron Wyden (D-Ore.), who blocked a vote on PIPA throughout 2011 despite its having been written by Senate Judiciary Committee Chairman Patrick Leahy (D-Vt.).
Also claiming a win was the Progessive Change Campaign Committee, which issued a warning: Any Democrat or Republican who tries to resurrect this bill will be setting themselevs up to face massive accountability at the hands of voters.
The original bills to deter piracy of copyrighted materials are backed by publishers and Hollywood studios such as Viacom, News Corp. and Walt Disney, concerned about downloading and sales of their materials. SOPA and PIPA contain provisions that could see federal judges closing websites and ordering arrests without trials.
The technology community, concerned about censorship as well as jobs created by web-based sites and the surge in e-commerce, mounted its anti-SOPA and PIPA campaign to forestall what looked like near-certain acceptance.
Last weekend, President Obama issued a statement cautioning against the bills as going too far.
On both sides, the allies make for political strange bedfellows. SOPA originated with House Judiciary Committee Chairman Rep. Lamar Smith (R-Tex.), a strong conservative, while Leahy is quite liberal.
Similarly, OPEN sponsor Issa is major conservative leader in the House, whereas Wyden is a liberal leader in the Senate. Last week, the two OPEN sponsors said they were confident their argument would prevail.
On Friday, Issa said he anticipated a needed consensus about the way forward.
© Copyright IBTimes 2023. All rights reserved.