Sophie Turner Flaunts Toned Figure In Swimsuit After Revealing 'Game Of Thrones' Ending
"Game of Thrones" Sophie Turner recently soaked up some sun with fiancé Joe Jonas in Miami.
Turner, 23, showed off her perfect figure in a low-cut swimsuit over the weekend when she and Jonas, 29, headed to the pool. In photos released by Daily Mail, the "Game of Thrones" actress held hands with her fiancé as the two enjoyed spending some time together in between their projects.
Turner flaunted her long and lean legs in a black and white one-piece Onia swimsuit with thin straps, which she accessorized with a belt. The actress tied her blonde locks in a messy bun and completed the look with large sunglasses. She was later seen covering up with an oversized white sweater with an image of two individuals kissing.
Jonas, meanwhile, donned a white Supreme t-shit, blue and black board shorts and a pair of slides for their outing. Like his lady love, the singer also sported a pair of shades.
The pool outing seemed to be a family affair as Joe's younger brother, Nick Jonas, and the latter's wife, Priyanka Chopra, were spotted joining them.
The couple's latest sighting comes after Joe appeared on "The Late Late Show with James Corden" earlier this month. During his chat with host James Corden, Jonas dished on his and Turner's wedding plans, revealing that they will be tying the knot during the summer.
"I'm looking forward to it, it's going to be a lot of fun," Jonas said of their upcoming nuptials.
Jonas added that he and the groomsmen will be in for a rough but fun time during their wedding. "We're going to have a flag rugby game at the wedding, and a flag football game. So if all the groomsmen show up with black eyes and broken arms, I'll be very proud," he said.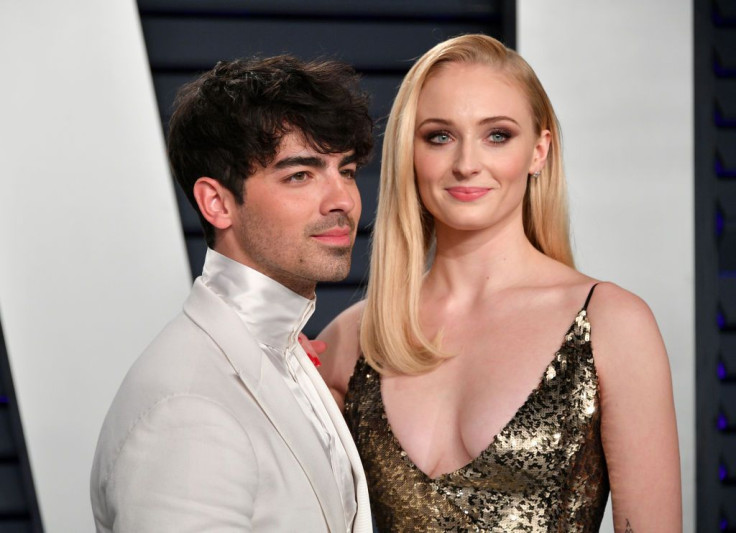 Aside from her upcoming wedding, Turner has another thing to look forward to: "Game of Thrones" Season 8. However, the actress, who has played Sansa Stark since the fantasy series premiered on HBO in 2011, recently received backlash after it was revealed that Turner told some people how the show will end.
Turner previously claimed that she has only revealed "Game of Thrones'" ending to her fiancé, but she recently admitted that she also told one other person how the series will conclude. During her interview with Entertainment Weekly, she opened up about the backlash she received from "GoT" fans after reports surfaced that she may have spilled the ending to her friends.
Turner clarified that she "only told two people," adding that "it's not that many." "To be honest, I don't read many of the mentions on Twitter because there's normally quite a bit of hate. Everything I say will always have some negative reactions, so I'm not surprised," she told the outlet.
Turner also talked about Jonas' reaction when she told him the ending of "Game of Thrones" Season 8 and said that he got "so mad" at her for spoiling the conclusion of the long-running series.
"I've just told Joe [Jonas]. But he's so mad at me - he loves the show! Well, I have to tell someone, otherwise I'll burst," Turner admitted.
© Copyright IBTimes 2023. All rights reserved.