South Korea Announces Cryptocurrency Regulations For Trading Accounts In Banks
One of the things that made cryptocurrency investments lucrative, and risky, was the fact that the entire industry is still largely unregulated everywhere in the world. But governments worldwide are slowly tightening the screws, and South Korea announced some new regulatory measures Tuesday.
The Asian country is a big hub for cryptocurrency trading and mining, and millions of people are estimated to hold some amount of bitcoin. But starting Jan. 30, South Korea will ban the use of anonymous accounts for cryptocurrency trading, and six local banks will start issuing new trading accounts instead.
Kim Yong-beom, vice chairman of South Korea's Financial Services Commission, told reporters Tuesday that the cryptocurrency trading accounts will not be given out to underage citizens or to foreigners, meaning only adult South Koreans will be able to transact using the new accounts, Yonhap News Agency reported.
The new rules also require cryptocurrency exchanges to share data of their users' transactions with the six banks authorized to open the new trading accounts. Authorities would inspect the banks to ensure they take all necessary measure to prevent transactions from cryptocurrency exchanges in case customers' information wasn't provided.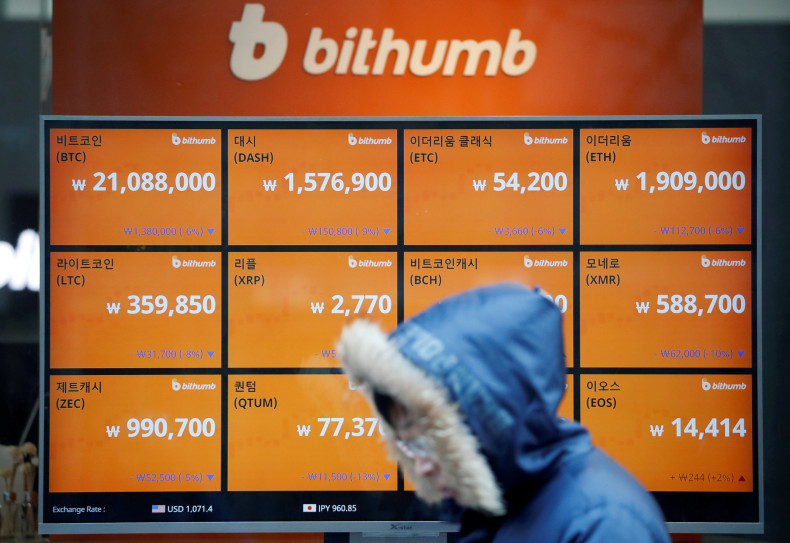 South Korea has banned the opening of new virtual accounts for cryptocurrency investors in December, and had asked traders to change their virtual names to their real names. That decision has now been implemented with this new regulation.
The introduction of making it compulsory for everyone trading in cryptocurrencies to reveal their real names is part of the government's move to regulate the industry amid worries of a bubble. Given the high volatility and large swings in prices of most cryptocurrencies, and the fact that they are not considered financial products, it is not a worry that is entirely unjustified.
"Nobody, including the government, guarantees the value of cryptocurrencies. Given its highly volatile nature, please be cautious when making investment decisions," Kim appealed to investors.
On Monday, South Korea also announced a tax, of up to 24.2 percent, on cryptocurrency exchanges. It includes 22 percent of corporate tax on the exchange's earnings, and 2.2 percent of local taxes. Making it compulsory for exchanges to share data of transactions with banks would make collecting these taxes easier.
Soon after the news broke Tuesday, the price of bitcoin, which was already struggling, fell further. From a high of over $11,800 early Monday morning, bitcoin had fallen below $10,100 by the evening. It made some gains through the night, touching $10,900 briefly, but after the news from South Korea, fell again to below $10,250. At about 3:30 a.m. EST Tuesday, it was hovering over the $10,400 mark.
Other popular cryptocurrencies almost invariably follow the same patterns of price movement. At 3:30 a.m. EST, bitcoin cash was over $1,550, ethereum was trading over $950 and litecoin was valued at over $170.
© Copyright IBTimes 2022. All rights reserved.