SpaceX Falcon Heavy Expected To Launch In November Delayed Until 2018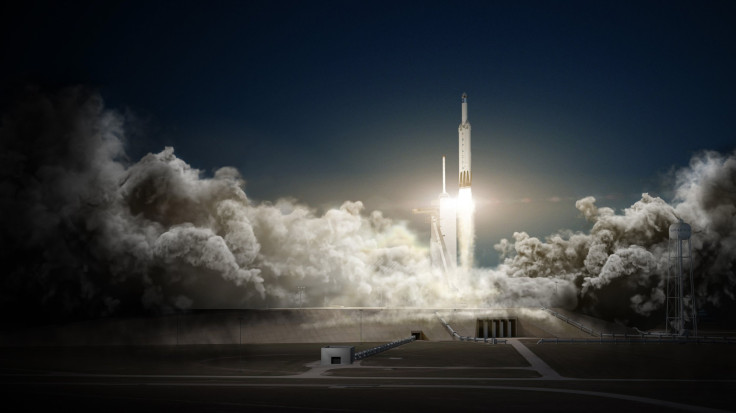 It's starting to look like the rocket Elon Musk said his company, SpaceX, would launch this year might not reach outer space before the year is up after all. The Falcon Heavy rocket is the world's most powerful, but it won't become a truly significant invention until it successfully lifts off.
Musk tweeted in July that the rocket would launch for the first time in November. He made the announcement on his Instagram as well with an illustration of the rocket and the caption, "Falcon Heavy maiden launch this November."
In September, the company posted a video of the rocket in the testing stages at a McGregor facility in Texas. There it underwent testing to ensure that the cores were sound. The video showed the first stage cores of the rocket firing. The rocket is made up of 27 engines from three cores in the first stage. That stage's main purpose is to deliver the payload to outer space. The second stage delivers the actual payload to its orbit once the first stage has gotten it all to space. The second stage is the same as the second stage of a regular Falcon 9 rocket, according to SpaceX's site. In all the rocket will provide more than five million pounds of thrust.
It seemed that everything was on track for the November launch from Cape Canaveral, Florida. The launch was even listed on the Kennedy Space Center's website as an event, but there was no specific date listed, just a target of "no earlier than (NET) November 2017." That is, until the launch was delayed until December. At the time, the website said, "The most powerful rocket this generation has ever seen, SpaceX's new Falcon Heavy rocket, launches no earlier than this December," but that event listing had since been removed from the site.
It appeared the launch has again been delayed. As of now, the Heavy was scheduled for a launch in January following a successful static fire test in December, Gwynne Shotwell, the president and CEO of SpaceX told Aviation Week.
The Falcon Heavy was created originally to bring humans to space and possibly even to Mars. The first launch of the rocket, however, will not have any crew on it. It comes with a $90 million price tag for anyone looking to use it for launches. There are already several Falcon Heavy launches on the launch manifest for the U.S Air Force, Inmarsat and other private companies.
Musk tweeted a video of the side booster for the Heavy in May and said that when the launch finally does happen it "is guaranteed to be exciting…"
© Copyright IBTimes 2023. All rights reserved.