SpaceX Live Stream: Watch SpaceX Launch Inmarsat-5 F4 Internet Satellite Monday Night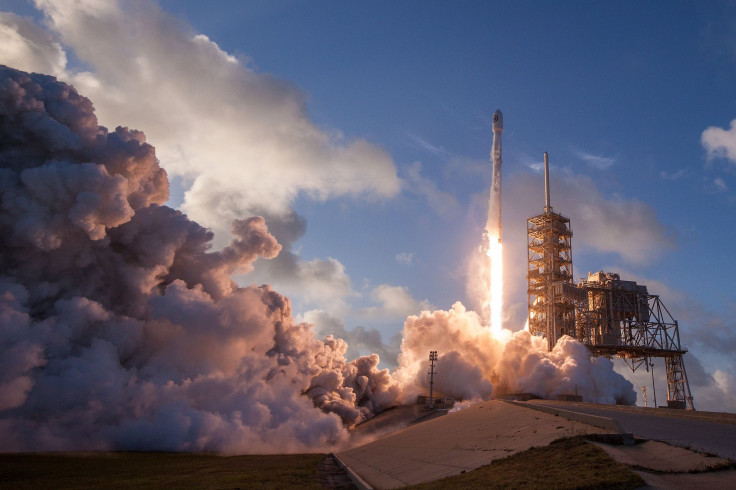 SpaceX is launching the fourth member of a constellation of satellites that provide internet to those of us Earth. The satellite is set to launch Monday evening on SpaceX's Falcon 9 rocket.
The launch will be live streamed and the countdown and liftoff is scheduled for a 49-minute launch window beginning at 7:21 p.m. EDT Monday, SpaceX said. There, however, a backup launch time scheduled for Tuesday in case of delay.
Read: SpaceX And Elon Musk Are Planning To Bring The Internet To Space
The rocket was in place early Monday and ready to go for the evening launch. The rocket will deliver the commercial communications satellite called Inmarsat-5 F4 to geostationary orbit, meaning it will be stuck in orbit in one spot and circle the Earth about once a day. It will launch from Cape Canaveral at the Kennedy Space Center in Florida, the same launch pad from which many of the Apollo missions were launched, 39A.
A launch with the Falcon 9 costs $62 million, according to a price list online. The Falcon Heavy costs nearly $30 million more than that and can carry far more depending on how far the material the rocket is launching needs to go. SpaceX will not be landing the first stage of the Falcon 9 for reuse this launch because it would interfere with the needs of the mission, a media release said.
The Inmarsat-5 F4 will deploy roughly 32 minutes after launch, the company said. Then it will be under the control of Boeing and Inmarsat teams that will finish positioning it.
The satellite is set to expand the reach and power of Inmarsat's Global Xpress network, "the first high-speed broadband network from a single operator to span the world," according to Inmarsat's website. The company aims to bring high-speed broadband access to people on land, at sea and in the air. The "orbit redundancy " helps strengthen the network and make it more reliable for customers.
Read: Internet For All: Elon Musk's SpaceX To Launch Satellites Into Orbit On Falcon 9 Rocket
Elon Musk, SpaceX CEO and founder, also has plans to create a space internet. Musk discussed plans to create an internet in space to connect people on Mars with people on Earth or in space in 2015. SpaceX and the Federal Communications Commission have been in talks and meetings regarding the permits and permissions for Musk's space internet. FCC records reveal.
Musk made his proposal for his nongeostationary satellite system in November. That constellation would involve more than 4,000 satellites that will operate on 83 planes to broaden the internet network.
Watch SpaceX Falcon 9 rocket launch a satellite live:
© Copyright IBTimes 2023. All rights reserved.