Sri Lanka: At Least 3 Muslims Killed And More Than 80 Seriously Injured In Buddhist-Muslim Clashes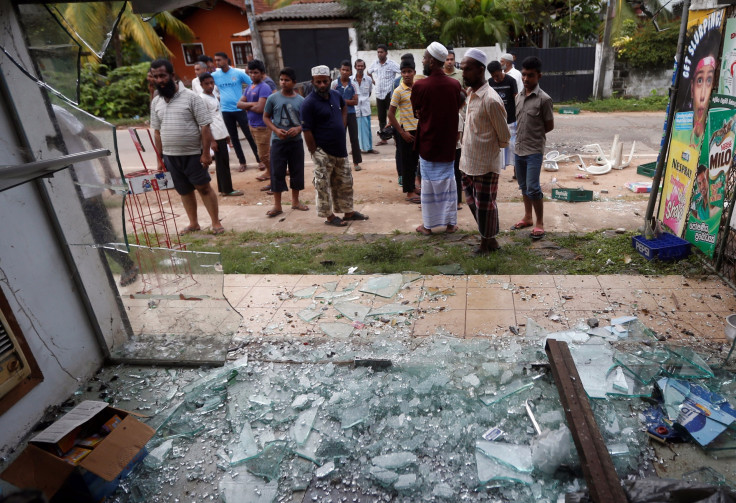 At least three people have been killed and more than 80 people seriously injured in overnight clashes between Muslims and Buddhists in Sri Lanka, media reports said Monday.
Authorities in Sri Lanka imposed a curfew late on Sunday and extended it to Monday in Aluthgama, a coastal town in Kalutara district, after Buddhist mobs destroyed several Muslim-owned homes and businesses, following a rally in the popular Indian Ocean resort town, which lies about 38 miles south of the capital, Colombo. Authorities reportedly said that the violence also spread to Lathugana town, and police officials fired tear gas to bring the violence under control and extended the curfew to the neighboring town of Beruwala.
"At least nine shops and up to 40 houses have been gutted in Aluthgama, while three mosques were attacked," Hilmy Ahmed, the spokesman of Muslim Council of Sri Lanka, told Al Jazeera.
Local Muslims blamed the police, claiming that they failed to protect the Muslim community.
"Some Buddhists are deliberately targeting Muslims. But unfortunately police have not been able to protect the minorities," Ahmed reportedly said. He went on to add that despite the curfew, attackers were still in the area.
According to a police spokesman, the curfew was reportedly "extended to a neighboring area to prevent an escalation of clashes."
The clashes reportedly broke out after a rally was held by the extremist Buddhist Force, also known as Bodu Bala Sena, or BBS, which is based in Colombo.
Eyewitnesses in the areas, famous for beach resorts popular with international tourists, reportedly said that Muslims were being pulled off buses and attacked, while there were no reports of any tourists or hotels being affected in the violence.
Rauff Hakeem, Sri Lanka's justice minister, requested "all relevant parties to remain calm and not to instigate further violence," he said, according to Al Jazeera. "Please let the police do their job. The attacks last night will not be tolerated and we will prosecute any and all responsible."
The latest attack comes just weeks after Muslim legislators urged President Mahinda Rajapaksa to protect the country's Muslim minority community from Buddhist extremists.
"An investigation will be held for law to take its course of action to bring to book those responsible for incidents in Aluthgama," Rajapaksa wrote on his Twitter account Sunday.
© Copyright IBTimes 2022. All rights reserved.
FOLLOW MORE IBT NEWS ON THE BELOW CHANNELS