Steve Jobs Died: Why Pixar Will Be Hit Hardest
OPINION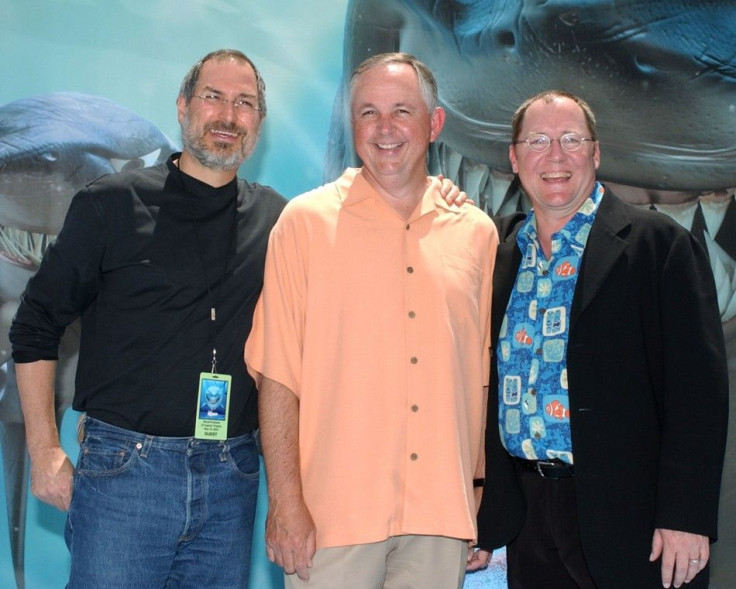 Apple's visionary leader Steve Jobs is gone. While the Apple family will surely mourn the loss of its iconic genius, Jobs' other company, Pixar, may miss him the most.
Pixar Animation Studios was once a division of George Lucas' production company Lucasfilm before Jobs acquired the company in 1986. Under Jobs, Pixar reversed its downward spiral and revolutionized the filmmaking world, proving that computers can do anything cameras can, and that movies don't need live action to have heart.
This was no more evident than Pixar's first full-length feature film, Toy Story. Released in 1995, Toy Story was immediately met with rave reviews. It was the first-ever feature film made completely on computers. Nobody thought sophisticated computers could accurately pull off heartfelt storytelling about a cowboy doll and an astronaut action figure, but they did, and the world of animated films was forever changed. Toy Story became the top-grossing movie of 1995, raking in $360 million worldwide.
Once Toy Story achieved critical success, Disney immediately tried to cash in by commissioning Pixar to do a direct-to-video sequel. Director and animator John Lasseter ultimately saved the film, and Pixar's reputation, by ordering his team to trash the film and start a full-length feature film from scratch, but Toy Story 2 could have easily been the film that destroyed Pixar.
Pixar and Disney had originally signed a co-production deal for five films, but by the end of the contract, Jobs demanded more equitable terms for his company. He and Lasseter felt strongly that sequels should only be made if the story can be as good as the original, but Disney's then-CEO Michael Eisner wanted to cash in on Pixar's critical successes. Pixar and Disney couldn't work out a deal, so the partnership dissolved.
The two companies later convened again in 2006, when Disney's new CEO Bob Iger arranged to buy Pixar for $7.4 billion, making Jobs the largest individual shareholder of Walt Disney Co.
If Lasseter is the soul of Pixar, Jobs was the heart. His imagination and willingness to push technology further was a constant inspiration to Pixar's earliest employees, like Brad Bird, Pete Docter and Andrew Stanton, who later went on to develop their own feature films (The Incredibles, Monsters, Inc. and Finding Nemo).
Steve Jobs was an extraordinary visionary, our very dear friend and the guiding light of the Pixar family, Lasseter said. He saw the potential of what Pixar could be before the rest of us, and beyond what anyone ever imagined. Steve took a chance on us and believed in our crazy dream of making computer animated films; the one thing he always said was to simply 'make it great.' He is why Pixar turned out the way we did and his strength, integrity and love of life has made us all better people. He will forever be a part of Pixar's DNA.
Pixar's 12 animated movies have grossed an unbelievable $7.2 billion worldwide. Since the 2001 introduction of the Academy Award for Best Animated Feature, Pixar's films were nominated each year for the award, and six of the eight nominees won, including Finding Nemo, The Incredibles, Ratatouille, WALL-E, Up, and Toy Story 3.
However, since Toy Story 3 released in June 2010, Pixar's future has looked uncertain for the first time in the company's short history. In June 2011, Pixar's Cars sequel Cars 2 earned a Rotten score of 37 percent approval from movie ratings site Rotten Tomatoes, the lowest all-time for a Pixar movie.
Pixar is also expanding. In April 2010, Pixar opened up a new 2,000 square meter studio in downtown Vancouver for the sake of producing TV specials and shorts based on characters from Pixar films. Pixar has already teamed up with Disney to produce animated TV series based off Toy Story's Buzz Lightyear and Cars' tow truck Mater, but if more Pixar characters are coming to TV, the company really could've used the steady, guiding hands of Jobs during this transition period.
Apple could never and will never forget Jobs, but Pixar is a different story. Its origins start with Jobs, who fought and scraped to see the little movie studio make the world's first computer-generated film, but the company has evolved since then. The company is still powered by creativity, but Pixar has lately begun to lean on its prior successes, syndicating its characters to television and making more sequels to some of the company's great original films.
Pixar's future is largely uncertain. Apple knows what it is and who its leader is, and that will always be Steve Jobs; Pixar's leader, on the other hand, could be Lasseter, or Job, or none of the above. The company missed the mark with Cars 2, and given that the company releases about one movie a year, Pixar has very little momentum right now. The team needs a leader to step in and remind them that Pixar struck gold in the first place because it, too, dared to think different.
Must Read - Steve Jobs: Top 10 Achievements of the World's Greatest Tech Icon (PHOTOS)
© Copyright IBTimes 2023. All rights reserved.