Stock Futures Down on Moody's Warnings, Greece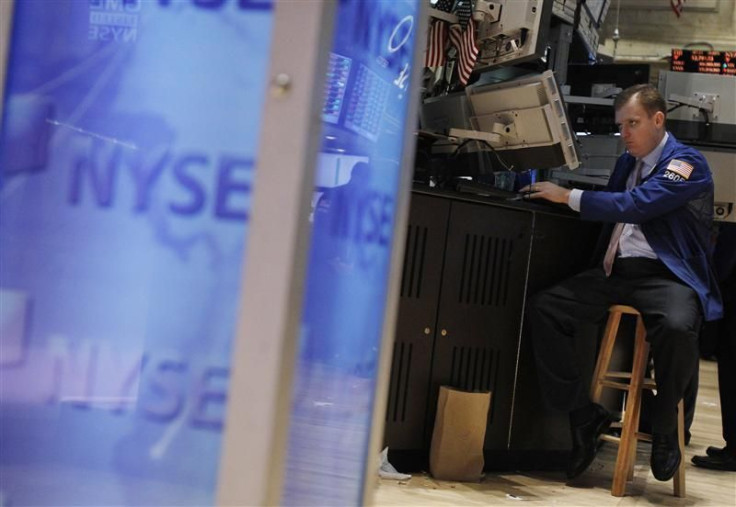 (REUTERS) - Stock index futures fell on Thursday as a Moody's warning of a possible downgrade of global banks and a further holdup in a bailout for debt-laden Greece kept investors nervous.
* Moody's said it might cut the credit ratings of 17 global and 114 European financial institutions in another sign the impact of the Eurozone debt crisis was spreading. Among the banks listed were Morgan Stanley, Goldman Sachs Group Inc. and Bank of America Corp.
* European shares were down 0.7 percent Thursday morning and the euro fell to a three-week low after on the delay over Greece.
* S&P 500 futures dipped 7.2 points and were below fair value, a formula that evaluates pricing by taking into account interest rates, dividends and time to expiration on the contract. Dow Jones industrial average futures lost 43 points, and Nasdaq 100 futures fell 7.5 points.
* On the economic side, the U.S. Commerce Department will release housing starts and permits at 8:30 a.m. EST. Economists in a Reuters survey forecast an annualized rate of 675,000 for January starts versus 657,000 in December.
* Weekly jobless claims will be released by the Labor Department also at 8:30 a.m. EST (1330 GMT). Economists look for a reading of 365,000, compared with 358,000 last week.
* At the same time, the Producer Price Index for January is expected to show an increase of 0.4 percent, compared with a 0.1 percent decline in December.
* Google Inc. shares will be in view after a Chinese official said the Commerce Ministry was reviewing its planned $12.5 billion purchase of Motorola Mobility Holdings Inc .
* Retailers in more Chinese cities were ordered by authorities to take Apple Inc. iPad tablet computers off shelves this week, according to reports, due to a trademark battle between a Chinese technology firm and Apple.
* Data storage equipment maker NetApp Inc reported results in line with Wall Street projections late Wednesday, sending its shares surging nearly 8 percent in after-hours trading.
* AMR Corp., the parent company of American Airlines, posted a fourth-quarter loss on non-cash charges and reorganization items. The company filed for bankruptcy protection in November.
* Underwear maker Hanesbrands Inc. said it expects to report a quarterly loss for the first time in two years due to rising cotton costs and increased competition.
* U.S. stocks fell on Wednesday for the third time in four sessions, with market direction largely dictated by swings in the shares of Apple Inc., the world's most valuable company.
(Reporting by Angela Moon; editing by Jeffrey Benkoe)
© Copyright Thomson Reuters 2023. All rights reserved.