Global Stocks Mixed As Markets Digest Fed, Dollar Surges
Global stocks ended trading mixed Thursday as markets weighed strong US economic data against concerns about tightening monetary policy, while the dollar spiked to a 20-month peak against the euro.
Stocks markets continued to behave fitfully, with European equities opening lower but ending higher and Wall Street stocks doing the opposite.
Investors are still adapting to the new world of tighter monetary policy, outlined most recently on Wednesday by Federal Reserve Chair Jerome Powell, said Tom Cahill of Ventura Wealth Management.
"I think the market is coming to terms with the idea that the Federal Reserve is not going to be as quick to support the market as it has been in the past," Cahill said.
On Wednesday, Powell signaled the Fed plans to hike interest rates in March, telling reporters the recovery in the world's largest economy is strong enough that it can handle higher borrowing costs.
Powell's press conference contained no huge surprises, but several market watchers described it as more hawkish than expected.
"Powell effectively admitted the Fed has been behind the curve and now must get its act together to get inflation to more acceptable levels. If that means upsetting financial markets, then so be it," said Fawad Razaqzada, market analyst with ThinkMarkets.
European indices had mostly retreated in the morning session following sharp losses in Asia. But the mood changed after the US Commerce Department released data showing that the world's largest economy grew by 5.7 percent in 2021, its fastest rate since 1984.
Wall Street also had bounced on the growth data, but later sputtered in the latest mid-session reversal.
One of the biggest movers was Tesla, which plunged 11.6 percent despite reporting record annual profits on surging sales, after Chief Executive Elon Musk warned supply chain problems would persist well into 2022.
Analysts also expressed disappointment that Musk did not offer any fresh details on a coming generation of vehicles.
For the second day in a row, the dollar rallied forcefully against the euro and other major currencies, touching a 20-month peak against the euro as the market digests the Fed pivot.
"The Fed is on track to raise rates in March and could possibly do so by a bold 50 basis points given the US economy's stronger foundation compared to its previous starting point entering a rate hiking cycle," said Joe Manimbo, analyst at Western Union Business Solutions.
"The specter of wider interest rate differentials between the euro and dollar leave the former at greater downside risk."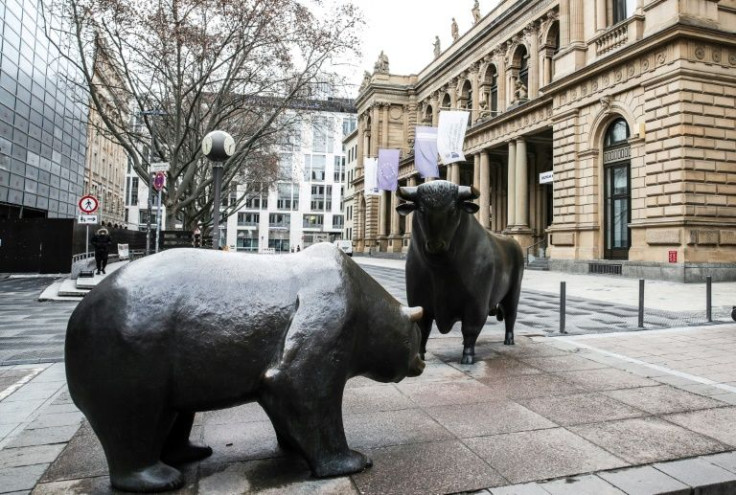 New York - Dow: DOWN less than 0.1 percent at 34,160.78 (close)
New York - S&P 500: DOWN 0.5 percent at 4,328.51 (close)
New York - Nasdaq: DOWN 1.4 percent at 13,352.78 (close)
London - FTSE 100: UP 1.1 percent at 7,554.31 (close)
Paris - CAC 40: UP 0.6 percent at 7,023.80 (close)
Frankfurt - DAX: UP 0.4 percent at 15,524.27 (close)
EURO STOXX 50: UP 0.5 percent at 4,184.97 (close)
Tokyo - Nikkei 225: DOWN 3.1 percent at 26,170.30 (close)
Hong Kong - Hang Seng Index: DOWN 2.0 percent at 23,807.00 (close)
Shanghai - Composite: DOWN 1.8 percent at 3,394.25 (close)
Euro/dollar: DOWN at $1.1147 from $1.1240 late Wednesday
Pound/dollar: DOWN at $1.3381 from $1.3463
Euro/pound: DOWN at 83.27 pence from 83.49 pence
Brent North Sea crude: DOWN 0.6 percent at $89.34 per barrel
West Texas Intermediate: DOWN 0.8 percent at $86.61 per barrel
© Copyright AFP 2023. All rights reserved.