Student Loan Relief: Obama Expands 'Pay As You Earn' Program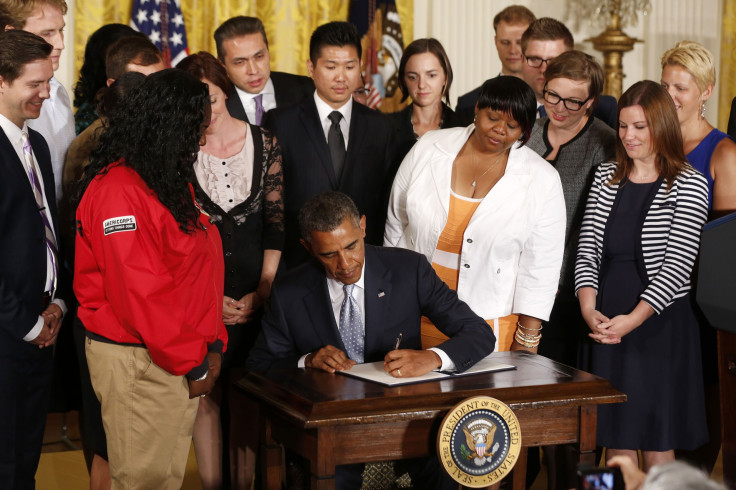 Andy MacCracken's trail to the White House was marked in red ink. He graduated from college and a master's program with so much student loan debt that he feared he could not support himself.
Then he learned he could get some relief via an Obama administration program that caps student debt repayment burdens at 10 percent of the borrower's income. On Monday, he stood by Barack Obama's side as the president announced a substantial expansion of the program, "Pay As You Earn."
MacCracken's evolution from ordinary strapped college graduate to headline-capturing political poster child speaks to the ugly arithmetic that confronts him and millions of other Americans facing untenable student loan burdens. Before realizing he could sign up for the Obama program this fall (when his loan repayments begin), he was trying to figure out how to manage monthly payments of $900 on a $3,500 paycheck. With the federal relief, those monthly payments drop to $204.
"That's the difference between me being able to stay in D.C and pursue my career out here versus moving home," said MacCracken, who grew up in Aspen, Colorado.
As a high school student, MacCracken locked in on American University in Washington, D.C., as the college where he could pursue his interest in government. His family wasn't from the glitzy elite many outsiders associate with the ski town. His mom worked as the education director of a regional professional theater, and sometimes taught aerobics to generate extra income. MacCracken's dad was a manager at a local wine shop.
They had planned to pay for their only child's education by refinancing their home, but that changed near Thanksgiving in 2003, his freshman year in high school, when MacCracken's mother was diagnosed with breast cancer. Medical bills absorbed much of their income.
"It didn't leave the family with opportunity to try to accumulate much more savings, or get any more equity out of the house," MacCracken said.
Still, MacCracken was determined to attend the school of his choice, "to come to the belly of the beast" in the capital, he said. MacCracken and his parents worked out a deal: The financial aid package he received from American would cover a third of his costs. His parents would shell out another third, taking out about $25,000 in loans to cover that share. He would take on the rest through a combination of scholarships, loans and jobs.
He graduated in 2011 with $26,700 in debt from federal loans. He stayed at American to complete a master's in public administration (attending school part-time and continuing to work), and racked up another $48,000 in federal student loans.
Now, he is working as executive director of the nonprofit National Campus Leadership Council, earning a little more than $40,000 a year. He credits "Pay As You Earn" with solving the impossible equation that had been weighing down on his life, relieving him of nearly $700 a month in payments that would have been required under a standard 10-year repayment program.
MacCracken hopes the expansion of the program, now slated to encompass an additional 5 million borrowers next year, will provide similar relief to others.
The program applies to direct student loans, not to loans taken out by parents, and not to private loans.
"The only way that works is if everyone knows about it," MacCracken said.
The memorandum the president signed also directs the Department of Education to renegotiate contracts with loan servicers so they can find ways to help borrowers lower payments, and pay on time.
"The thing to keep in mind about the servicers, is they're the ones who actually interact with borrowers," said Anne Johnson, executive director of Generation Progress, the youth-engagement arm at the Center for American Progress.
"What we hope is that the DOE can use these contracts to incentivize servicers to get this information to borrowers," she added.
Obama is also pushing Congress to adopt a bill, sponsored by Sen. Elizabeth Warren, D-Mass., that would allow borrowers to refinance their student loans at lower interest rates, down from over 7 percent, for some borrowers, to as low as 3.86 percent.
The bill has no Republican co-sponsors in the Senate. Mark Kantrowitz, senior vice president and publisher of Edvisors.com, a Web site about planning and paying for college, said the bill was unlikely to pass, given the "cost-cutting mood" gripping much of Washington.
Kantrowitz estimated the bill would potentially cost the government several billion dollars a year.
"It's a very expensive bill," he said.
By his reckoning, the federal government could deliver greater benefits by providing additional support to students up front in the form of increased federal grants, noting that debt relief "doesn't improve college access, it doesn't improve college completion. All it's doing is providing money to people who already graduated."
MacCracken, for his part, agrees that college costs have to be addressed to really tackle student debt, but that families also need short-term help.
"We need to provide some immediate relief, while we start to address the longer-term issues in higher education," he said.
FOR FREE to continue reading
✔️ Unlock the full content of International Business Times UK for free
offer available for a limited time only
✔️ Easily manage your Newsletters subscriptions and save your favourite articles
✔️ No payment method required
Already have an account?
Log in
© Copyright IBTimes 2023. All rights reserved.