Student Loans: Students and Families Borrow Less for College, Sallie Mae Says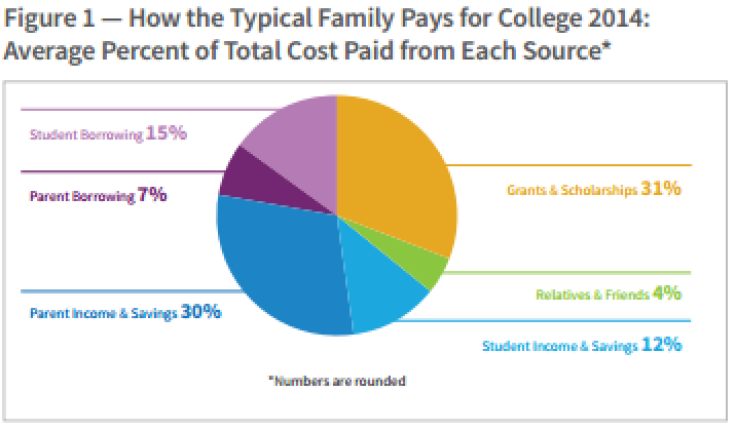 More than eight in 10 American families say college opportunities are so worth the price, that they're willing to stretch themselves financially in order to send their children to school, lender Sallie Mae reports in a new study. Yet in contrast to recent years, they are now borrowing less money for college, and relying more on their own income and savings to pay the costs.
The annual survey, "How America Pays for College," finds that parents and students used borrowed funds to cover 22 percent of college costs in 2014, down from 27 in the previous two years. The average dollar amount borrowed by parents and students combined dropped to $4,610 in 2014, a five-year low.
With the decrease in borrowing, families' out-of-pocket contributions rose to $8,850, "accounting for 42 percent of the total amount paid for college," according to the report. "This breaks a three-year trend in decreasing out-of-pocket spending (46 percent in 2010, 41 percent in 2011, 40 percent in 2012, and 38 percent in 2013)."
Even though college costs have been going up, the authors of the report say that average amount of what families actually spent on college this past year -- $20,882 -- "is consistent with amounts paid the three prior years," and still lower than peak spending of $24,097 in 2010.
One way families might be keeping their costs down is by opting, increasingly, for community college, and less so for four-year public schools: "This year, families reported the highest enrollment in two-year public colleges since the survey began, 34 percent in 2013-14 from 30 percent the previous year," the report states.
Meanwhile, reported enrollment at four-year public colleges has been decreasing: from 52 percent in 2010, to 46 percent in 2013, to 41 percent in 2014.
For students who choose community college, the average amount spent for one year -- $11,012 -- is approximately half the amount that's spent on a four-year public school -- $21,072.
When asked specifically about the cost-saving measures they were adopting, more than two-thirds of families (69 percent) said they were choosing in-state schools in order to pay lower tuition and fees.
"Not only was the choice of an in-state school the most frequently mentioned response," the authors say, "it is also most likely to be mentioned if only one cost-saving measure is adopted by the family."
Other cost-saving measures that respondents mentioned frequently included: living closer to home (61 percent), living at home or with relatives (54 percent), filing for education tax credits (42 percent), and getting a roommate (41 percent).
© Copyright IBTimes 2023. All rights reserved.