Sukhoi SuperJet 100 Vanishes Over Indonesia Carrying Russia?s Aviation Hopes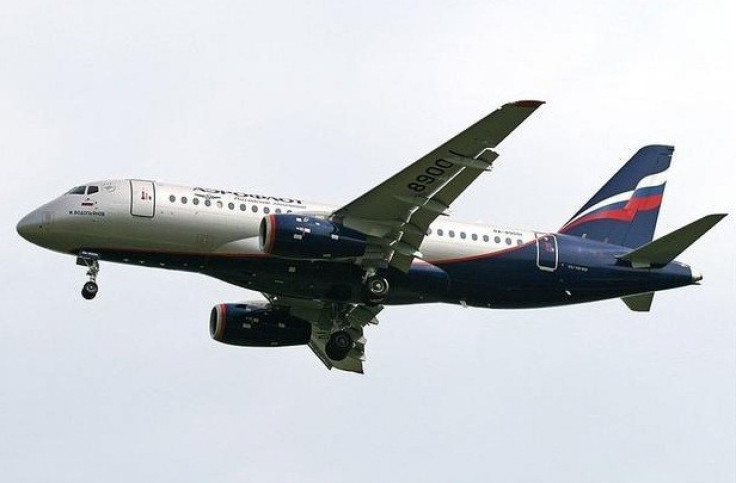 A Russian Sukhoi SuperJet 100 vanished from radar screens and lost contact with ground controllers Wednesday during a flight in Indonesia for journalists and airline representatives. The demonstration flight was meant to promote sales of the aircraft, Russia's first new passenger plane in over two decades.
The SuperJet disappeared over West Java at around 2:33 p.m. Wednesday after declining some 6,000 feet, according to Indonesia's National Search & Rescue Agency. The agency deployed roughly 100 people to search the area after foul weather forced helicopters to turn back.
The Sukoi SuperJet was on its second demonstration flight of the day after a smooth first round. It departed from Halim Perdanakusuma Airport in the Indonesian capital of Jakarta and was to return to the same location 50 minutes later. The plane vanished from the radar just after the pilot requested permission to descend, a spokesman for the Russian Embassy in Indonesia told the Interfax news agency.
The plane was absolutely flight worthy, the spokesman said, adding that a preflight check had turned up nothing suspicious.
Local news agencies put the number of passengers on board at 46, though it remains unclear if that number includes the crew.
Russia's Beleaguered Aerospace Industry
The SuperJet is Russia's first newly-designed passenger jet since the Soviet collapse and carried much of the country's hopes of reviving its commercial aerospace industry -- one filled with numerous accomplishments and glaring safety issues.
In 2011, the nation suffered 99 deaths involving five jetliner accidents through late September, according to figures from London-based aviation analysts Ascend Worldwide. Of primary concern is Russia's aging domestic fleet. Ascend puts the age of Russia's domestic single-aisle aircraft between 25 and 30 years, while the U.S. domestic fleet averages around 13 years.
For decades, lethal crashes have marred Russia's reputation and left the country unable to sell its aircraft outside of Iran, Cuba, parts of Africa, and the former Soviet Union.
Richard Aboulafia, vice president of Teal Group, a Virginia-based group of aerospace and defense market analysts, said the Russian aerospace industry needs to overcome its reputation for being under-supported, relatively unreliable, and energy inefficient.
We have no idea what happened yet, Aboulafia noted. But having said that, they are going to have to clear this up very fast because there is already a negative perception.
Marketing The SuperJet
The SuperJet, which seats 70 to 98 people, is considered a challenger to similar-sized jets from Embraer and Bombardier. With a list price of $31.7 million, it's roughly one-third cheaper than its short-hop competitors.
That, however, may not be enough of a draw. Airline industry analyst Robert Mann, of R.W. Mann & Co., said Sukhoi is looking to enter into a crowded market.
Based upon the orders, it's largely a CIS [Commonwealth of Independent States] impact at this point, Mann said. They really hope to enter into the Western market and the burgeoning Asian market. But as they say, the commercial marketplace is hotly contested. Everyone's got these 100-seat planes.
Sukhoi is a large holding that traces its roots back to the 1930s in the Soviet Union. The company employs 26,000 people and is based in the remote Far Eastern city of Komsomolsk-on-Amur.
Currently, the SuperJet is Sukhoi's only commercial product, with eight in service with Russia's national airline Aeroflot. There are some 200 on order and the company plans to sell about 1,000 SuperJets over the next two decades.
They have quite a bit of technical expertise with their military role, Mann said, but then again this is commercial.
Better known for its military aircraft, Sukhoi partnered with Western companies to help market its new model. A division of Italian engineering giant Finmeccanica is helping to market the plane in Japan, Australia, Western Europe and the Americas and owns about 25 percent of the SuperJet program.
The stop in Indonesia was the fourth in a six-nation Welcome Asia! road show. Previous stops included Myanmar, Pakistan, and Kazakhstan. Laos and Vietnam were to follow.
Troubles Early On
The Sukhoi aircraft had troubles early on. Entering the production phase, Russian television station NTV revealed that 70 engineers at the SuperJet plant had obtained doctored engineering diplomas by bribing a local technical college. Sukhoi argued that the employees were not directly involved in the assembly process.
Then, the finished planes weighed two tons more than engineers' initial estimates, hurting, among other things, fuel economy. Sukhoi called the setback typical for new aircraft.
Problems continued for Sukhoi when the first SuperJet flying under Aeroflot was promptly grounded due to the breakdown of a meter that reads leaks in pipes that funnel fresh air into the cabin.
Depending on the cause, Wednesday's incident may prove the toughest to overcome.
© Copyright IBTimes 2023. All rights reserved.