Super Tuesday Oklahoma Primary Results 2012: Santorum Wins Oklahoma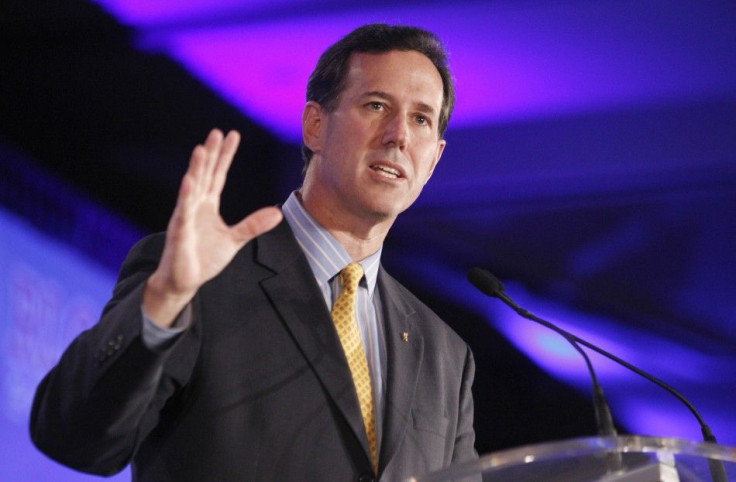 Rick Santorum has been declared the projected winner of the Oklahoma Republican primary.
The victory adds to one he already tallied in Tennessee. The former Pennsylvania senator was declared the projected winner at 9 p.m. with 34 percent of the vote. He held a 7 percent lead over Newt Gingrich and Mitt Romney who both held 27 percent of voters at the time.
Santorum looks like he was able to hold on to what he had [two weeks ago], said Ronald Keith Gaddie, a professor of political science and editor of Social Science Quarterly at the University of Oklahoma.
Polls in the weeks leading into the primary placed Santorum well ahead of his rivals.
James Davis, a political science professor at Oklahoma State University, said Santorum's victory was to be expected because of his rapport with evangelical social conservatives.
If you look at the voting pattern of this state, we are the reddest in the Union, Davis said; social conservatism started dominating state politics ever since 1968.
The race was a close one, however, with Mitt Romney and Newt Gingrich close behind early on. As the night progressed, Santorum extended his lead.
Gaddie, however, said Santorum's lead in the state was reportedly cut down over the weekend as Romney and Gingrich were said to have spent hundreds of thousands of dollars on TV and radio ads, something that Santorum did not do.
Before polling results came in, there were rumors the race was back up in the air.
The great surprise we were expecting came as Newt Gingrich coming in second place, Gaddie said. Santorum appears to be running ahead of expectations nationwide.
The challenge Santorum faces now is ensuring he remains a nationally competitive candidate, Gaddie said.
Davis said Santorum's brand of conservatism resonated with Oklahoma voters, but he still doubted the candidate could take the nomination because he alienates more moderate voters.
And Oklahoma is a outlier voting population, where social conservatism and religion play an enormous role, Davis said.
We continue to have an unfocused electorate that cannot focus on a single candidate, Davis said. The Republican Party is essentially eating itself alive in this process.
In the end though, Romney remains on top, because he manages to take so many fragments from various races, the end result is still Romney, Gaddie said.
By 10 p.m. ET, and with 54 percent of the vote, Santorum held a 13,000 vote advantage over Romney and Gingrich, who both traded second and third places throughout the evening.
© Copyright IBTimes 2023. All rights reserved.
FOLLOW MORE IBT NEWS ON THE BELOW CHANNELS