Supreme Court Says Plaintiffs Can Challenge 'Unconscious Prejudices' In Fair Housing Case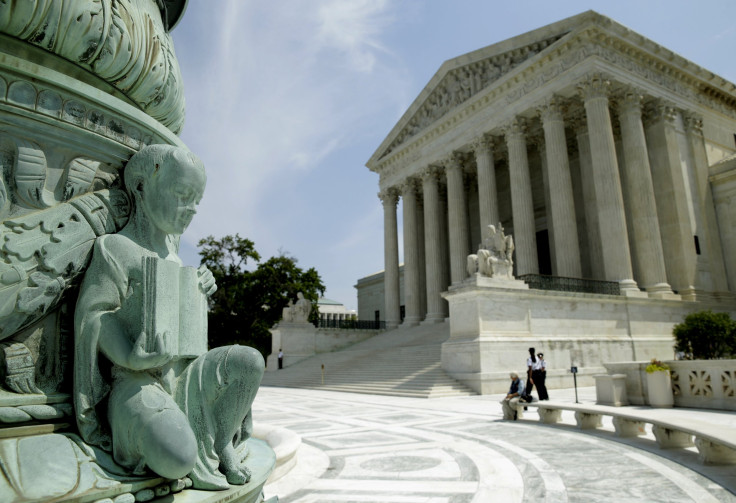 The Supreme Court on Thursday ruled in favor of a decades-old legal tool used to combat housing segregation. In a 5-4 decision, the court handed a win to civil rights advocates who say the tool is essential for advancing economic opportunity. The ruling delivers a blow to banks that argue the legal standard makes credit costlier, and harder to get.
Justice Anthony Kennedy wrote the majority opinion for the court in Texas Department of Housing and Community Affairs v Inclusive Communities Project, Inc. He said that claims of "disparate impact" are allowable under the 1968 Fair Housing Act, meaning that plaintiffs can argue a policy has discriminatory effects, without having to prove that discrimination was intentional.
Disparate impact liability "permits plaintiffs to counteract unconscious prejudices and disguised animus that escape easy classification as disparate treatment," Kennedy wrote, in an opinion joined by Justices Ginsburg, Breyer, Sotomayor, and Kagan. "In this way disparate impact liability may prevent segregated housing patterns that might otherwise result from covert and illicit stereotyping."
Justice Alito, in a dissent joined by Chief Justice Roberts, Justice Scalia, and Justice Thomas, disagreed with that interpretation of the civil rights-era law. "It is hard to imagine how Congress could have more clearly stated that the FHA prohibits only intentional discrimination," Alito wrote, "than by forbidding acts done 'because of race, color, religion, sex, familial status, or national origin'."
Since 11 federal appeals courts had already agreed, in some form, that plaintiffs could bring disparate impact claims under the FHA, the Supreme Court's eagerness to take up the issue created concerns among fair housing advocates that the justice could indeed take away, or severely limit, use of the tool. This case -- which centers on where Texas alloted tax credit to build affordable housing units -- marked the Justices' third attempt to air out arguments on the issue. Two other prior cases settled before reaching the Supreme Court.
"I do believe a decision going the other way would have essentially rendered housing discrimination laws meaningless," says Andrew Scherer, a former civil legal aid attorney, who is now policy director at the Impact Center for Public Interest Law at New York Law School.
"I have to say, I'm relieved," Scherer adds.
Disparate impact suits, as Justice Kennedy noted, have been used to target zoning laws and other types of restrictions "that function unfairly to exclude minorities from certain neighborhoods without any sufficient justification." So the court's decision, explains Howard University law professor Valerie Schneider, keeps an "important tool" in play for civil rights advocates.
But that's not to say that disparate impact is easy to prove. Schneider adds that litigants don't often win on disparate impact claims.
Bankers and lenders, however, were hoping the court would rule in the opposite direction. They viewed the case as an opportunity to ease their burden of complying with fair lending laws -- which, the industry argues, also affects the price of credit for consumers.
"Just the day-to-day of extending credit carries with it very signifiant disparate impact risk," says attorney Ben Saul, a partner at the firm Goodwin Procter Take FICO credit scores, for example, which lenders factor into decisions about extending loans. "Because of the dynamics of our society, it tends to be the case that protected classes have lower FICO scores than non-Hispanic whites," Saul says.
For lenders to perform a disparate impact analysis across many different credit models, and products, he adds, "It takes time, it takes resources, it takes money, and in the end what that means … is less credit will be extended, and that credit will cost more." Saul says he expects regulators including the Consumer Financial Protection Bureau and the Department of Justice to continue to scrutinize lenders under a disparate impact framework.
Thursday's Supreme Court opinion sends the original dispute back to the lower courts to evaluate, with some words of caution. Kennedy's opinion stressed, for example, that plaintiffs will have to demonstrate a "causal connection" between a specific policy, and a disparity.
No matter the outcome in that specific case, says Scherer, "the important, over-arching principal about how our courts should be evaluating whether or not discrimination has taken place has been resolved for the foreseeable future. That's very reassuring."
FOR FREE to continue reading
✔️ Unlock the full content of International Business Times UK for free
offer available for a limited time only
✔️ Easily manage your Newsletters subscriptions and save your favourite articles
✔️ No payment method required
Already have an account?
Log in
© Copyright IBTimes 2023. All rights reserved.