SXSW 2015: In Austin, Indie Bands Look To Make It Big By Selling Out To TV, Films, Advertising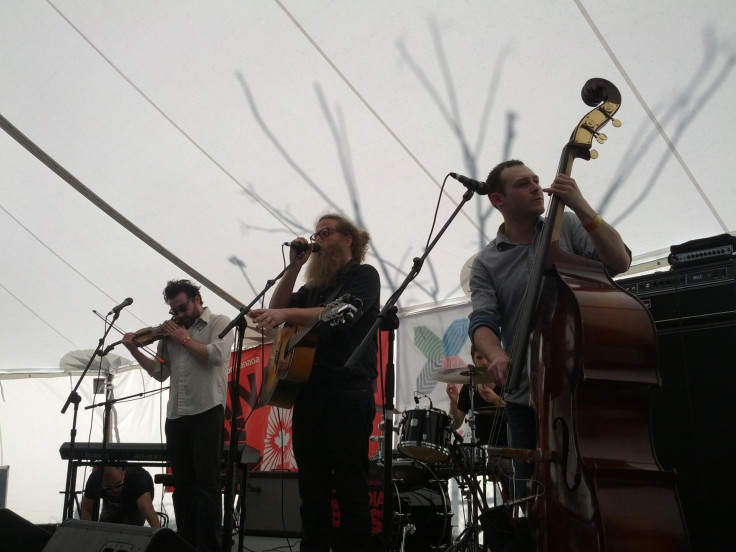 AUSTIN, Texas -- More than ever before, the bands and songwriters pouring into central Texas for SXSW this week are hoping to hit it big by selling out. With music sales continuing to drop and touring increasingly competitive, bands see licensing a song for use in films, TV shows, commercials and digital content, also known as a synchronization, or "sync," as a big step toward the big time.
"It's a hot area," Jamar Chess, co-founder of music licenser and publisher Sunflower Entertainment Group based in New York City, said. "Everybody wants to be on the next episode of 'Grey's Anatomy.'"
The panel programming at the annual South by Southwest (SXSW) festival, which wraps up its music portion on Sunday, reflects that this year. There are 18 panel presentations related to syncs and licensing, up from 14 last year and more than the number of panels dedicated to vital areas of the music business like touring, merchandising, record deals, music videos or social media.
The increased interest is the result of many things coming together at the right time. As the music industry shifts from being powered by moving units to being powered by steady streams of fractions of cents, and as the stigma once associated with artists putting their music into ads or films falls away, more of them are gravitating toward a part of the industry that is growing and filled with real, albeit uncertain, paydays.
"It's real money, but it's like winning the lottery," Chess said of closing a synchronization deal. "We're all playing the same scratch-off tickets," he added.
Increased opportunity
Every year, syncs and licenses generate hundreds of millions of dollars in revenue worldwide. While that represents a small slice of the music industry as a whole, which generates more than $15 billion annually, the number of opportunities to sync and license music has never been greater. Besides film, television and advertisement deals, there are digital opportunities such as Web ads, Web series created on multichannel networks like Fullscreen and AwesomenessTV and digital-only content created by companies like Netflix, Amazon and Hulu -- and all of them are creating opportunities that may soon be rivaling TV.
"The Internet is quickly getting up to TV prices," Mike Ladman, a music producer and supervisor at the advertising agency McCann Erickson in New York, said. Yet, not all sync deals are created equal. A brief sync in a Web video can bring in as little as a few hundred dollars, while a prominent sync in a global TV advertising campaign can bring in hundreds of thousands -- or sometimes more than a million dollars.
But beyond the immediate financial rewards, there is the reality that having a song featured in an advertisement or television show greatly increases its exposure to potential fans. A small Web ad that blows up on YouTube, for example, could wind up being more powerful and more valuable than a song on the radio or a placement in a music blog or an entertainment website.
"You're getting millions of dollars in free advertising," Ladman said of a viral hit.
Unfamiliar territory
Yet, the process of actually putting an artists' music in front of advertisers, music agencies or music supervisors, often through obscure channels and in highly specific formats, remains obscure to musicians who are just starting their careers.
"I think it's still this pie in the sky thing for most artists," Cheryl B. Englehardt, a composer in the New York City area whose music has been in ads for Under Armour and Ziploc, said. Englehardt -- who spoke on a panel during the Interactive portion of SXSW earlier in the week and attended a separate panel on licensing Wednesday morning -- said that many artists would benefit from knowing what agencies and production companies are looking -- and listening -- for.
"Knowing how it works on that side is always better," she said. "I think that's what these panels are for."
New strategies
But while the number of opportunities continues to grow, the number of gatekeepers remains the same at the film studios, production houses and advertising agencies. "This is still a relationships business," Chess said. "A lot of it is about who you know."
That, in turn, may wind up changing the strategies and priorities of bands that make their way down to Austin every year.
"The way I think now is so different from the way I thought about it when I was in a band," Jared Gutstadt, CEO of music agency Jingle Punks, said. "Showing up here, you just don't know who's going to walk in and check out your band unless you're a priority artist at one of the main stages.
"I think if I was doing SXSW in a band now, I would just post up at the Four Seasons during Interactive Week and hope to meet marketing people and ad agency folks and try to make one or two key relationships," added Gutstadt, whose New York City agency has placed music in ads for BMW, Marriott and AT&T.
Hope springs eternal
Like most revenue streams in the music business, sync and license deals can be very uncertain. Closing one does not guarantee you'll close another, and changing tastes can make or break a market for an artists' music in an instant.
Yet, sometimes all people need is a little encouragement. Rian Ball, a songwriter and producer from Tampa, Florida, who came to SXSW for the first time in the hopes of securing a publishing deal and a manager, said he doesn't see syncs as a sustainable means of supporting himself. "You're always floating from one thing to another," he said.
But an experience he had Wednesday at a pitch session with a woman from Atlantic Records changed his mind about how aggressively he might pursue them.
"She said, 'I could hear this in a romantic comedy,'" Ball added, smiling.
FOR FREE to continue reading
✔️ Unlock the full content of International Business Times UK for free
offer available for a limited time only
✔️ Easily manage your Newsletters subscriptions and save your favourite articles
✔️ No payment method required
Already have an account?
Log in
© Copyright IBTimes 2023. All rights reserved.