SXSW 2015: Rhapsody Makes Its Entire Song Catalog Available For Listening On Twitter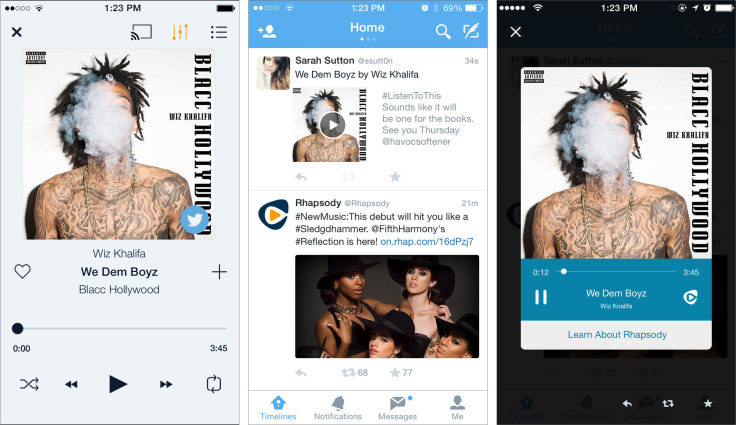 AUSTIN, Texas -- Rhapsody has been in the music-streaming market for more than a decade, but with the rise of Spotify, Apple's purchase of Beats, Amazon's launch of Prime Music and Google's release of YouTube Music Key, that market has become saturated. That's why Rhapsody is hoping a new partnership with Twitter will give it fresh life.
The Seattle-based company announced that it is now possible for anyone to stream Rhapsody music directly from tweets. Starting Tuesday, users of the $9.99 monthly subscription service will be able to tweet out the songs they're jamming to, and friends/followers can listen along for free. Users can listen to entire songs as long as they don't exit Twitter.
Rhapsody has licensed its entire catalog of more than 35 million songs through Twitter. The company will be taking a loss to pay the royalties for all the free music streams, but it sees this as a great marketing opportunity, letting its users essentially give their followers a sample of the service, Ethan Rudin, the company's chief financial officer, said in an interview with International Business Times.
Despite offering music streaming since 2001, Rhapsody has just 2.5 million subscribers, far behind Spotify, the leader in the space with more than 15 million paying users. Rhapsody is hoping its new partnership with Twitter will help it grow. The intent is to get users who stream tweeted songs to sign up for Rhapsody's two-week trial and then stick around and pay for a subscription.
"We believe that this is going to be a really, really great way to convert people to Rhapsody subscribers," Rudin said, explaining that each Rhapsody song tweet will include a link to the service. "We're going to be hopefully initiating a ton of trials this way."
Twitter users frequently tweet out links to songs they're playing, using hashtags such as #NowPlaying or #np, but links for services such as Spotify redirect clicks to their websites and require that users either pay for a subscription or sign up for the ad-supported version of their service if they want to listen. Now, when users click on a link to a Rhapsody song, they'll be able to listen without leaving Twitter.
The San Francisco-based social network has previously tried to tackle music discovery on its microblogging service, launching a Twitter #Music app in 2013. But the app failed to gain any traction and was shut down last March. By teaming with Rhapsody, the company may be able to get more consumers to use Twitter to discover new music.
"I can't comment on the specifics of our deal with Twitter, but if you wanted to think about what makes a sensible partnership -- you know, we bring what we bring to bear, and they bring what they bring to bear. And we'll see how it goes," Rudin said.
Rhapsody chose to announce this new feature during the South by Southwest festival since that is where Twitter first rose to fame back in 2007. To get the ball rolling, the company will have celebrities, including Pearl Jam, Flo Rida and Wiz Khalifa, tweet out links to their songs on Rhapsody.
"We're super excited to see people tweeting and people tweeting from South by Southwest, Twitter users and Rhapsody subscribers tweeting, but more importantly artists tweeting," Rudin said. "We can't wait to put this in their hands and see what they do with it."
© Copyright IBTimes 2022. All rights reserved.
FOLLOW MORE IBT NEWS ON THE BELOW CHANNELS