Kanye West New Song: Why Kanye Premiered 'Only One' At The 2015 Grammys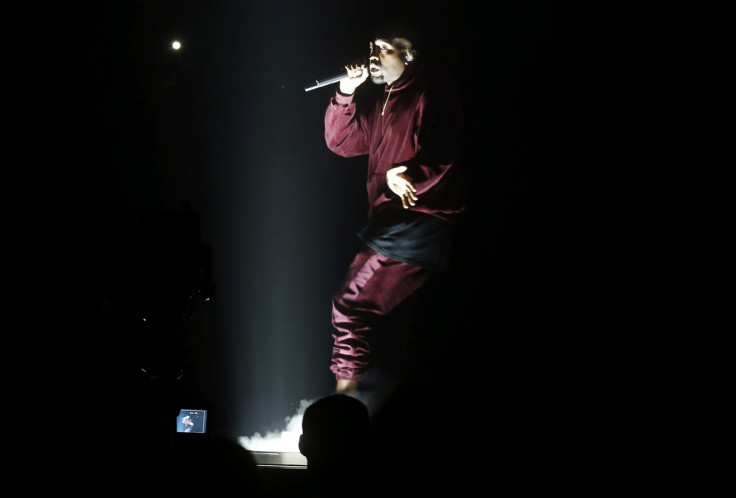 One of the biggest moments of the 2015 Grammys involved an artist who didn't have an album nominated. Kanye West performed "Only One," a track from an album rumored to be dropping later this year.
West's performance was the latest example of a recent trend: artists using the Grammys not as a place to celebrate established work, but as a giant launchpad for work they expect to promote for the rest of the year.
"That translates into hundreds of thousands of dollars in media value," Tammy Donham, a professor of music industry at Middle Tennessee State University, said of the performance.
The Grammys have long been one of popular music's biggest stages, and the awards show is indisputably one of the largest events on the TV calendar. More than 30 million people tuned in to last year's broadcast. Two years ago, the awards show managed to drive more conversations on social media than anything else on TV, including the Super Bowl.
For artists and their labels, that kind of platform is a once-a-year kind of opportunity, more valuable in launching a new song than celebrating an existing one that may have been on popular radar for months. But the desire to premiere new work is at odds with what the broadcast's producers want, which is to build the show's moments using material that is already familiar.
"You have all the artist teams really wanting to expose the new music more than the old stuff," Donham explained. "But when you're thinking about it from a producer's standpoint: what's going to drive [fans] to watch the show? They want to see Meghan Trainor perform 'All About That Bass,' not the song no one's ever heard of."
New Moments For Audiences
By the time of the Grammys broadcast every year, many of its stars have spent months flogging their top hits, not just on the road and the radio, but at other awards shows, including the People's Choice Awards, the Country Music Awards, the MTV Video Music Awards, and others.
"Sometimes these things have been played and performed so many times they're not interesting anymore," Grammys President Neil Portnow said.
To make those songs more exciting, the show's producers often pair performers in unusual ways, or work with artists to present them at a larger-than-life scale. But recently, the show that was mostly known as a year in review began to look forward. Katy Perry and Nicki Minaj both debuted songs in 2012; last year, singer-songwriter Hunter Hayes debuted "Invisible," which is nominated for a Grammy this year.
A huge media play
Those premieres were the latest in a series of moves where labels have sought new ways to get new music into fans' ears. Over the past decade, major labels have had less and less money to spend promoting artists' work. Once-large teams of full-time media buyers have been stripped down to bare bones.
"I think the biggest team left is three [people] at Sony," said Gogi Gupta, the founder of Gupta Media, a media agency that's working with nominees in 49 of the 52 Grammy categories.
With fewer resources to go around, labels are hungrier than ever for platforms where they can put their music in front of large audiences. West and his team have plenty of experience using the world's largest media stages to unveil new work. During the summer, the Internet seethed with excitement over "God Level," a still-unreleased West song that was the sound track on an Adidas spot that aired during the World Cup. The ad has been watched more than 39 million times on YouTube.
Whatever momentum West and his team get out of the evening's performance will have to be capitalized on quickly. "The half-life of buzz," Gupta said, "is a couple hours."
--
An earlier version of this story incorrectly stated West had not been nominated for any Grammys this year. He received two nominations for songs.
© Copyright IBTimes 2023. All rights reserved.