Tamar Braxton And Vincent Herbert Get Into A Fight, Cops Called Amid Divorce Rumors: Report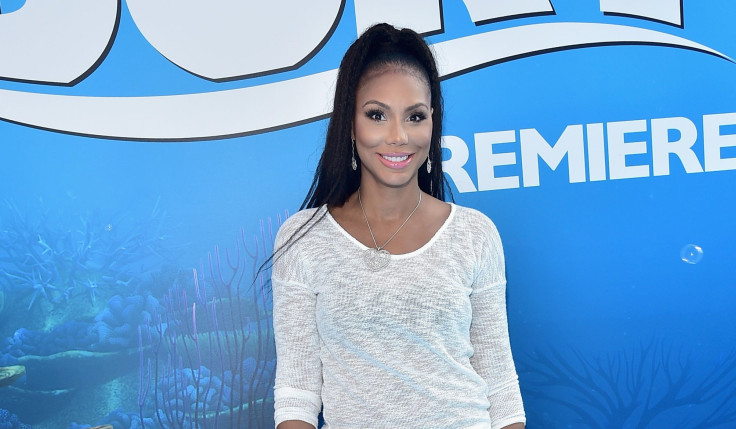 Rumors are continuing to swirl that Tamar Braxton and Vincent Herbert's marriage is crumbling. The couple, who wed in 2008, first sparked divorce rumors last month and a new report claims the pair got into a violent fight which resulted in Atlanta police being called.
According to LoveBScott.com, the alleged fight between Braxton and Herbert happened over the weekend at the Ritz Carlton hotel, where the couple was staying. A source told the outlet that the "Love and War" singer had gotten into an argument with Herbert and things turned physical. According to the source, Herbert bit Braxton on her hand "so badly that he drew blood, and she ended up calling the police."
Braxton supposedly refused EMS services, and Herbert wasn't arrested because he had left the hotel before cops arrived. Bossip.com reported that the couple's fight was sparked by Braxton deciding not to have Herbert manage her career anymore. The 39-year-old singer and "Braxton Family Values" star has allegedly hired Steve Harvey's manager.
Braxton and Herbert haven't addressed the latest rumor surrounding their marriage. Last month, the music producer dismissed claims that he and his wife were headed towards a split telling "Entertainment Tonight" that they were "totally fine." "When God blesses people, there are always people who are going to try to tear them down," he said.
Herbert's comments came after it was reported that Braxton was caught cheating. "[Vincent] doesn't know who Tamar is anymore," a source told the outlet. "He says she's not the same woman he married eight years ago. She's too busy going on vacations to worry about the drama at home. He has the baby and that's the only thing he's concerned about."
© Copyright IBTimes 2023. All rights reserved.