TechCrunch Disrupt 2014 Winner Vurb Wants To Change The Way You Browse The Net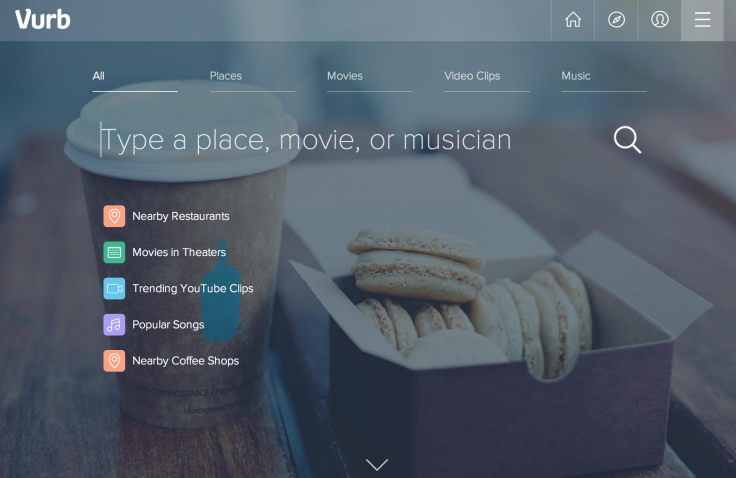 Is there a better way than Google to browse the Web?
Bobby Lo thinks he's got the answer and that is Vurb, the contextual search engine he created, which just won the coveted Disrupt Cup 2014 out of a field of promising startups that pitched their ideas at this week's TechCrunch event in New York.
With the win and the $50,000 prize money, Vurb joins previous Disrupt Cup winners personal finance website Mint.com; cloud-storage firm Dropbox; and last year's winner, Enigma.io, a public data search engine and user interface.
"Surfing the Web," Lo said in his Disrupt pitch, "is a throwback to the early '90s when surfing embodied this new and magical experience of flowing blue link to blue link." In the ensuing decades, a lot of things have changed. "Browsers have gotten faster, content has gotten richer," but we still browse the Web in a traditional way, using general search engines like Google to find websites that relate to our needs and desires, he said.
Vurb, on the other hand, relies on something called "visual indexing." Instead of using multiple tabs on a single browser like Google Chrome, Vurb takes up one window and creates "cards" -- like digital 3x5 cards -- for content that has contextual suggestions for the information you've searched.
Here's how it works. If you want to plan a night out -- say, going to dinner and a movie -- it would typically take 12 Web pages to gather all the info you need. With Vurb, users flow seamlessly from contextual links for movies, like IMDb and Rotten Tomatoes, to restaurant suggestions via Yelp and Open Table, to mapping sites, all of which stay in a streamlined user interface that syncs to the cloud. That information can be accessed on the Web and on an iOS mobile app.
Since Lo founded Vurb in 2012, the San Francisco company has raised $1.5 million in seed funding from notable tech-startup investors like Drew Houston, CrunchFund and Atlas Ventures.
They may believe in Vurb, but one of the Disrupt judges isn't so sure. "This problem's a bitch. You won't solve it and it's going to kill you," said Fred Wilson, a noted investor and the co-founder of Union Square Ventures about reimagining the way people use the Internet, at Wednesday's competition. He should know, as he invested in a company in 1994 hoping to improve the Web-browsing experience, but it was unsuccessful.
Lo wasn't fazed by Wilson's words, though; he's used to investor criticism. "Some get it and some don't," Lo said. "Fred is right: The problem is hard. That's why there isn't any innovation in this area right now."
Vurb's biggest challenge will be getting people to move away from Google, something Yahoo has been trying to do for nearly a decade. Lo's timing may be good, though, as Google, Yahoo and Bing all saw diminished scores on the American Customer Satisfaction Index published last June.
Currently, Vurb exists as a closed beta browser-based Web application and a mobile app. Lo thinks that keeping it available through a traditional Web and mobile channels will allow users to adopt to Vurb's browsing strategy more easily. Lo told International Business Times he plans to bring it out of the closed beta soon, but he doesn't have a timeline; his previous startup experiences have taught him to not rush.
"I started my first company when I was 15," Lo told IBTimes, explaining that he created a way to get AOL email on third-party email clients like MS Outlook, back in the times of the totalitarian Internet giant. AOL even tried to shut him down, but Lo is having the last laugh: Since AOL owns Tech Crunch, they had to write the $50,000 winner's check.
<div style='text-align:center'>
<script type='text/javascript' src='http://pshared.5min.com/Scripts/PlayerSeed.js?sid=281&width=560&height=345&playList=518223565'></script>
<br/>
</div>
© Copyright IBTimes 2023. All rights reserved.
FOLLOW MORE IBT NEWS ON THE BELOW CHANNELS