Tesla Cybertruck Success: Will Pickup Usher In New Glory Days For Elon Musk?
As we bask in the aftermath of the Tesla Cybertruck's debut, one can't help but wonder how the pickup truck's success–or failure–can affect the fortunes of the carmaker's CEO, Elon Musk.
The CEO of technology giants Tesla and Space X has had a mixed bag of fortunes, especially within the last decade. From being one of the most celebrated figures in science and technology during the early 2010s, Musk's reputation has since taken a turn for the more dubious.
This was mostly because some of his ventures started losing both money and investor confidence. This is especially apparent in Tesla, which continues to this day thanks in part to some of the more erratic things Musk did in public, such as smoking marijuana on live TV. This would subsequently sink Tesla stock prices to a record low.
Tesla does continue to meet its projected sales targets, but it doesn't have much of a choice in the matter. Things tend to get tough when the company doesn't meet production demands, as when Musk lost $1 billion in two minutes due to Tesla shares sinking by a whopping 11 percent.
This could be why Musk is so keen on promoting the Cybertruck. He promised that the truck will be futuristic and revolutionary, like something out of the sci-fi movie "Bladerunner." That's a pretty tall order for what could be the world's first electric pickup truck (whether they delivered with the final product is still up for debate, however).
But he doesn't seem to be backing down from his words. At least, not if you were watching Tesla's current performance. Despite the setbacks and loses, Musk and Tesla are moving forward with a plan to sell electric vehicles en masse to a much larger international market.
To this end, the company's opened a gigafactory in Berlin, in addition to the three it has now in the U.S. and in Shanghai, according to The Motley Fool.
They've also slashed the price of the Model 3 to make it more affordable. And it looks like the Cybertruck is following suit since it is rolling out with a price tag starting at $39,900–much cheaper than rival Rivian R1T's $61,000.
If Tesla plays its cards right, it could hold on to its share in the electric vehicle market as a pioneering brand, outpacing rivals like Rivian, Ford, and even BMW. If the Cybertruck does well, Tesla could be well on its way towards long-term self-sufficiency.
And despite the otherwise glitch-filled presentation last week, pre-orders are rolling in. And while car and truck enthusiasts are on the fence, kids think the truck looked cool, which is an important consideration. They're the ones who'll be buying these so-called trucks of the future, after all. If the Cybertruck–the first of its kind, definitely–lands a hit, then it could really change Tesla's fortunes for the better.
The last time that happened, Musk sold Paypal, founded Space X, and funded Tesla. It remains to be seen if Musk can pull it off again.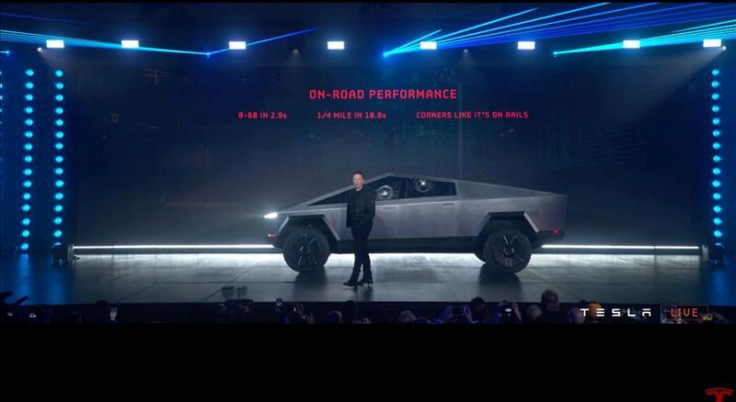 © Copyright IBTimes 2022. All rights reserved.
FOLLOW MORE IBT NEWS ON THE BELOW CHANNELS