Tesla Motors Shares Dip After Fiery Model S Crash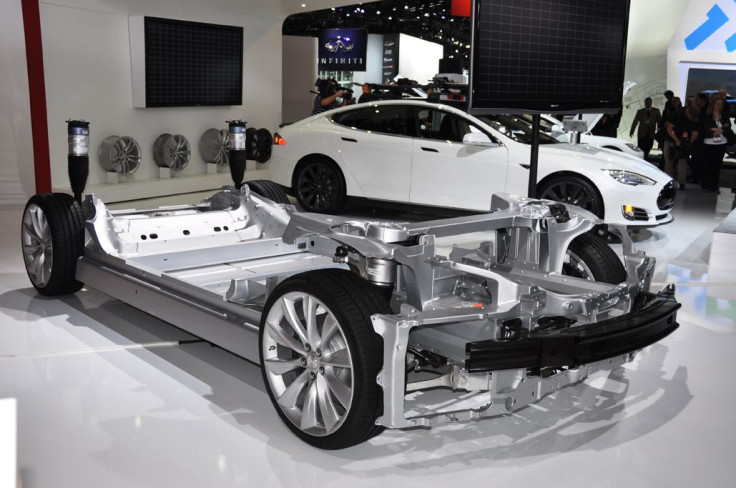 Shares of Tesla Motors Inc. (NASDAQ: TSLA) are down after a fiery crash involving a stolen Model S raised safety concerns about the lithium-ion batteries used to power electric cars.
Investors bid down Tesla shares by 2.9 percent to $222.66 on Monday, just days after a man stole an electric-powered sedan from a Tesla store in Los Angeles, led police on a high-speed chase and then slammed into several cars and a pole, the Wall Street Journal reported. Seven people were injured, but no deaths were reported in the July 4 accident that split the vehicle in half.
The smashed sedan sprayed chunks of the car's lithium-ion batteries around the street. Some of the pieces burst into flames and shot sparks through the air like fireworks, the WSJ noted, citing a broadcast report by television station KTLA-TV.
The Los Angeles crash marks the fourth time a Tesla car has burned after a collision. The California-based carmaker's stock dropped nearly 14 percent early last October after a Model S struck debris on a highway south of Seattle and caught fire. Two weeks later, shares took another hit after a Model S slammed into a concrete barrier and a tree in Mexico.
Car fires are relatively common among gasoline-powered vehicles in the United States, but accidents involving electric vehicles garner extra attention because the battery packs are becoming powerful enough to raise concerns over lithium-ion chemical fire risks. Tesla CEO Elon Musk has criticized what he said is disproportionate media coverage of a handful of Model S fires. About 65,000 car fires occurred each year from 2008 to 2010, almost all of which involved conventional vehicles, according to a study by the U.S. Fire Administration.
After the earlier crashes, Tesla added a titanium plate in March to increase protection of the lithium-ion batteries in the Model S vehicles. The luxury sedan has a five-star rating for crashworthiness, the U.S. National Highway Traffic Safety Administration's highest designation.
The company is working with Los Angeles police and fire officials to examine what exactly happened to the car during the July 4 crash, a Tesla spokesman told Bloomberg News.
© Copyright IBTimes 2023. All rights reserved.