Tesla Pickup Design: New Cyberpunk Concept Could Be Closest To Actual Vehicle
Elon Musk just recently gave additional clues on how Tesla's upcoming and mysterious vehicle, the Tesla pickup, could turn out once it launches officially this November.
First, Musk said that the Tesla pickup is going to be even more out-of-this-world compared to the amazing concept designs of amateur designers like Emre Husmen, whose visualization of the pickup started a slew of other Tesla art and designs.
According to comedian Joe Rogan in his podcast "Joe Rogan Experience," Musk commented that the Tesla pickup is going to be "even more 'Blade Runner'-esque." The CEO gave this comment after Rogan showed him Husmen's design.
Next, and this is where it gets more interesting, Musk tweeted that the "cybertruck" will look like an "armored personnel carrier from the future." With all these provocative statements from Musk, we are still in the dark as to how the new vehicle could eventually turn out.
Now even if we only have a few weeks left before the expected launch, some Tesla fans continue to create or capture Musk's idea of how the "cybertruck" would turn out. One of the latest concept designs is from YouTube concept artist Stephen William Mason who created a render using the obscure teaser released by Tesla during the Model Y launch.
Per a report, the concept design was described as something that could "polarize consumers." It's a pickup like no other and definitely something that would challenge the more conventional view of die-hard pickup users.
Aside from the teaser detail, Mason also incorporated the earlier sketches that Musk shared back in 2017. The most prominent detail is, of course, the front of the pickup which doesn't have the conventional hood of most trucks. This makes sense since the vehicle is going to be electrically-powered so the engine can basically be set up differently.
Because of this, some actually believe that the design is going to be pretty close to the actual vehicle but knowing Musk, we might be in for something that's more out-of-this-world or totally unexpected.
At any rate, the Tesla pickup is something that's worth waiting for this November. Musk's new utility vehicle is going to be really powerful, with claims of 300,000 towing capacity and 500 miles of range on a full charge. The price tag isn't bad either — the Tesla pickup is expected to have a variant that costs less than $50,000.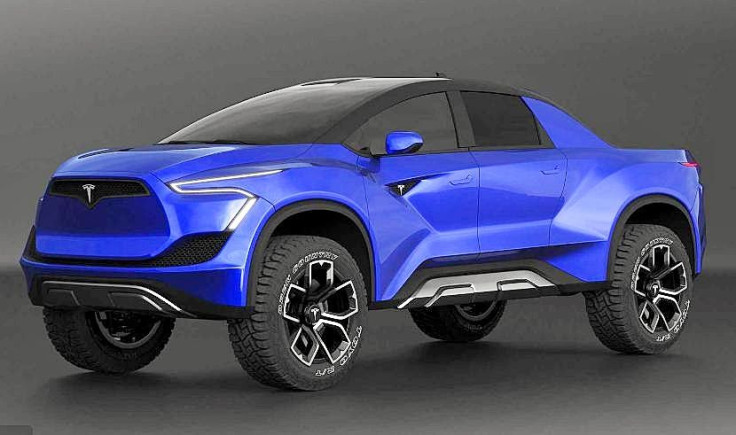 © Copyright IBTimes 2023. All rights reserved.