Tim Cook Meets Indian PM Narendra Modi, Discusses 'Future Plans' For Apple In India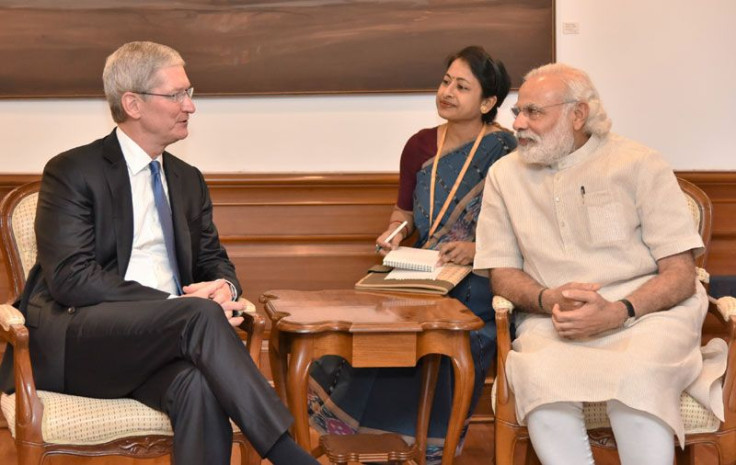 Apple CEO Tim Cook met Indian Prime Minister Narendra Modi on Saturday, concluding his maiden trip to India. According to an official statement released by the Indian government following the meeting, Cook and Modi discussed Apple's "future plans for India" and "the possibilities of manufacturing and retailing" in the country.
"He appreciated the breadth of young talent in India, and said the youth have significant skills which Apple would like to tap. He mentioned the immense potential for 'app-development' that exists in the country. He also elaborated on the Map Development Centre that Apple Inc. is setting up in Hyderabad," the prime minister's office said in the statement. "Issues regarding cyber-security and data encryption also came up for discussion."
India has been the sole bright spot in Apple's latest quarterly report, when the California-based company reported its first-ever decline in iPhone sales, which led to its first revenue decline in 13 years. In the first quarter of 2016, when its global iPhone sales dropped 16 percent year-on-year, they surged 56 percent in India.
However, given that Apple still commands only 2 percent market share in India — where 100 million smartphones were sold last year — Cook's visit was seen by many as part of the company's push to expand its presence in the Asian country.
"We haven't just viewed India for sales and marketing before, but we are clearly taking a step back. We are clearly viewing India as much more strategic. We are looking at it through a global lens and everything that we can do with India that may also serve the rest of the world," Cook said Friday, in an interview with Indian news channel NDTV.
To expand its presence in a market where most smartphones sell for less than $150 — way below the hefty $550 the new Apple phone is currently priced in India — Apple has sought approval to sell refurbished, or "pre-owned and certified" iPhones in the country. Although its request to do so was turned down earlier this month by the government, which cited concerns about e-waste dumping, Reuters reported, citing a source speaking on the condition of anonymity, that Cook had asked Modi to reconsider the decision during the meeting.
Earlier this week, Apple also announced plans to open a software development center in the south Indian city of Hyderabad and a design and development accelerator in Bengaluru — widely regarded as India's tech and startup capital. Reports have even indicated that Apple may open its own retail stores in the country later this year — a move that has, so far, been blocked by Indian regulations that require 30 percent of the goods in a store to be sourced locally.
"It's not a done deal yet, we have applied for the right to do that and we're working closely with the government and I'm really optimistic about it. But we have not been given the green light yet," Cook told NDTV. "We'll have a multichannel kind of approach, we'll have our APR's, authorized premium resellers, and these are very nice mono-branded and they have been trained by Apple, they have a look and feel that we spent a lot of time on."
For Modi, the meeting with Cook offered a chance to tout his government's "Make in India" campaign — a plan that envisages turning the country into a global manufacturing hub — and the "Digital India" project, which aims to increase internet access and broadband penetration throughout the country.
"The Prime Minister explained his Digital India initiative, and identified three key objectives of Digital India as e-education, health and increasing farmers' incomes. He sought support from Apple in furthering these objectives," the prime minister's office said in the statement, without providing Cook's response.
© Copyright IBTimes 2023. All rights reserved.