Time Warner 4Q Earnings Preview: Higher Profits And 'Hobbit' Hype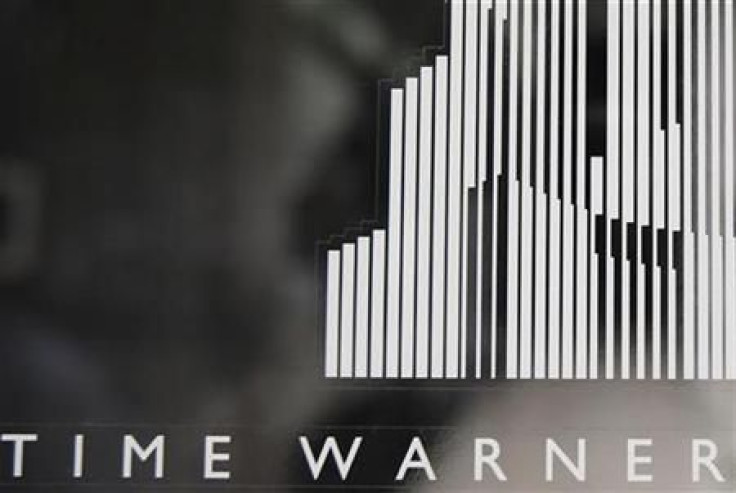 Time Warner Inc. (NYSE:TWX) is expected to report higher fourth-quarter profits on Wednesday as viewership grew substantially for its cable networks -- most notably TBS -- while Warner Bros. benefited from the holiday-season release of Peter Jackson's "The Hobbit."
The New York-based media conglomerate, which reports on Wednesday at 10:30 am EST, is expected to show net income of $1.06 billion, or $1.10 per share, up from $946 million, or 94 cents a share, for the same period last year. Analysts polled by Thomson Reuters expect Time Warner to report revenue of $8.25 billion, compared with last year's $8.19 billion for the three-month period that ended Dec. 31.
Along with its fourth-quarter earnings, Time Warner will report its full fiscal-year 2012 earnings. Analysts expect the company to report annual net income of $3.13 billion, or $3.21 per share, compared with $3.08 billion, or $2.89 per share, the previous year. Annual revenue is expected to fall slightly to $28.87 billion, from $28.97 billion the previous year.
Time Warner's networks unit, its most valuable asset, is expected to drive quarterly growth, particularly its basic cable networks -- including CNN, TBS and TNT -- which are deeply ingrained in basic pay-TV packages that reach more than 100 million subscribers. Tim Nollen, an analyst with Macquarie Capital, expects the unit to generate total fourth-quarter revenue of $3.7 billion, up 5.7 percent from $3.5 billion for the year-earlier period.
Turner Broadcasting, the Time Warner subsidiary that manages the cable networks, is "gaining momentum" thanks to a boost in ratings, Nollen wrote in a November research note. Viewership at TBS is up a staggering 30 percent this year, thanks in part to the syndicated success of "The Big Bang Theory" and solid fourth-quarter ratings growth for "Conan." TBS finished the year as the No. 1 basic cable network for 18- to 34-year-olds, the demographic most prized by advertisers. Additionally, the long-struggling CNN enjoyed a post-election ratings boost in the double digits. The world's oldest cable news network is expected to have a make-or-break year with the arrival of incoming president Jeff Zucker, who is seeking to reinvent CNN in a way that will help it compete with its better-performing rivals, Fox News (Nasdaq:NWSA) and MSNBC (Nasdaq:CMCSA).
Fourth-quarter revenue for Time Warner's filmed entertainment unit is expected to be more or less flat. Warner Bros. Entertainment, which generates about 20 percent of Time Warner's cash flow, is the largest film and TV studio in America. Through the studio, Time Warner produces films and TV shows that it releases theatrically and sells to broadcast and cable networks. The unit is expected to generate revenue of $3.92 billion, up 7 percent from last year's $3.89 billion.
The quarter saw some disappointments for Warner Bros. Clint Eastwood's "Trouble With the Curve," released on Sept. 28, grossed only $36 million at the box office and was snubbed by all the major awards. Similarly, the Wachowskis' ambitious epic "Cloud Atlas," produced for a reported $100 million, has grossed only $85 million worldwide.
But those disappointments should be offset by Peter Jackson's "The Hobbit: An Unexpected Journey," easily the studio's most successful theatrical release for the quarter, taking in a worldwide gross of $946 million since its Dec. 14 bow.
Time Warner's publishing unit, Time Inc., the country's largest magazine publisher, continued to struggle along with the rest of the print publishing industry. Revenue is expected to fall 2.3 percent to $1.02 billion, compared with $1.04 billion for the year-earlier period. In late January, Time Inc. began a steep round of layoffs that is expected to affect 500 employees, or 6 percent of its global workforce of 8,000 employees. It is the largest round of cuts at Time Inc. since 2008, when the company laid off 600 staffers.
Despite such challenges, analysts are generally optimistic about Time Warner stock, largely on the strength of its cable networks and its ability to produce quality, in-demand content in filmed entertainment, which makes it less susceptible to technological changes in the home video market.
"With over-the-top providers like Netflix, Amazon, and others looking to build streaming content businesses, companies like Time Warner that generate high-quality content should benefit from additional distribution opportunities," wrote Michael Corty, an analyst with Morningstar, in a November research note.
Time Warner is also seen as having reasonable debt levels (Corty estimated about $20 billion as of September) and healthy cash-flow options. Out of 33 analysts, 19 have rated Time Warner's stock at a Buy while 12 rated it Hold and two rated it Overweight.
"Time Warner is one of our favorite stocks going into 2013," noted Nollen. "We see improving long-term fundamentals and some near-term catalysts to drive earnings."
Time Warner shares fell 44 cents to $50.44 on Monday.
Got a news tip? Send me an email. Follow me on Twitter: @christopherzara
© Copyright IBTimes 2023. All rights reserved.