Titanic Facts and Cargo: What the Titanic Car Really Looked Like [PHOTOS]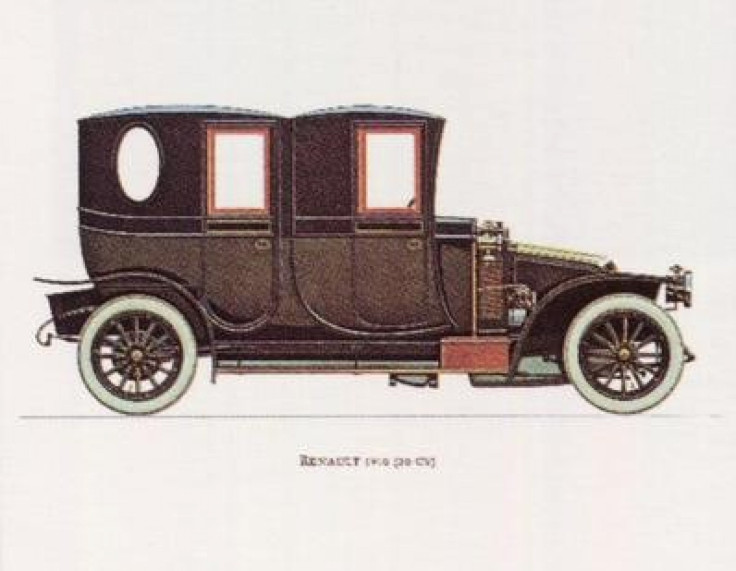 When James Cameron released his 1997 film Titanic, one scene in particular made a splash, the one where Jack and Rose, played by Leonardo DiCaprio and Kate Winslet, got down to business in the back of a car. Many viewers are revisiting that iconic film again as it has been rereleased in the theater in 3D just in time for the 100th anniversary of the sinking of the Titanic on the morning of April 15.
We know of only one car that could have been available to Jack and Rose as a love nest: a 1911 Renault AX Limousine.
Although the unsinkable Titanic did go under, its cargo manifest did not, as it was sent onboard the Cunard liner Mauritania, and it listed only one car and a case of auto parts. The total value of the cargo that went down with the Titanic was $420,000, a titanic sum in 1912 equal to approximately $170 million in terms of 2011 economic wealth.
The one car on the Titanic was a 35 horsepower 1911 Renault AX Limousine owned by Titanic passenger William Carter, which was claimed as lost in the wreck. This car, then, would necessarily have been the car that Jack and Rose would have used (if they had been real, of course), barring any discoveries of other cars on the wreck.
We know the model of the car because Mr. Carter filed a claim against White Star Line for its value, Jay Follis, Director of Marketing for the Gilmore Car Museum wrote in an email.
The Renault AX first went into production in 1905, and it was produced for nine years. It had a diminutive two cylinder engine and a three gear transmission. The car was capable of a top speed of 35 mph. A new Renault AX cost £275 in 1911, although the limousine was probably somewhat more expensive. The standard Renault AX was trimmed in leather, brass and wood, and the trim in the limousine was probably at least as lush.
However, the movie may have gotten one critical fact wrong in its portrayal of the Titanic car. The car would have been shipped in a wooden case, and thus would not have been accessible to Jack and Rose.
The car would not have been shipped in the open as seen in the movie but would have been contained in wood case, Follis wrote.
So, the car was on the ship, but the characters of the movie probably could not have actually gotten into it without spending some quality time with a crowbar and hammer first.
© Copyright IBTimes 2023. All rights reserved.