'Tomodachi Game' Episode 2 Live Stream Details: How To Watch Online [Spoilers]
KEY POINTS
Yuichi breaks a rule of the game
"Tomodachi Game" Episode 2 is airing Tuesday
The episode will stream on Crunchyroll
Katagiri Yuichi breaks the rule of the Kokkuri game in "Tomodachi Game" Episode 2. The new episode is titled "You Have a Lot to Say to Me, Don't You?"
The official website has released the synopsis of Episode 2. Yuichi breaks one of the rules of the ongoing debt collection game – "You may only speak when reading a question and if you break the rule, your debt is doubled."
Meanwhile, Sawagiro Shiho, Mikasa Tenji, Kokorogi Yutori, and Shibe Makoto can't hide their disappointment after Yuichi's behavior during the game. Moreover, they feel he has risked doubling their debt as a penalty.
The answer to the fifth question – Will we always be friends? – will be revealed in "Tomodachi Game" Episode 2.
In the previous episode, Yuichi and his friends found out that someone stole two million yen, which was collected for the school trip.
Later, Yuichi, Sawagiro, Mikasa, Kokorogi and Shibe were dragged into a weird and dangerous debt collection game hosted by Manabu.
"High school student Katagiri Yuichi, who values friendship above all else, enjoys a fulfilling life with his close friends Sawagiri Shiho, Mikasa Tenji, Shibe Makoto, and Kokorogi Yutori. However, after a particular incident, they're dragged into a debt repayment game," read the official "Tomodachi Game" series synopsis, as per Crunchyroll.
"The only way to beat the 'Tomodachi Game' is to not doubt their friends. Bound together by solid friendships, the game should've been easy, but– The hugely popular comic that sold over two million copies is finally becoming an anime! Will they trust or betray their precious friends? The true nature of humanity is exposed in the ultimate psychological game!" the synopsis continued.
The cast of the anime includes Yuichi Katagiri, Yume Miyamoto as Shiho Sawaragi, Tomohiro Ono as Makoto Shibe, Shizuka Itou as Tsukino, Satomi Amano as Yutori Kokorogi, Reina Ueda as Maria Mizuse, Minami Takayama as Manabu-kun, and Daiki Hamano as Tenji Mikasa.
The opening theme song of "Tomodachi Game" anime is titled "Double Shuffle" and is performed by Nana Mizuki. The ending theme song is titled "Tomoshibi" by saji.
"Tomodachi Game" Episode 2 is scheduled for release Tuesday. Fans in the U.S. can watch the episode online on Crunchyroll. The episode will stream in Japanese with English subtitles.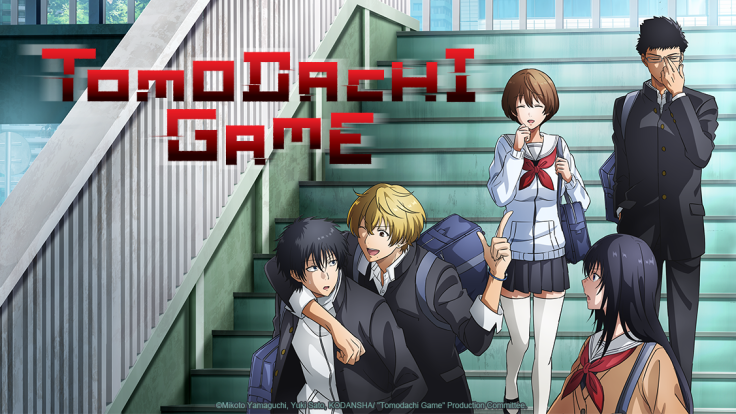 © Copyright IBTimes 2023. All rights reserved.