Top Entrepreneurs to Watch in 2023
The top entrepreneurs to watch in 2023 work in a wide range of sectors, but they all possess strong vision, unshakable tenacity, and uncommon flexibility. These traits enable them to weather an economic downturn and a constantly changing technological landscape with flourishing companies that show continued growth.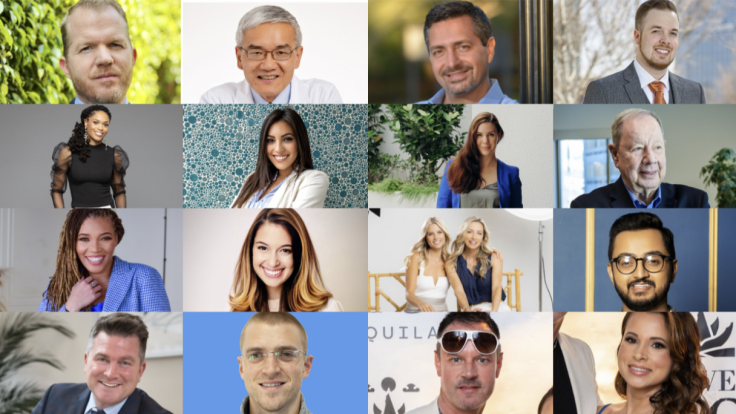 #1. Kjeld Schigt, Founder of Kalon Surf
Kjeld Schigt has lived all over the world. He hopped from country to country, working for multinational companies such as BP, Heineken, and Unilever.
In 2011, Schigt left the corporate rat race and traveled to Costa Rica, where he met his wife, Silene, and together they launched Kalon Surf. Their mission was to build the country's best luxury surf school and over a decade later, Kalon has grown into the couple's vision. Visitors relax in an all-inclusive luxurious resort experience while fulfilling their lifelong dreams of learning to surf. As a bonus, they enjoy all this as they reconnect with nature in the midst of Costa Rica's vibrant jungle, mountains, and coast.
Kalon Surf is based amidst prime surfing beaches and the rainforest's paradise of natural beauty. The school offers gourmet meals and enthusiastic surf coaches to demonstrate proper technique, methodology, and fun for all levels.
Kjeld and Silene Schigt enrich the community of Costa Rica and everyone who comes to learn there. Together, they transformed a shared vision into a once-in-a-lifetime experience in the international travel space.
#2. Dr. Cliff Han, Founder of AllerPops
Dr. Cliff Han spent three decades as a biologist and medical doctor before catching an entrepreneurial vision. During those years, he participated in the Human Genome Project and authored over 300 peer-reviewed publications.
Throughout most of his life, Dr. Han suffered from severe allergic rhinitis. When his son also began to exhibit life-altering allergic symptoms, he took action. Three years of research and clinical trials culminated in the discovery of a groundbreaking solution for allergy sufferers.
Dr. Han concluded that allergies are an immune response. His solution, AllerPops, provides all-natural prebiotics to deliver long-lasting relief to millions. Rather than simply masking symptoms, these lollipops bolster the populations of beneficial bacteria in people's mouths and airways to support balanced immune systems and calm immune responses like sneezing, congestion, wheezing, headache, and eczema. His newly released book, "Nothing to Sneeze At," details his life journey from a small village in Shandong, China, to his discovery that allowed him to help seasonal allergy sufferers worldwide.
#3. Dimitrios Topaltzas, Owner of Venture X Columbia East location
Dimitrios Topaltzas carved out a place as an entrepreneur and innovator in wireless telecommunications. His earliest businesses solved high-value challenges and achieved lasting legacies in the wireless QoS measurement space.
Today, he leverages his expertise to runVenture X Columbia East, a state-of-the-art co-working space that offers flexible workspace solutions for businesses of all sizes. It caters to business professionals, entrepreneurs and enterprise customers who are interested in renting modern office space in a vibrant community of like-minded people.
Venture X's facility on the second floor of the Lakeside Office Park includes a beautiful café, a lounge area, private offices, dedicated or shared desks, and virtual offices. The facilities also provide well-appointed conference rooms and a community space for workshops, training, and business networking events. Topaltzas is creating a vibrant community of professionals and an atmosphere that empowers them to achieve success and growth.
#4. Tyler King, Founder and CEO of Assuras
Tyler King's background includes entrepreneurial startups, management consulting, and invitations to speak at MIT and Harvard Business School. In his free time, he pilots helicopters, enjoys photography, and helps others through a non-profit organization focused on people in the criminal justice system.
King founded Assuras with the core desire to make the world better. This global consulting firm empowers organizations, governments, and leaders to achieve their objectives by solving the problems others find impossible, enabling them to impact the world positively.
Through it all, King keeps the focus on impact rather than revenue. His company's mission is to be known as an industry expert, keep the future in mind, and bring about real and positive change that impacts its clients and the world. Today, Assuras is expanding rapidly and making a real difference in the greater international community.
#5. Dr. Kamilah Stevenson, Founder of Healthy and Better
As a lifelong learner and health coach, Dr. Kamilah Stevenson passionately explores the connection between the mind and the physical body. She is a published author, degreed counselor, real estate investor, and certified health coach. Her recent TEDx speech entitled "Thinking Your Way into Health" advocates healthy living and inspires thousands of people to look at physical health holistically.
Dr. Stevenson began her career collaborating with neurologists researching Alzheimer's, Parkinson's, and other chronic illnesses. It was then that she found her fascination with the intricate link between mind and body and studied this relationship for over two decades.
Today, Dr. Stevenson's educational platforms enable chronically ill clients to reverse conditions such as diabetes and high blood pressure naturally and become the best versions of themselves. As a health coach and counselor, she guides clients to achieve their highest potential in all areas of life. She is dedicated to helping others achieve physical, mental, emotional, and spiritual wellness, enabling them to move forward with confidence and hope.
#6. Sydney Schmall, Owner and CEO of Flossy
Sydney Schmall is a first-generation college graduate and Latina entrepreneur who is enthusiastic about branding for small business owners. As a social media expert, influencer, serial entrepreneur, and Yogi, she is an innovative thought leader in mindfulness and marketing.
Schmall foundedFlossy with a mission to promote dental practices and medical professionals on social media, transform them into local authorities, and increase the number of patients who seek their services. Schmall graduated from the University of California, Santa Cruz, with a bachelor's degree in Intensive Psychology and is using her expertise in behavioral psychology to change how marketing is done in the Medical Space.
Through psychology and branding, Schmall humanizes her clients by "Taking off the white lab coat," creating a humanistic approach in medical marketing. She turns her clients into top local authorities by perfectly branding them on social media so they beat out their local competition each time.
Her social media and influencer marketing expertise enable clients to reach their target audiences on Instagram and in their local communities. She's excited to advance women – specifically women of color – and to dominate the healthcare industry, and she is honored to be a vital thought leader who's changing the game in this historically male-dominated space. .
#7. Nellie Wartoft, CEO of Tigerhall
Nellie Wartoft is a young CEO with interesting thoughts on higher education. She is an innovative thought leader in the field of education and has already been featured in Forbes. Her company started in Singapore and is quickly gaining traction in the USA.
As a small-town girl from Sweden, Wartoft's first entrepreneurial venture involved educating older adults on the internet and digital literacy, a project that was a lifelong inspiration for access to education. She envisions a world in which the places people come from never limit the places they can go.
Wartoft founded Tigerhall, a groundbreaking social media platform that blends expert content from global thought leaders, cutting-edge social technology, and organizations' own internal expertise to empower teams to master new skills, retain tribal knowledge, and scale employee development faster and more effectively. It provides companies a space to upload content and customize learning trails, onboarding, and professional development.
Tigerhall combines social technology and powerful user experience with an organization's unique knowledge, skills, and experience to deliver a personalized and collaborative social learning experience. The platform offers access to learning content anytime, anywhere, improves engagement and motivation, and encourages knowledge sharing among learners, leading to improved performance and business outcomes.
Tigerhall's innovative technology allows people to access bite-sized learning modules, curated learning trails, and personalized content recommendations on either desktop or mobile devices. Thinkfluencers — internal thought leaders or external subject matter experts from global Fortune 500 companies — can instantly live stream to your team, upload their own content, and create custom learning trails to share their knowledge and expertise. In the new era of remote and hybrid work, this platform revolutionizes upskilling, collaborative learning, and knowledge sharing. To date, Fortune 500 companies like Amazon Web Services, Cisco, HP, and Adobe have used the platform to create dynamic and flexible learning environments tailored to their organization's unique needs.
Wartoft believes in a world where skills mean more than degree brand names. Her foundation is on a mission to create social accelerator programs to support the upward mobility of the underprivileged through education at scale.
#8. Dr. Richard Michaud, President and CEO of New Frontier Advisors
Dr. Richard Michaud has a Ph.D. in Mathematics from Boston University and taught investment management at Columbia University. He is the author of "Efficient Asset Management: A Practical Guide to Stock Portfolio Optimization and Asset Allocation,"and numerous academic and research articles available on www.ssrn.com and www.researchgate.net.
Dr. Michaud's latest book, "Finance's Wrong Turns: A New Foundation for Financial Markets and Social Science," analyzes a history of the finance industry's decisions according to the sociological principles that underlie investor behavior. Today's finance industry is based on a traditional mathematical approach. Dr. Michaud points out the limitations of this style and advocates for looking at economic decisions from a sociological perspective. He illustrates how this perspective allows analysts, advisors, and portfolio managers to enhance their understanding of the market's core behaviors and improve their asset management strategies.
Today, Dr. Michaud leadsNew Frontier Advisors, an advisory firm specializing in the development and application of cutting-edge investment technology. The company is a world-renowned leader in financial research and quantitative asset management. With its patented portfolio optimization and statistical portfolio rebalancing technology, it maintains its place as an original global core ETF investment manager with an unbroken track record stretching back to 2004.
#9. Chardé Hollins, Founder and CEO of Relevant Connections
Chardé Hollins is a licensed clinical social worker with a decade's experience in schools, healthcare, and the corrections system as a youth advocate. She specializes in evaluating DEI practices and creating safe spaces for meaningful conversations with organizations committed to increasing their cultural awareness and access to behavioral health services. As a social worker and grants manager, she was frustrated by disproportionately low funds allocated to black agencies and the lack of culturally competent mental health services for vulnerable populations.
When called to leave social work and use her training in a new setting, Hollins founded Relevant Connections. Her consulting firm partners with organizations, non-profits, and educational institutions to implement effective strategies in diversity, equity, and inclusion and promote mental health and increasing diversity, equity, and inclusion.
Her team helps organizations evaluate DEI practices and integrate cultural awareness into their culture, services, and mission.
Today, Hollins makes a safe place for the tough conversations that secure funding, provide competent care, and cultivate anti-racist policies. In terms of tangible results, she recently launched a $50K media campaign to shed light on Black mental health in Cleveland.
#10. Stephanie Boms, CEO and Co-founder of Nessel
Stephanie Boms graduated with a degree in Community Health from Tufts University and earned her MBA from Yale School of Management with a concentration in Marketing and Organizational Behavior. She is an executive with over two decades of experience leading teams, brands and strategy.
Today, Boms leads Nessel, a company that creates lactation stations and wellness room solutions for organizations throughout the country. Alongside her co-founder Della Leapman, she spearheads the future of women's health benefits with industry leaders like Tesla, Volvo, National Park Service, and the US Military.
#11. Kelli and Erica Turner, Co-founders of Turner Talent
Kelli Turner got her start in the talent industry as a model and actor at 15 years old before eventually moving into the production side of the business. Today, she knows the industry, the people to trust, and the people to avoid, and uses her inside knowledge to help newcomers navigate the space.
Her daughter, Erica Turner, remembers fitting modeling gigs with her favorite actors into a busy school and sports schedule. After years in the talent industry, she realized how fortunate she was to have her own full-time how-to guide. Without that inside advice, she acknowledges that the industry can be a scary place.
Mother-daughter duo Kelli and Erica co-founded Turner Talent as a development and casting service to smooth the way between agents, production, and talent. Their experienced team knows what it takes to prepare talent for auditions, secure media assets for portfolio pieces, and steer clear of scams. The Turners are the driving force behind education against "Glam Scams," and lead a committee dedicated to shining the light on agencies that legally scam families hoping to break into the entertainment business for millions of dollars. Turner Talent is based in Melbourne Beach, Florida, works with talent nationwide, and has been featured in NY Weekly, HNGN, American Reporter, and Entertainment Monthly.
#12. Anip Patel, Founder of CaPatel Investments
Anip Patel graduated from DePaul with a triple major in finance, marketing, and economics. He cut his teeth in management consulting for Fortune 500 companies, then pivoted to launching his own startups in tech, healthcare, and entertainment. His wide-ranging knowledge base and willingness to offer guidance make him the ideal angel investor. In this role, he backs companies across sectors and stages and has a passion for those reinventing major industries.
Patel foundedCaPatel Investments in 2022 with a mission to invest in and support startups with marketing, strategy, sales, and financial guidance. Knowing the hurdles he had to overcome, he primarily seeks out minority South Asian companies. CaPatel Investments offers a grant program awarding up to $10,000 to kickstart new ventures and an investment opportunity awarding from $50,000-$500,000 to South Asian startups.
#13. Ray Sheehan, Owner of Old City Media, Inc.
Ray Sheehan is the owner of Old City Media, a North American event production and experiential marketing agency. He has a background in strategic planning, marketing, event management, and advertising, and has helped the company expand from one city to over twenty states.
Prior to this role, Ray partnered with UpcomingEvents.com, a production company in Philadelphia, and worked for 20th Century FOX where he oversaw all aspects of the business and produced a nationally syndicated television show. In 2020, he launched the GIFT Program as part of Old City Media. Ray is recognized as a leader in the special events industry and an innovative thinker in the Philadelphia community and beyond.
Old City Media is a national marketing agency that helps brands connect with target demographics through experiential marketing. When 2020's global lockdown halted in-person events, his company chose to pivot. Sheehan successfully launched the GIFT Program to keep clients' field marketing and sales teams active throughout COVID-19. Today, the GIFT Program enables Old City Media's clients to connect with customers at retail locations through eye-catching displays and engagement on a Fortune 500 level.
#14. Neil Emeigh, CEO and Founder of Rayobyte
A decade ago, Neil Emeigh entered the data scraping space. Not long after getting his feet wet, he became frustrated at the lack of high-quality proxies, so he took on the mission of reconciling ethical data acquisition and usage and created a data-collection process that is transparent and above board.
Today, his basement-based one-man proxy operation has flourished into the largest US-based proxy provider and a 2022 Proxyway Contender of the Year. Rayobyte sets the bar for industry standards in ethical data acquisition and high-quality data center & residential proxies. As a thought leader in the field, Emeigh shares expertise on how providing proxies ethically benefits everyone involved.
#15. Alec and Ana Tesa, Co-founders of Eleven20 Tequila
Historic Jalisco, Mexico, is home to a second-generation, family-run master distillery. Here, the husband/wife team of Alec and Ana Tesa combined organic blue agave cactus, traditional cooking techniques, and unique fermentation methods to craft an award-winning Tequila brand.
Eleven20 Tequila uses premium blue agave sourced from regional producers. Each bottle is gluten-free and rooted in respect for local tradition, expertise, and artistry.
Alec and Ana Tesa do not let their product hide behind artificial sweeteners or additives — they simply allow the taste of pure 100% agave to speak for itself. Their commitment to excellence and innovative flavors brings the world a signature blend celebrated by mixologists and connoisseurs alike.
The stories of 2023's top entrepreneurs are as unique as the companies they lead. They remain undaunted by a global pandemic, a "great resignation," and a fluctuating economy. Together, they will serve as an example to the next wave of entrepreneurial startups and inspire them to new heights.
FOR FREE to continue reading
✔️ Unlock the full content of International Business Times UK for free
offer available for a limited time only
✔️ Easily manage your Newsletters subscriptions and save your favourite articles
✔️ No payment method required
Already have an account? Log in