Is Tori Spelling Pregnant? New Rumor That 'True Tori' Star Is Expecting Baby No. 5 With Dean McDermott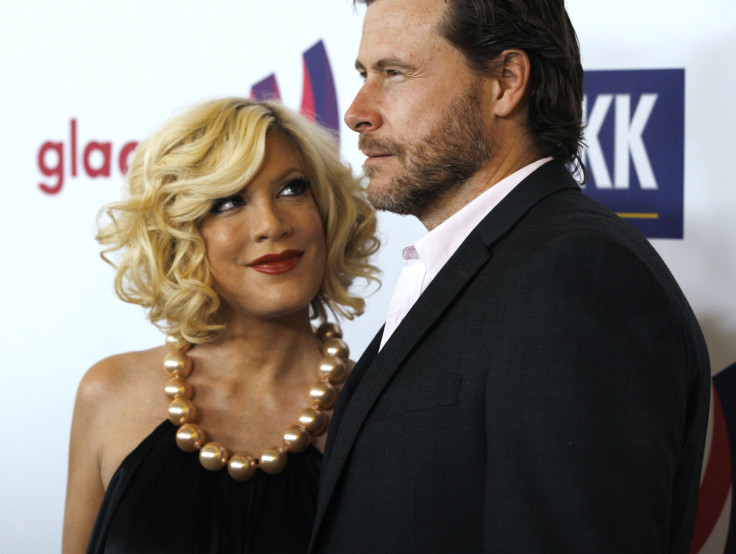 Tori Spelling and Dean McDermott are reportedly expecting baby number five. The supposed pregnancy comes after the couple considered going their separate ways after a cheating scandal threatened to ruin their 9-year marriage.
OK! Magazine reports that, while the child was not "something that was planned," it may be just what their marriage needs right now. A source claims the couple is looking at it as a "fresh start" after all the drama they've been through in recent months. They are both said to be happy about the baby news.
According to Hollywood life, Spelling was initially nervous to share the news with her hubby, but McDermott is using her pregnancy as an opportunity to get back in her good graces. The 48-year-old has been going the extra mile to make sure his wife is happy, no matter the request. McDermott reportedly "wants her to feel special."
"He's waiting on her hand and foot and listening to all her concerns, even if sometimes he thinks she's being over the top. He's been massaging her feet, cooking her dinner and looking after the kids," a source said.
As you may recall McDermott has been accused of being unfaithful multiple times. McDermott admitted to having an extramarital affair in April 2014 and was accused, once again, that November. During an episode of their show "True Tori," Spelling accused her husband of being unfaithful while she was away with friends. He denied the claims. The third and final time McDermott was accused of cheating came just last month on April 8. Reports surfaced claiming he and his ex-wife Mary Jo Eustace were spending time together. He again denied there was any truth to those rumors.
It was later reported that the stress of her husband's cheating had landed Spelling in the hospital. Other sources, however, claim it was "severe migraines." She is now believed to be doing much better health wise.
© Copyright IBTimes 2023. All rights reserved.