Tumblr's New Safe Mode Feature Hides Sensitive Content On The Dashboard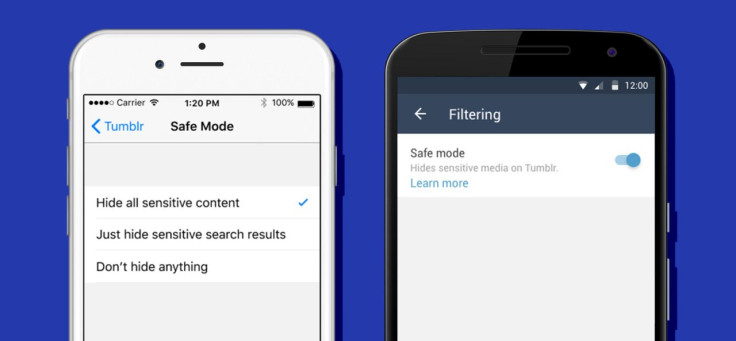 Blogging website Tumblr has rolled out a new Safe Mode feature for its app and desktop site. Not only will Tumblr's Safe Mode hide adult content, but will also hide what is classified as "sensitive" content.
Tumblr, which is now owned by Verizon through its acquisition of Yahoo, already has a the ability to filter explicit content on its search results. However, the new Safe Mode feature also blocks content right on the user's Tumblr Dashboard and not just on search results.
When Safe Mode is enabled, sensitive content will be hidden behind a screen that reads "This post may contain sensitive media." There's also a button present there so users can go ahead and view it anyways. For users who aren't at least 18 years of age, these types of content cannot be viewed. Tumblr says that it determines the user's age depending on when they registered for an account.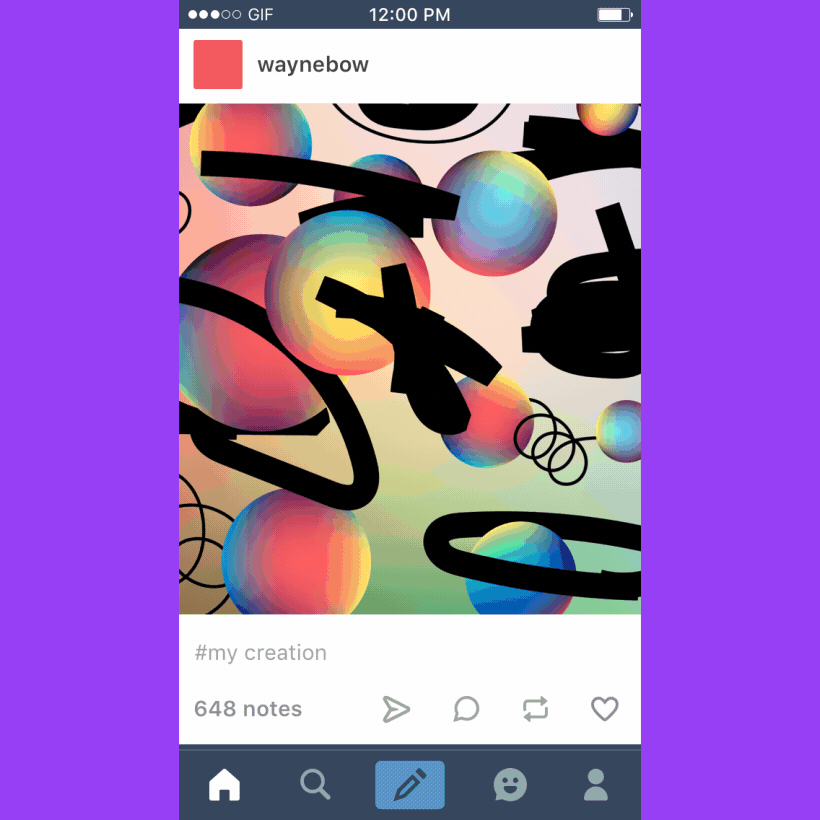 Tumblr is full of NSFW and adult content. According to TechCrunch, analytics firm SimilarWeb found that 20.53 percent of clicks on the Tumblr desktop site are for adult content. However, Tumblr's Safe Mode isn't necessarily just about pornography.
Tumblr's user guidelines define "sensitive content" as, "Anything that might not be suitable for some members of the Tumblr community." This includes nudity in artistic, educational or photojournalistic context, may be considered as "sensitive." If a content has been incorrectly flagged as being sensitive, the poster of the content can simply click a button to request a direct review.
To be clear, Tumblr isn't censoring these types of content. Safe Mode is an opt-in feature, which can be turned on and off by the user. On Android, Safe Mode can be switched on or off under the "your account settings." On iOS, users will have to go to the iPhone/iPad/iPod touch's Settings app, tap Tumblr and see Safe Mode at the bottom of the page.
"Maybe you're happy to see sensitive content when you're scrolling through Tumblr, maybe you're not. Safe Mode puts that choice in your hands," Tumblr said in a blog post.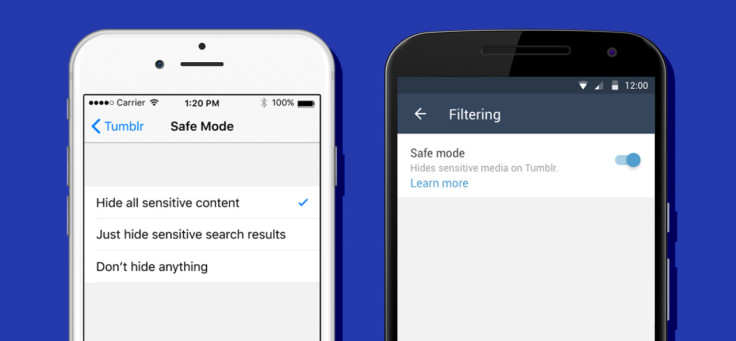 It doesn't seem like Tumblr is getting rid of pornography and adult content on its site. What Tumblr is doing is providing users the choice on how they want to browse the site. With Safe Mode, users won't need to worry about finding sensitive content by accident while scrolling through their Dashboards.
As part of the roll out of Safe Mode, Tumblr has updated its Community Guidelines with clear descriptions of the differences between "Explicit" and "Sensitive" content. Explicit is designated for blogs, while Sensitive is mostly for individual posts. Users can mark their own blogs as Explicit, but Tumblr also has its own team that does the same thing for blogs that haven't been labeled yet.
Tumblr will also begin hiding explicit blogs from search results on the web. Explicit blogs will only be hidden from search results for users who are logged out or are under 18 years of age. However, direct links (sharing URLs) will still work, as pointed out by Engadget.
For users who might want to post sensitive content, they can mark it as sensitive before publishing on Tumblr. This is ideal for users who don't actually run an Explicit blog but just so happens to publish a post that might be considered sensitive.
"While we attempt to automatically categorize content that might not be suitable for all viewers, you can help us respect the choices of people in the community by preemptively marking any sensitive material you post," Tumblr said.
© Copyright IBTimes 2023. All rights reserved.