Turkey's Erdogan Rips Germany for PKK Fundraising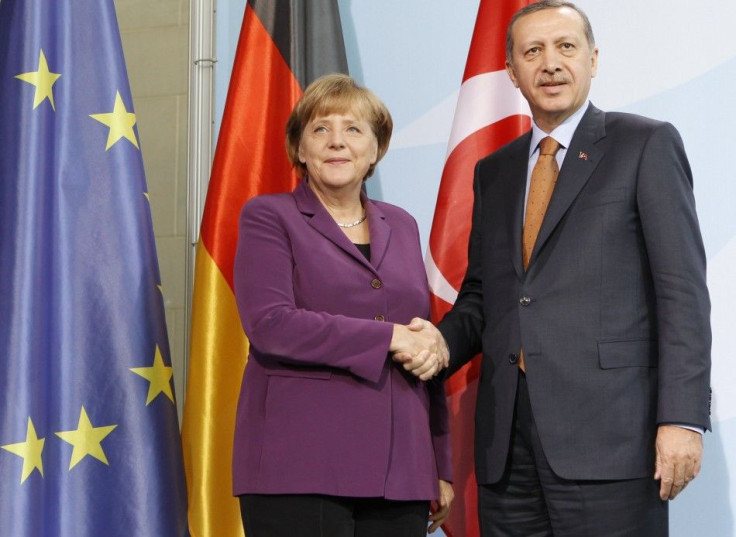 Turkish Prime Minister Recep Tayyip Erdogan has blasted Germany for indirectly supporting the activities of the Kurdistan Workers' Party (PKK).
According to a report in Today's Zaman, an English language Turkish daily, while delivering a speech in Berlin on the 50th anniversary of the mass migration of Turkish workers to Germany, Erdogan did not explicitly name Germany (but strongly implied it), when he declared: "Those who tolerate terrorism become an accessory to the bloody face of terrorism. I am calling on those who turn a blind eye to the activities of the terror organization in their publications, foundations, fundraising efforts as well as on those who let criminals roam freely [on their soil]."
Erdogan's harsh rhetoric came as violence between the Turkish state and PKK guerillas have escalated in recent weeks, with scores of deaths recorded on both sides of the conflict.
While appearing at a joint press conference with German Chancellor Angela Merkel, the Turkish Prime Minister pointed out that the PKK collected 6 million euros ($8.3 million) in Germany through fundraising.
This money goes to the terrorist organization as financial support. This is really sad and thought-provoking, he said.
Erdogan demanded that Germany and other European Union (EU) nations put pressure on Kurdish groups to cease raising funds to finance PKK.
Erdogan also made several references to children who were killed during recent PKK attacks.
"I am asking those who do not lend necessary backing to the fight against terror, but lecture us on human rights. Are you aware of four-year old Sultan [Doru] who was viciously killed?"
He added that Europeans who donate money to PKK share in the responsibility for the killings of innocent civilians.
"The terror organization [PKK] is not the only responsible party for these inhumane attacks," Erdogan said.
"European countries should see how tolerance shown for the terrorist organization in Europe translates into bloody acts of terror in Turkey."
Meanwhile, a senior American military official said the U.S. is solidly behind Turkey's battle against the PKK.
The US stands side-by-side Turkey in its fight against terrorism. We will continue to support Turkey on this issue and work more to help prevent the PKK's illegal activities in Europe, General Martin Dempsey, chairman of the Joint Chiefs of Staff, told the Anatolia news agency.
We are proud to say that the Turkish people are a friend to us. And I have a strong belief in the saying 'Tell me who your friends are, and I will tell you who you are'."
Separately, Erdogan praised the large Turkish population in Germany – now numbering some 3-million – as a vital p[art of the country's economy. He asserted that Ankara supports the integration of Turkish immigrants living in Germany, but not necessarily assimilation.
"We encourage Turks to learn German and adopt German citizenship. Likewise, I invite Germans [living in Turkey] to assume Turkish citizenship," he said.
He added: "They [Turk immigrants] are not guest workers or immigrants anymore. It is our right to ask and question to what extent Turks here benefit from equal participation, equal opportunities and coexistence."
Merkel, who in the past has said that multi-culturalism in Western Europe has been a failure, acknowledged the difficulties of integration in her country.
"We spent over 1 billion euros [$1.4 billion] on integration courses between 2005 and 2010," she said. "I think the children of immigrants should be especially supported in that regard to offer better opportunities. When children start school with perfect German, then they can be successful."
Merkel added: "We need a common foundation, which is a constitution. Human rights constitute the core of the constitution."
She also noted that Germany is deeply concerned about Turkey's future and hopes to play a part in it.
"We are on your side with utmost determination in the fight against terror, especially the PKK. There is no doubt about that.
Separately, in a newspaper interview, Erdogan lamented that Germany has not done more to help with Turkey's bid to join the EU.
"Germany should do much more for Turkey's EU membership bid as this would massively support integration," he told the Bild newspaper of Germany.
"Since we Turks regard Germany very positively, we feel much let down on this issue."
Reportedly, both Merkel and France's Nicolas Sarkozy are opposed to Turkey's EU bid, while Britain's David Cameron supports it.
© Copyright IBTimes 2023. All rights reserved.