Ukraine Fighting: Putin, Donetsk Militia Agree To Opening 'Humanitarian Corridors' In Eastern Ukraine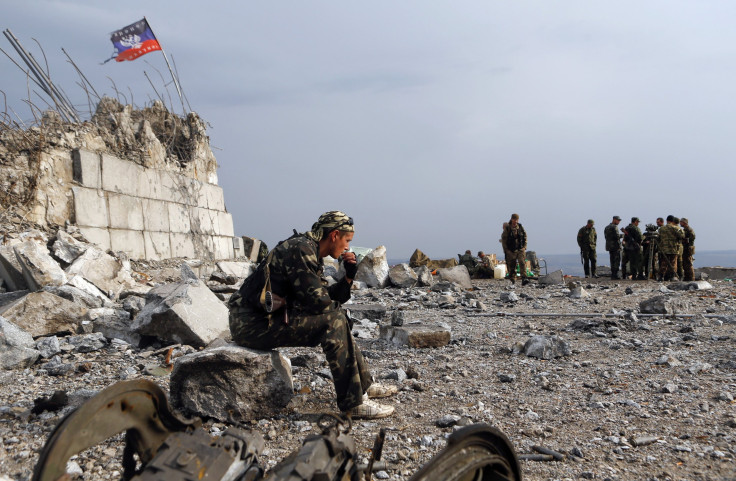 Leaders of the self-proclaimed Donetsk People's Republic, or DPR, agreed Friday to provide "humanitarian corridors" for encircled Ukrainian government soldiers and civilians, on the condition that Kiev stops its forces from using heavy weapons. The Donetsk militia's offer comes as Russian President Vladimir Putin asked the group to arrange for further humanitarian aid to be sent to Ukraine.
Putin asked the militias in eastern Ukraine's Donbass region on Friday, to allow an exit route for encircled Ukrainian government troops to leave the battlefield. he Donetsk militia, which has been involved in fierce fighting with Ukrainian government forces, agreed to Putin's appeal, only if retreating Ukrainian troops would give up their weapons. The move comes even as Ukrainian President Petro Poroshenko claimed Thursday that Russian troops have entered Ukraine and that the pro-Moscow rebels are getting arms and ammunition from the Russian army. U.S. President Barack Obama on Thursday vowed complete support for Ukraine, although said that there will be no U.S. military intervention.
"I am calling on militia forces to open a humanitarian corridor for encircled Ukrainian servicemen in order to avoid senseless casualties, enable them to get out of the area of combat operations unimpededly and reunite with their families," Putin said in a statement, according to Itar-Tass, adding: "The Russian side is ready and will continue to provide humanitarian aid for the population of Donbass who suffer from a humanitarian disaster."
Western powers, including the U.S., have claimed that the aid efforts were a ruse designed to conceal Russian military actions in Ukraine.
Two weeks ago, Russia sent a convoy of 280 trucks of what was claimed to be humanitarian aid to the eastern part of Ukraine, despite NATO, the Pentagon and Ukrainian officials, condemning the move, saying that it was a pretext to a full-blown Russian invasion.
The DPR's self-proclaimed Prime Minister, Alexander Zakharchenko, reacted to Putin's appeal by saying: "With all due respect for Vladimir Vladimirovich Putin, the president of the country that is the first to support us morally, we are ready to provide humanitarian corridors for encircled Ukrainian troops on condition that they surrender heavy weapons and ammunition so that the weaponry and ammunition would not be used against us," Itar Tass reported.
© Copyright IBTimes 2023. All rights reserved.