Ukraine's Poroshenko Moves Closer To Europe, Risks Angering Russia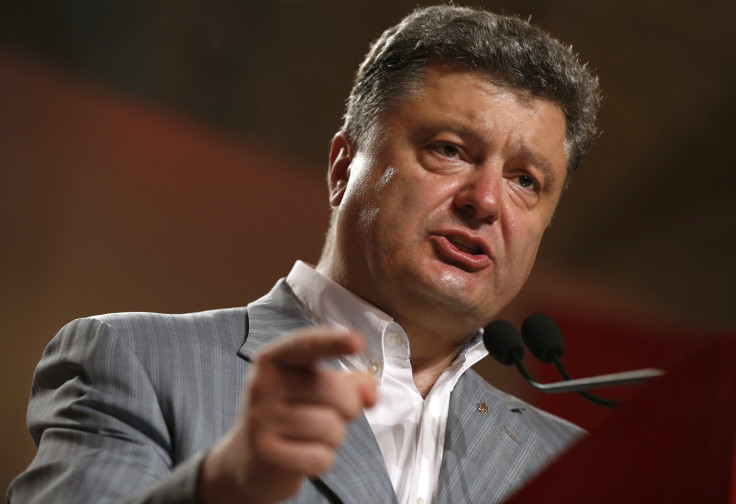 Newly elected Ukrainian President Petro Poroshenko, a chocolate tycoon known for his Western-style business practices, has begun moving the country closer to economic integration with Europe, as he promised during his campaign, while also making headway on resolving its problems with Russia.
One day after his election, Poroshenko already had a deal brokered by the European Union under his belt -- an agreement to pay back Ukraine's crippling debt to Russia's state-owned gas giant Gazprom.
European Union officials said Tuesday the deal would require that Ukraine's national gas company, Naftogaz, pay $2 billion to Russia's Gazprom this week. In exchange, Russian officials have agreed to discuss the pricing of future deliveries of the Russian gas on which the Ukrainian economy depends.
Poroshenko faces the daunting task of uniting a fractured country with a falling economy, while being mindful of Russia's desire to prevent Ukraine from getting too close to the West. Tuesday's announcement is the first step in Poroshenko's plan to repair the Ukrainian economy, which according to estimates by the International Monetary Fund will see a 5 percent drop in real GDP in 2014.
Leading up to the election, the candidate promised to sign trade agreements with the EU. Although that process has begun, it is still unclear how the agreements will affect relations with Russia, which supplies the majority of Ukraine's oil and gas.
Poroshenko is dealing with a risky game. If he moves too quickly on economic integration with Europe, he risks angering Russian President Vladimir Putin and losing oil and gas supplies. But if he appeases Russia, he could lose out on economic reform packages designed to stimulate economic growth in Ukraine for the long term.
"Now we will see a kind of balancing act of the new president moving toward Europe but without irritating or sparking new assertions of power by Putin," said Leslie Gelb, a senior fellow at the Council on Foreign Relations.
The interim Ukrainian government that took power in February signed the EU Association Agreement that then-President Viktor Yanukovych had abandoned in November. That decision spurred the movement that would oust him. Yanukovych -- who had his electoral stronghold in Ukraine's pro-Russian east -- chose closer relations with Russia after Putin had offered him economic incentives to abandon the European deal. The agreement, which is separated into two sections -- political and economic -- is designed to give the Ukrainian government support during its reform process. Poroshenko has vowed to sign the second phase, the economic and trade section.
"The European Union also stands ready to help restore macro-economic stability in the country and to remove custom duties on Ukrainian exports to the EU for a while, so as to advance some of the full agreement's trade benefits," according to a statement released in March by the president of the European Council, Herman Van Rompuy.
Ukraine imports the vast majority of its gas and oil from Russia through a series of pipelines that date back to the Soviet era. Domestic prices are subsidized; end consumers pay low rates for gas, but the price Ukraine's energy company pays for that gas is set by the supplier, Russia. As a result Ukraine has built up a large debt to state-owned gas giant Gazprom (MCX:GAZP) that it has not been able to pay because "it is not collecting enough on the front end to pay off on the back end," said Jeffrey Mankoff, deputy director of the Russia and Eurasia program at the Center for Strategic and International Studies.
In December, Putin agreed to reduce the price of Russian gas by about a third. But it is still unclear if that agreement will stand and if Poroshenko will be able to introduce economic reforms that will enable the country to pay off the remaining $2.2 billion gas debt. Russia is currently building pipelines to Europe that bypass Ukraine and could cut it off from gas supplies.
Poroshenko, who according to Bloomberg has a fortune of $1 billion, is best known for having made his fortune in the chocolate industry, but served as both foreign and economy minister under former President Viktor Yushchenko.
"His chocolate company does most of its business with Russia and with Europe, so he is someone who understands Western business practices," Mankoff said. "But he also has a personal stake in working with Russia."
Yet Poroshenko's success as president will be determined first by his ability to instill confidence in the Ukrainian people. "Ultimately, succeeding with Ukraine is about restoring the economy, and that is going to be a hard task," said Robert Kahn, a senior fellow for international economics at CFR. "He needs to restore social services and some sense of economic vibrancy."
The institution that's keeping the Ukrainian government solvent, the International Monetary Fund, is subjecting its payments to, among other things, the end of subsidies. In April, the IMF approved a $17 billion two-year loan to Ukraine, with 3.2 billion available immediately and the remainder subject to frequent reviews. The loan is subject to IMF demands that Ukraine cut subsidies for fuel, reduce its deficit, controls pay raises, reduce corruption and reform its banking system.
But despite the help from the international community, the Council on Foreign Relations' Kahn said the country still needs more financing, and it should come from the West. "If we really want Ukraine to succeed we have to stick with it," he said.
The outcome may be a stable country of 46 million on Europe's eastern edge, but don't expect a new Ukraine to be a part of Western institutions for a while, according to Gelb: "The process will be slow and deliberate but steady. There will be no formal integration in the EU or NATO for years to come," he said.
© Copyright IBTimes 2023. All rights reserved.